Description
odcasters and voice-over artists will enjoy the KKX Professional USB Condenser Microphone Kit, a mic that can deliver a record-ready sound in minutes, even if you don't know much about room treatment or mic technique. The mic has a focused sound that minimizes room pickup, and if that's not enough, a built-in noise reduction is on hand to remove noise from your recordings. A built-in reverb is also on hand to give your recordings a polished atmosphere.
Use the mic with your Mac or Windows computer. Easy-to-use controls let you adjust the levels or mute with the press of a button. A boom arm is included to get the mic mounted right away. A tripod stand, a USB cable, and a windscreen are also supplied.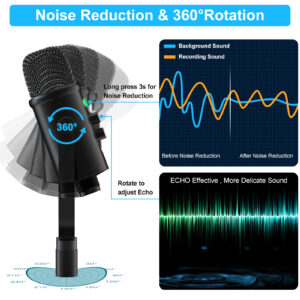 Geared towards podcasters, broadcasters, voice-over artists, and even singers, the mic works with Mac and Windows computers right out of the box. The mic is great for anyone making spoken-word recordings, though DSP features make it good for singing as well.
Polar Pattern for the Untreated Room
The microphone makes use of a directional cardioid polar pattern to minimize off-axis sound. This polar pattern naturally, yet effectively tamps down room tone and focuses the audio capture on what's directly in front of the mic.
Built-In DSP Noise Reduction
For the times when the polar pattern is not enough, KKX built DSP noise-reduction right into the mic. Press the button, and the mic will take care of reducing extraneous noise in your surroundings.
To give you a professional, polished atmosphere, the microphone comes with built-in reverb. This is perfect for singing performances, or for creative sound design.
Built-In Headphone Monitoring
Monitor your levels with headphones plugged directly into the mic's 3.5mm connection.
Control the levels and mute the mic easily.
Broadcast-Quality Audio Capture
This USB mic boasts a 48 kHz/16-bit converter, which is considered broadcast-quality.
A boom arm mounts right to your desk, giving your setup a professional appearance as well as a no-fuss mounting scheme. The mic also includes a mic clip, a USB cable, and a foam windscreen.