Description
Industrial-grade film and television full-color panel light
The LED panel light of GVM-YU150R is a powerful light source. It adopts full RGB+WY five-color light source. More colors can output a wider color gamut, thus providing tens of millions of rich and vivid colors.
High color rendering index CRI 97+ & TLCI 97+
This can achieve accurate color rendering on the camera, and restore the most realistic object color.
It also provides you with natural and vivid shooting effects while obtaining professional results.
Can ensure color layout in the matrix system and RGBWY mixing in the beam area evenly without color separation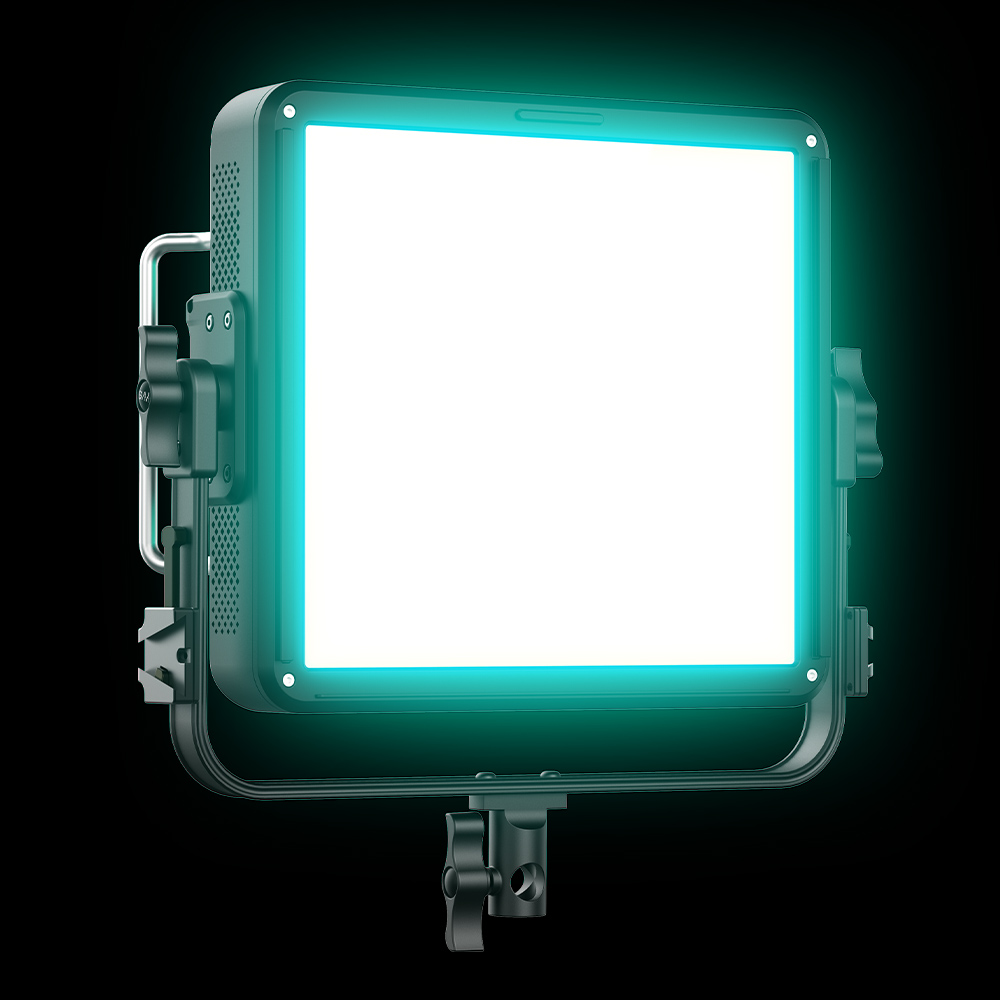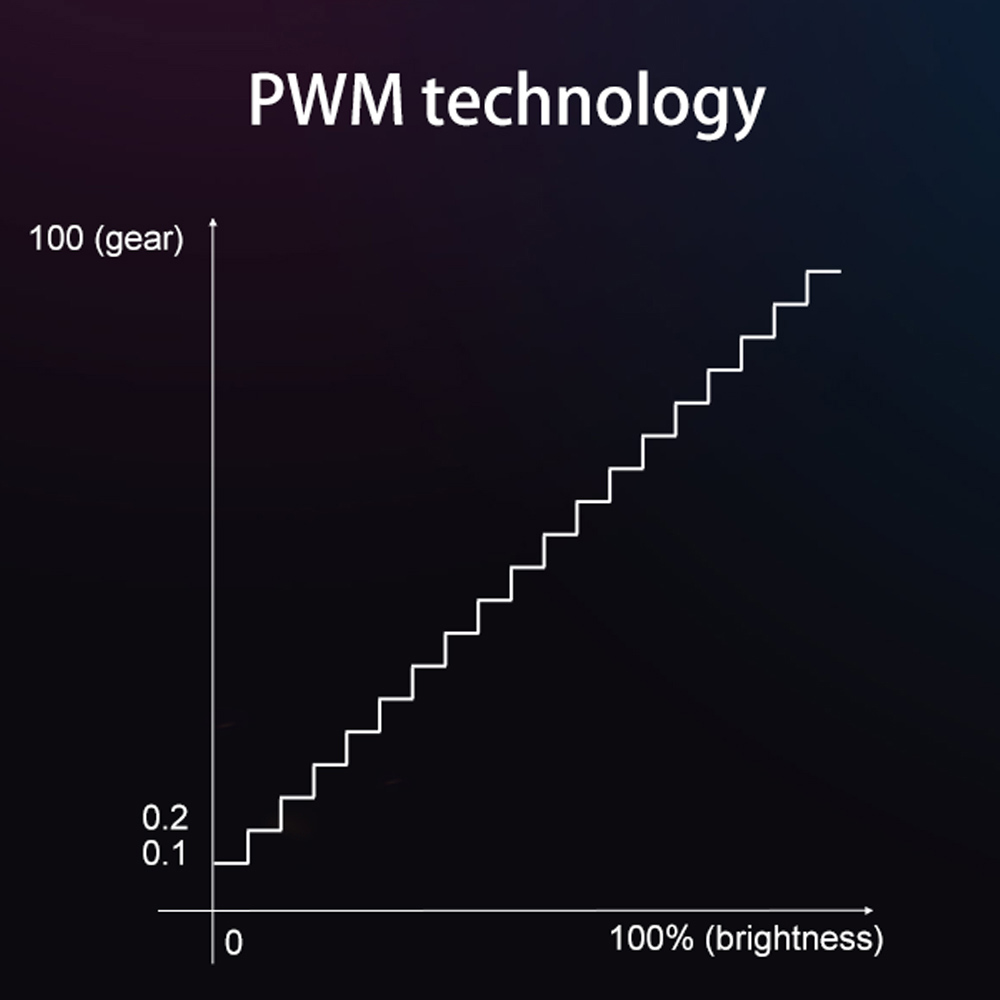 Dimming accuracy of 1000 levels
The adjustment range of GVM-YU150R brightness is 0.1%-100.0%, and the user can adjust the brightness accurately to 0.1%; the finer dimming accuracy can provide smoother dimming process and more accurate colors; with the new algorithm of GVM The model, even if the light intensity is adjusted in a large step, it can also quickly and smoothly complete the dimming process.
GVM-YU150R has four dimming curves (Linear/Logarithmic/Exponential/S-Curve) selectable, designed to meet the technical requirements of studio installations, such as TV news and entertainment production sets. High-standard professional-level light control technology is also the best choice for variety show shooting and film production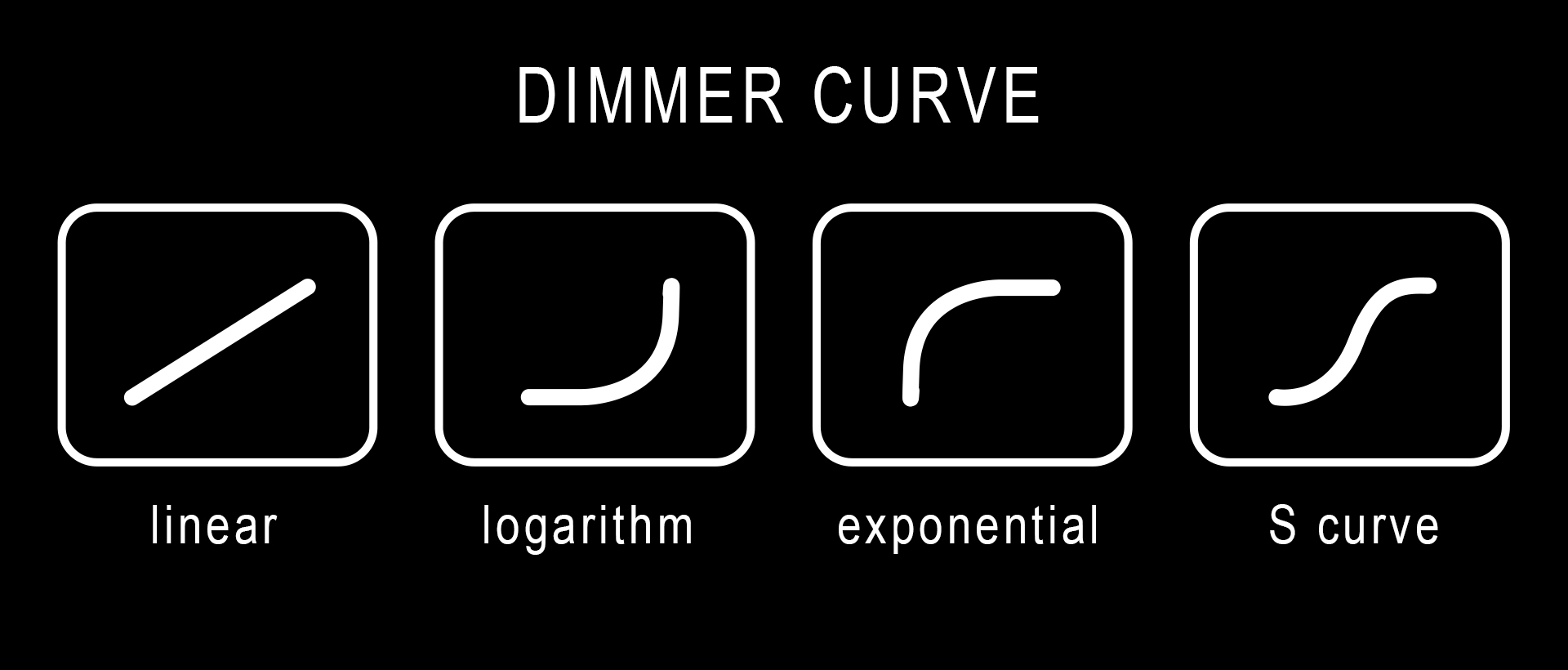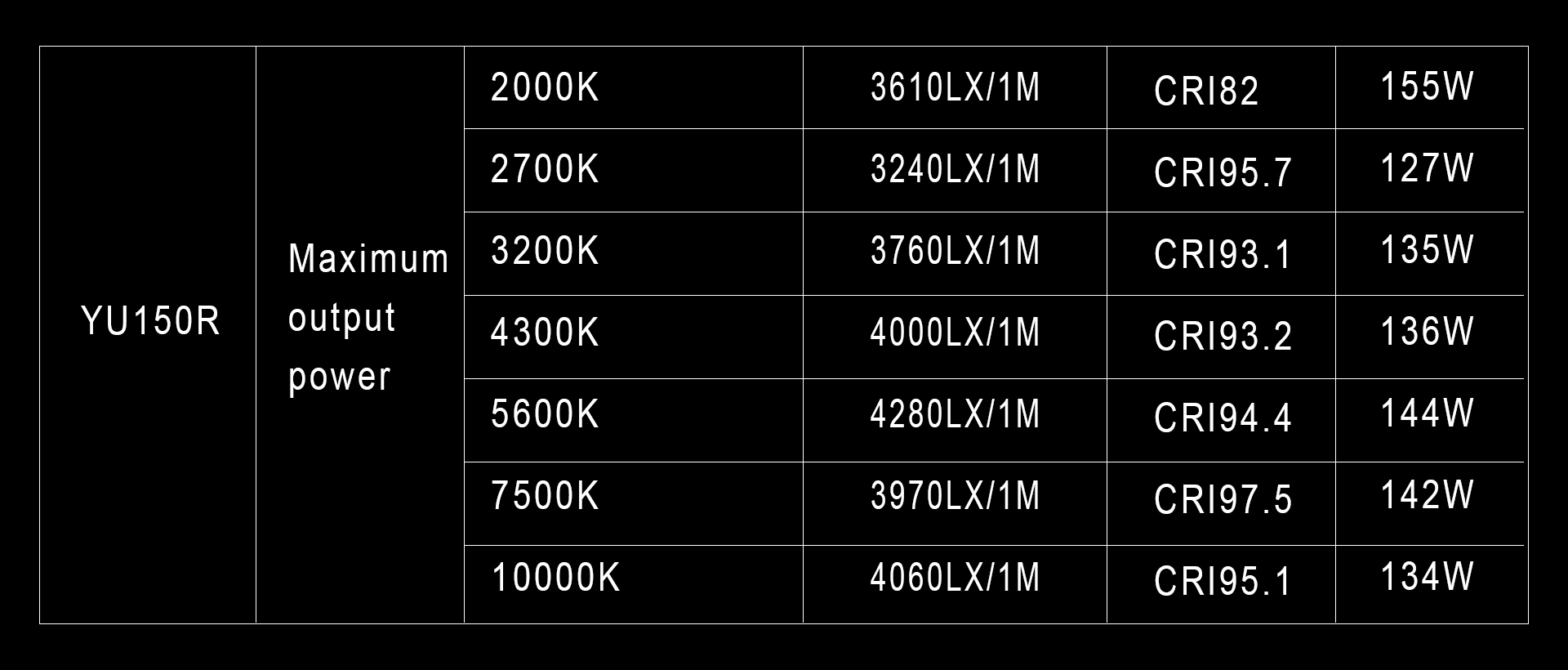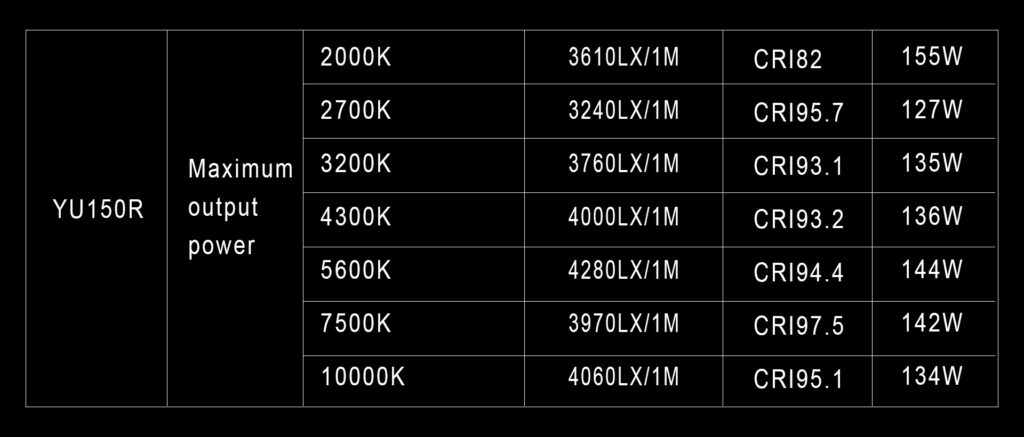 Conventional Bi-color temperature RGB panel lights use a variety of different lamp beads to adjust the color temperature and color light, which leads to different powers of different color temperatures and colors. Often the middle color temperature has high power, and low color temperature and high color temperature have low power. It makes the brightness of lights of different color temperatures and colors different. YU300R's new algorithm, while adjusting the color temperature and color of various lamp beads, will also automatically calculate the appropriate power, so that the power of different color temperatures and different colors remains consistent. While adjusting the color temperature and RGB, it also keeps the brightness constant. In the case of maximum brightness, the constant power of 150W can be kept unchanged.
White light color temperature adjustment mode, adjustable light intensity and color temperature. The CCT (Correlated Color Temperature) mode allows accurate adjustment of the color temperature from a comfortable warm 2000K to a deep sky blue 10000K to match any lighting condition, such as the warm tones of a scary sunset, the cool tones of bright sunlight in summer or on a clear dark sky blue moonlight. Green/magenta correction in CCT mode allows for fine-tuned matching with other HMI, LED or fluorescent lighting, or precise color balancing for different camera sensors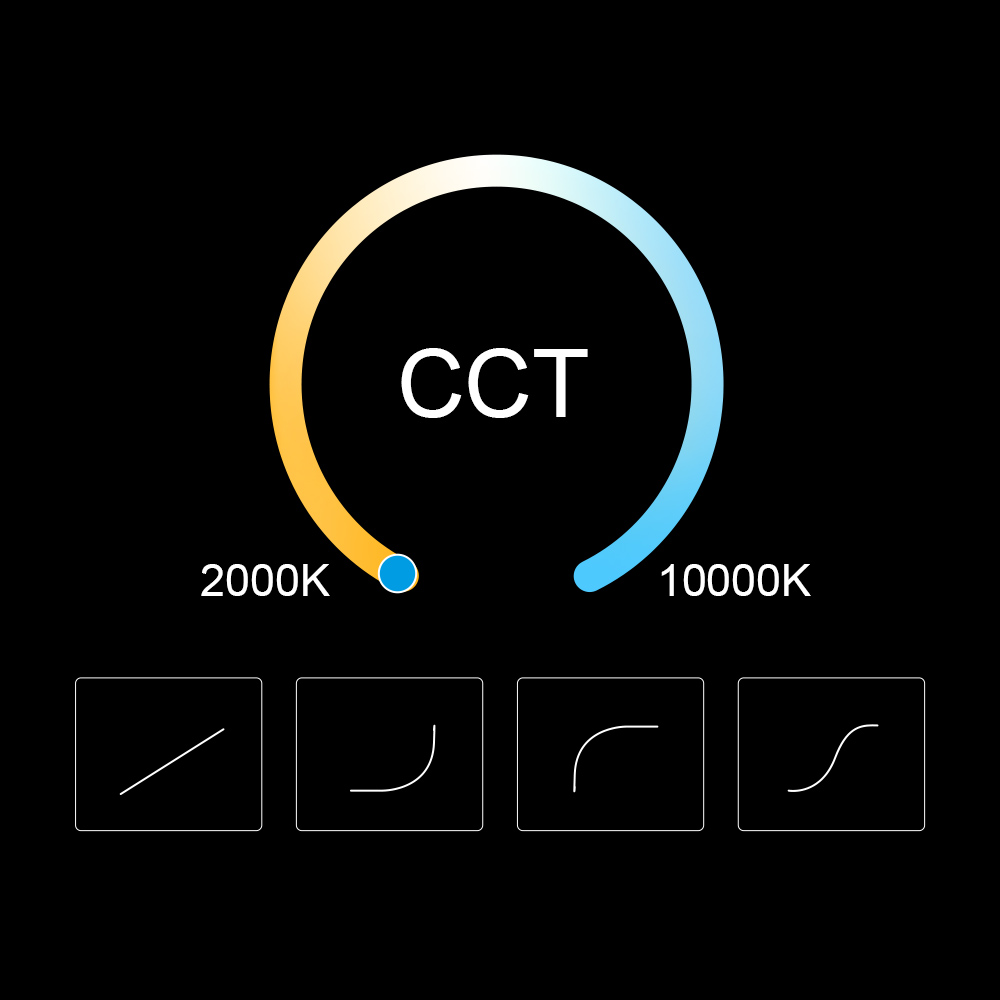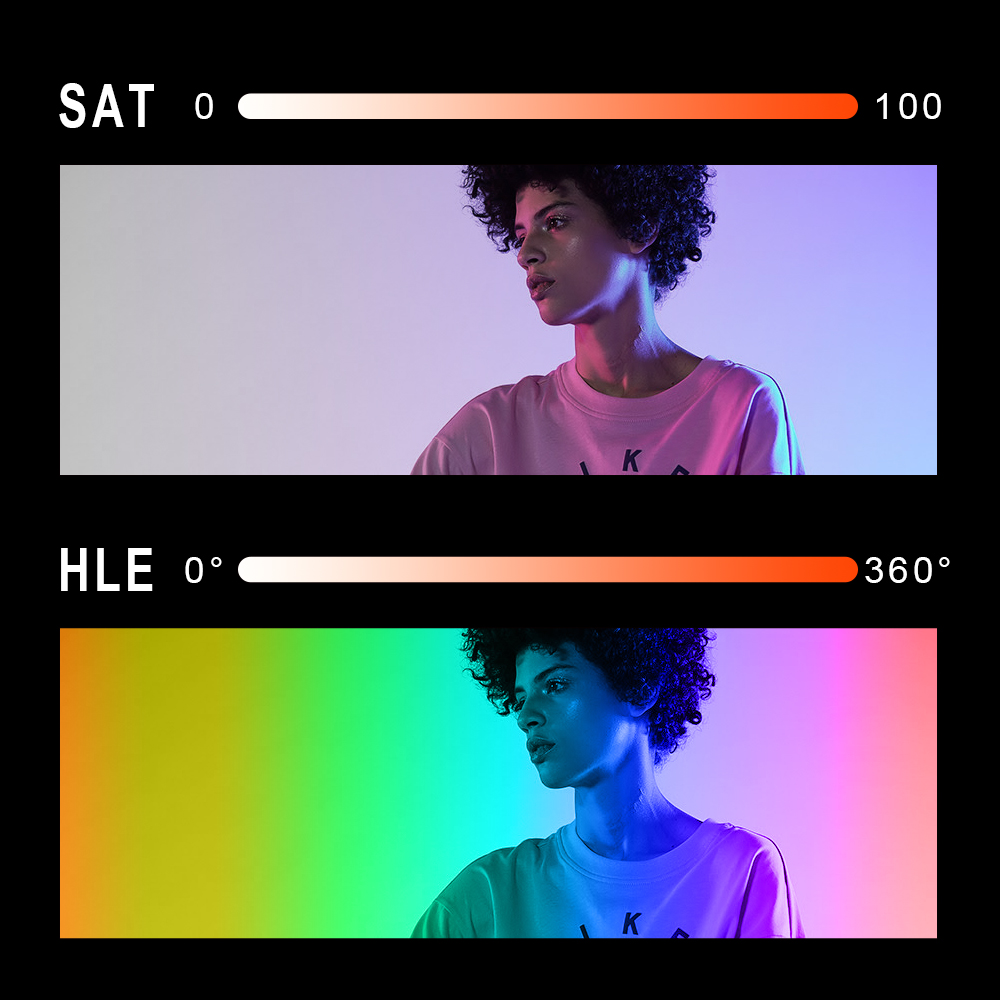 HSI color mode allows collaboration by intuitively selecting a specific color and fine-tuning the brightness and intensity of the color. Adjustable hue, saturation, light intensity, (HSI = hue, saturation, light intensity), to achieve 36 million color adjustable.
RGB color mode, adjustable red light, green light, blue light, 1.6 X 1010 color adjustable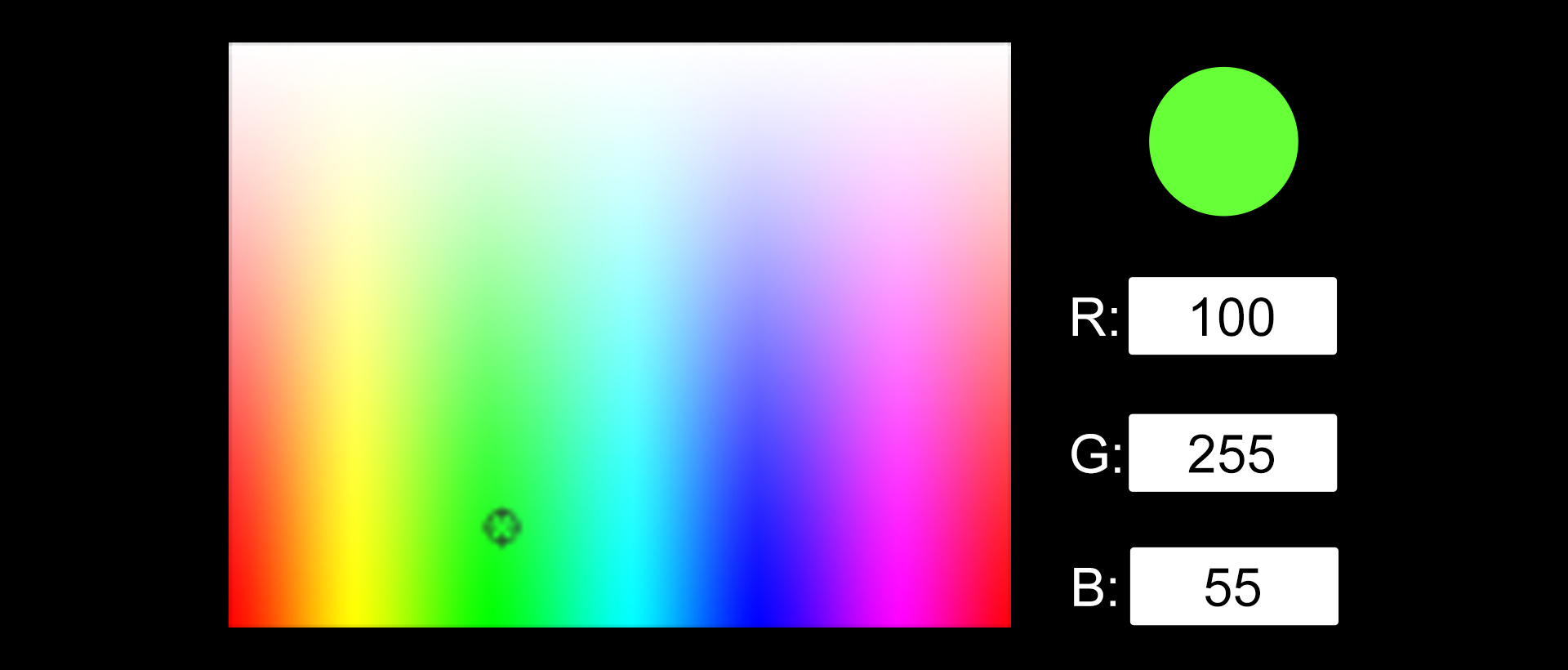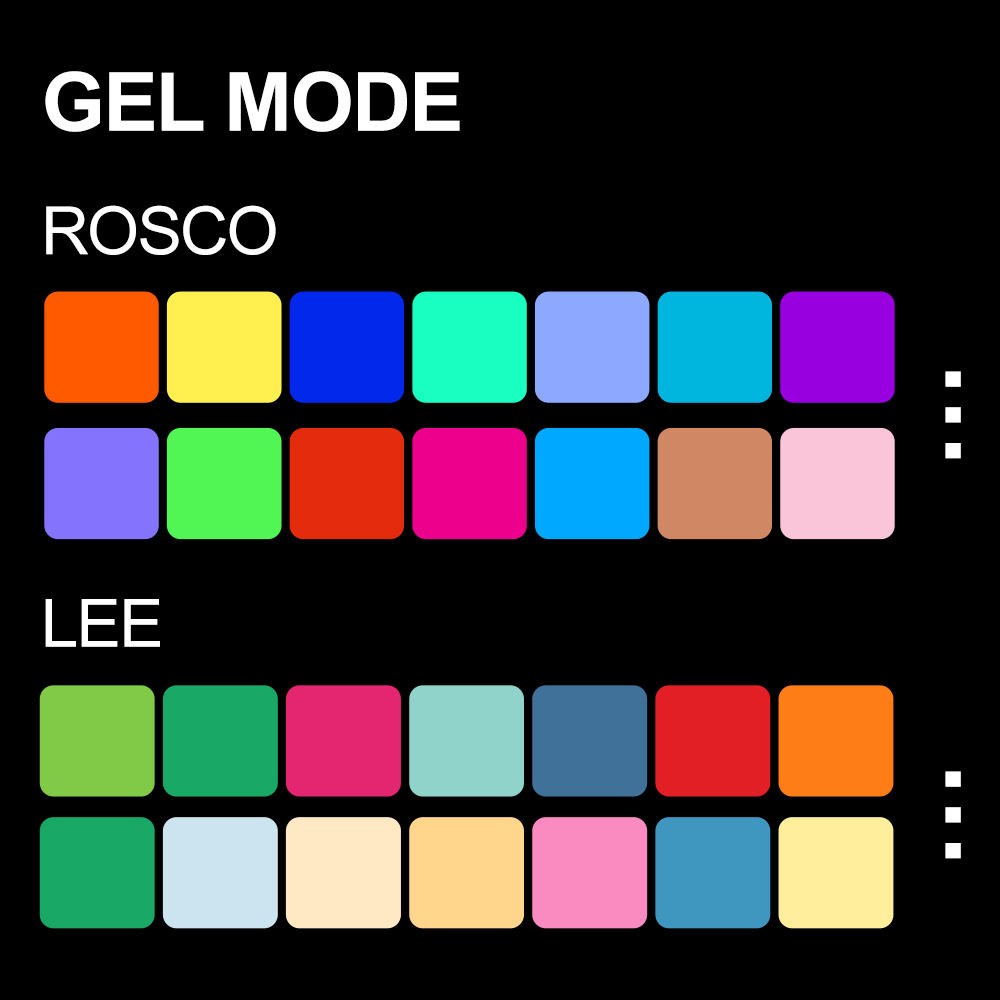 Two types of color paper, ROSCO and LEE, are available. There are 30 numbered color paper libraries for each color paper type, each of which is the standard for movies and television. You can quickly choose a professional light color.
This mode offers 12 different light source types and saves a lot of adjustment time when you need a particular light source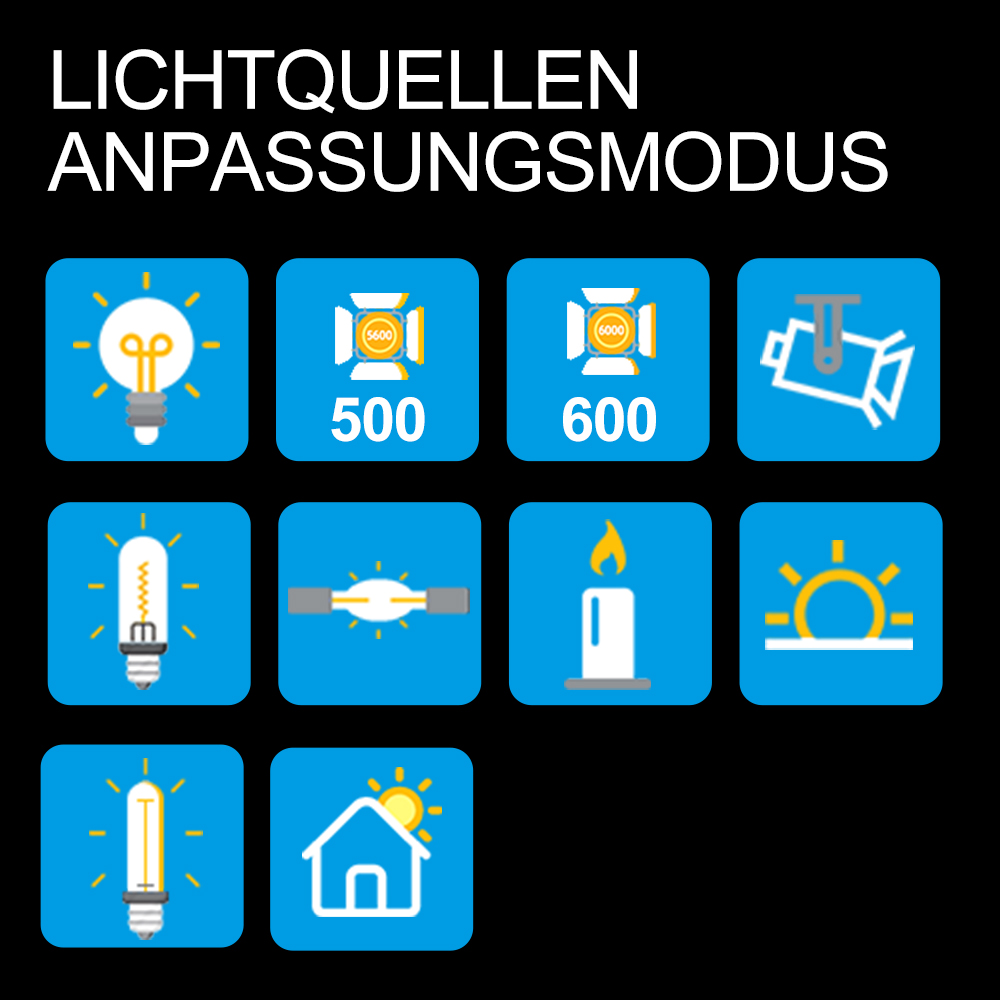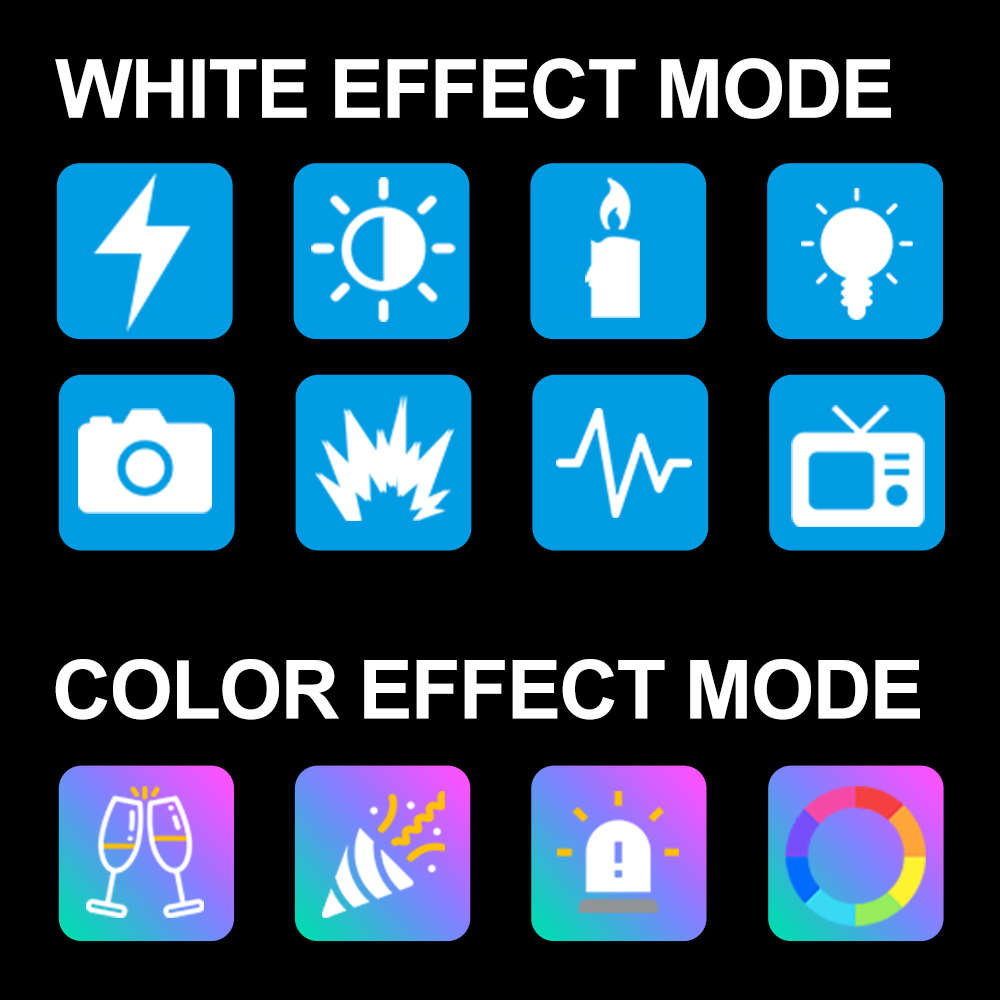 White light effect mode&Color effect mode

This mode provides eight white light effects: lightning, CCT cycle, candle, bad light bulb, TV, paparazzi, explosion, breathing light
This mode provides 4 types of color effect: Di bar, party, police car, color cycle
Strong structure and practical design
The panel has a solid, all-aluminum structure that can withstand heavy daily use. The sturdy housing is functionally designed with built-in rear handles and bottom legs for easy operation, installation and storage of the panel
Perforated aluminium housing design and active cooling system ensure efficient heat dissipation to maintain the stability of the LED panel and extend its service life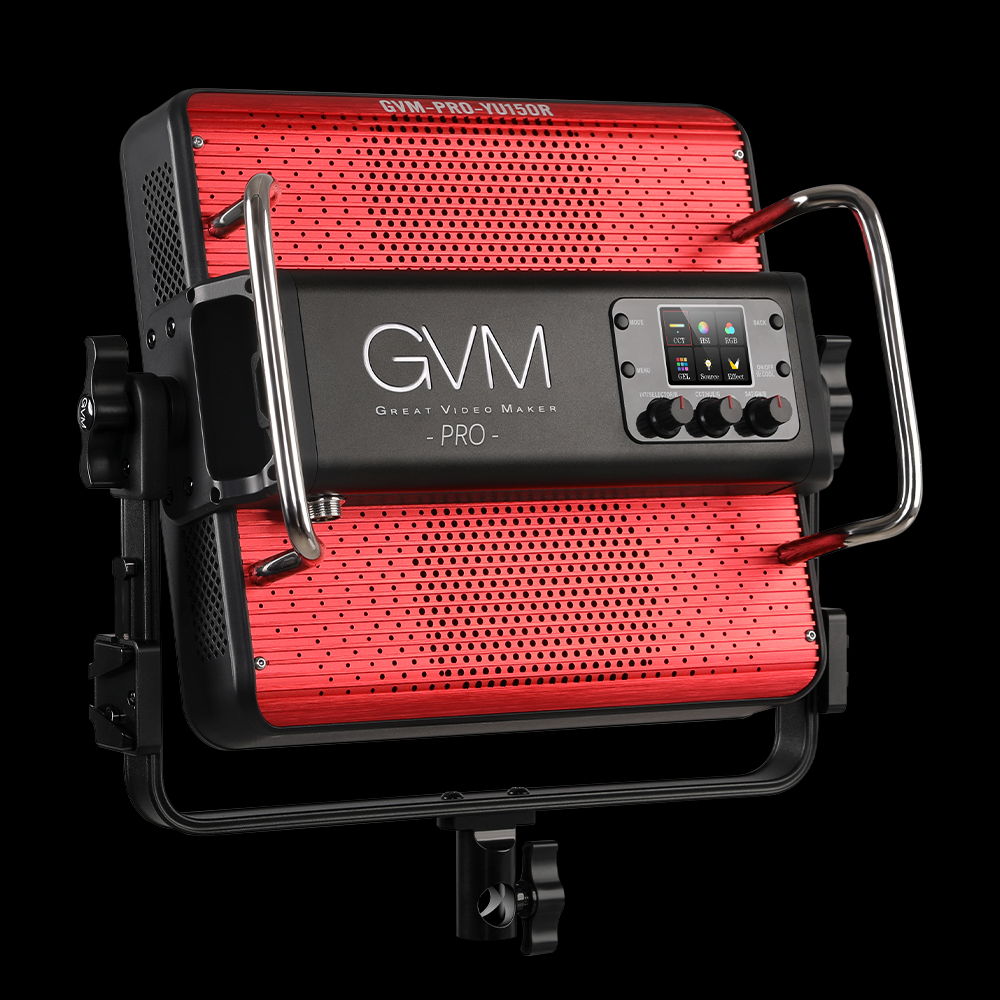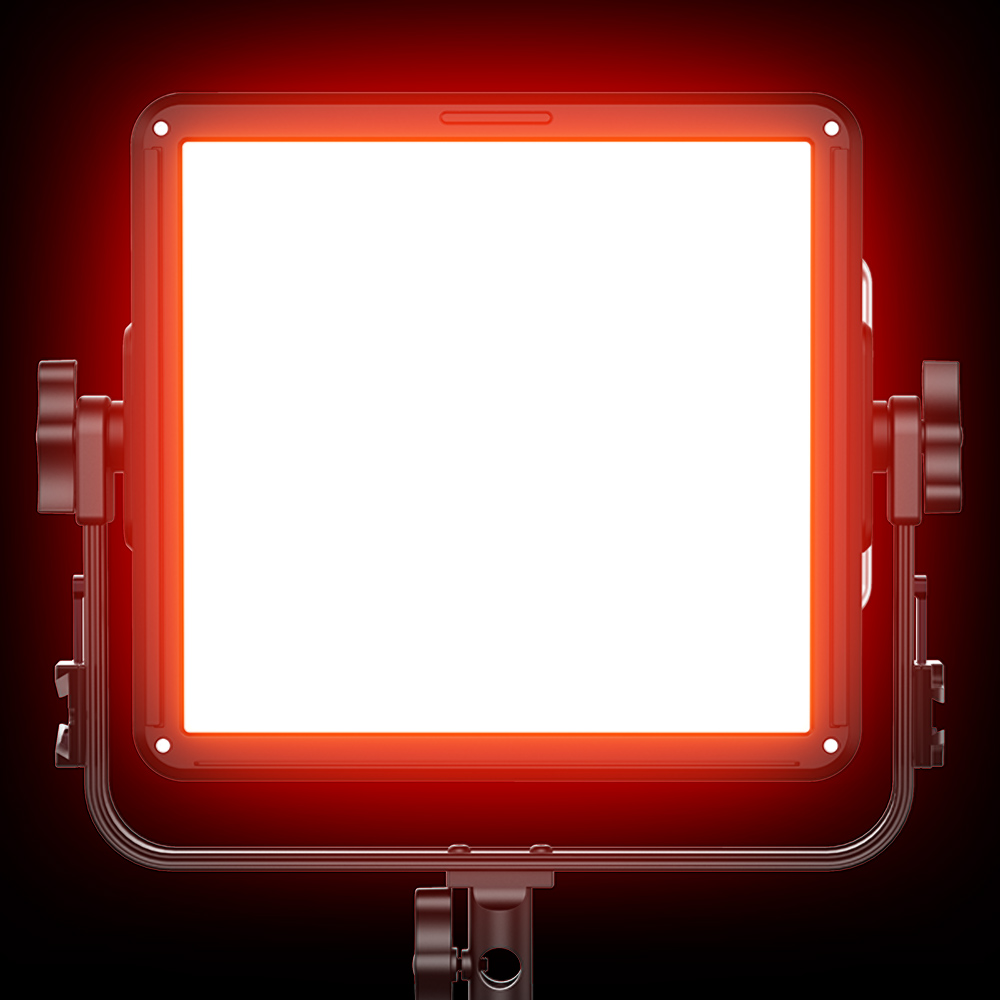 GVM YU150R provides a smooth and even beam field by combining the latest wide beam, true-tone SMD LED and diffuser plates. The large surface area of the panel produces a bright, surround output with clean, soft shadows and acts as a beautifying light on the body
Equipped with a standard DMX interface, it can realize the DMX control mode of low precision 8bit and high precision 16bit. Using the built-in industry standard DMX-512 interface, the GVM-YU150R can be integrated into more complex studio installations that require a standardized remote control method, such as news sets, talk shows or entertainment productions. The unit is equipped with two XLR-3P DMX ports (In/Out – Loop), allowing the panel to be connected to a DMX lighting console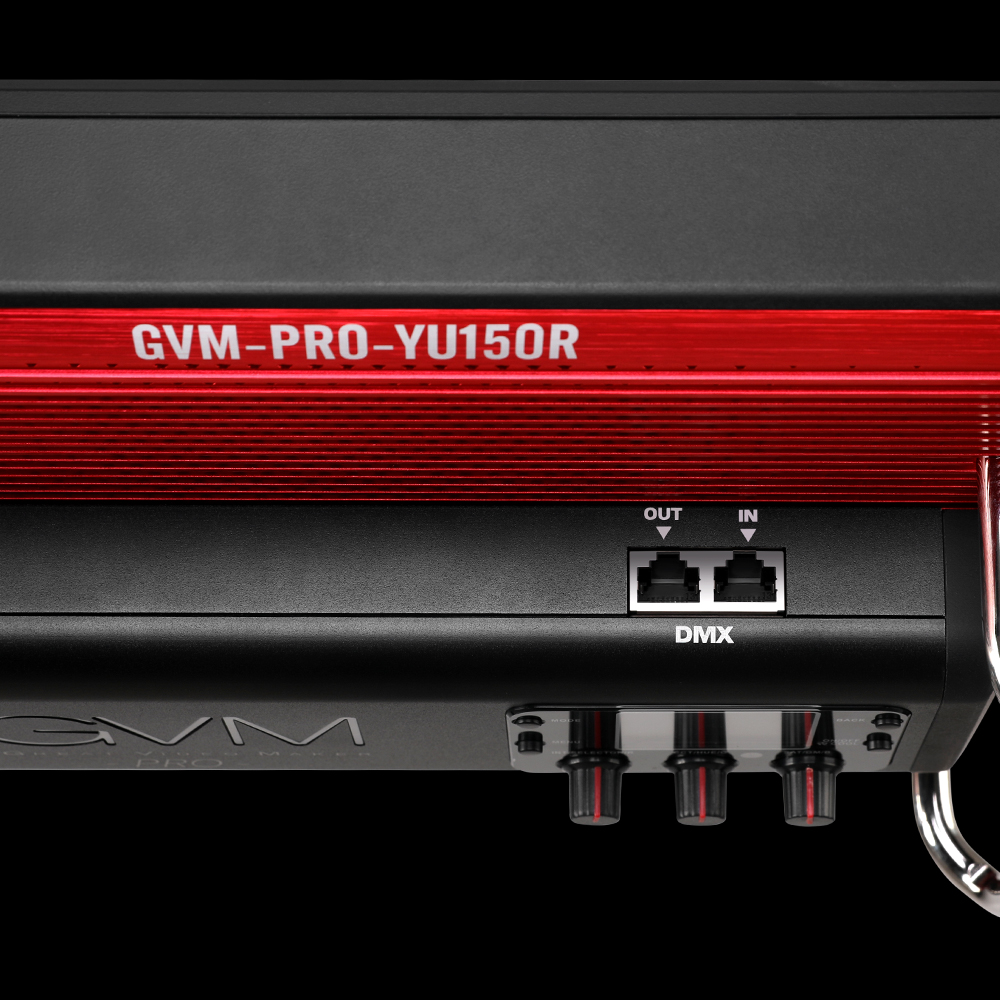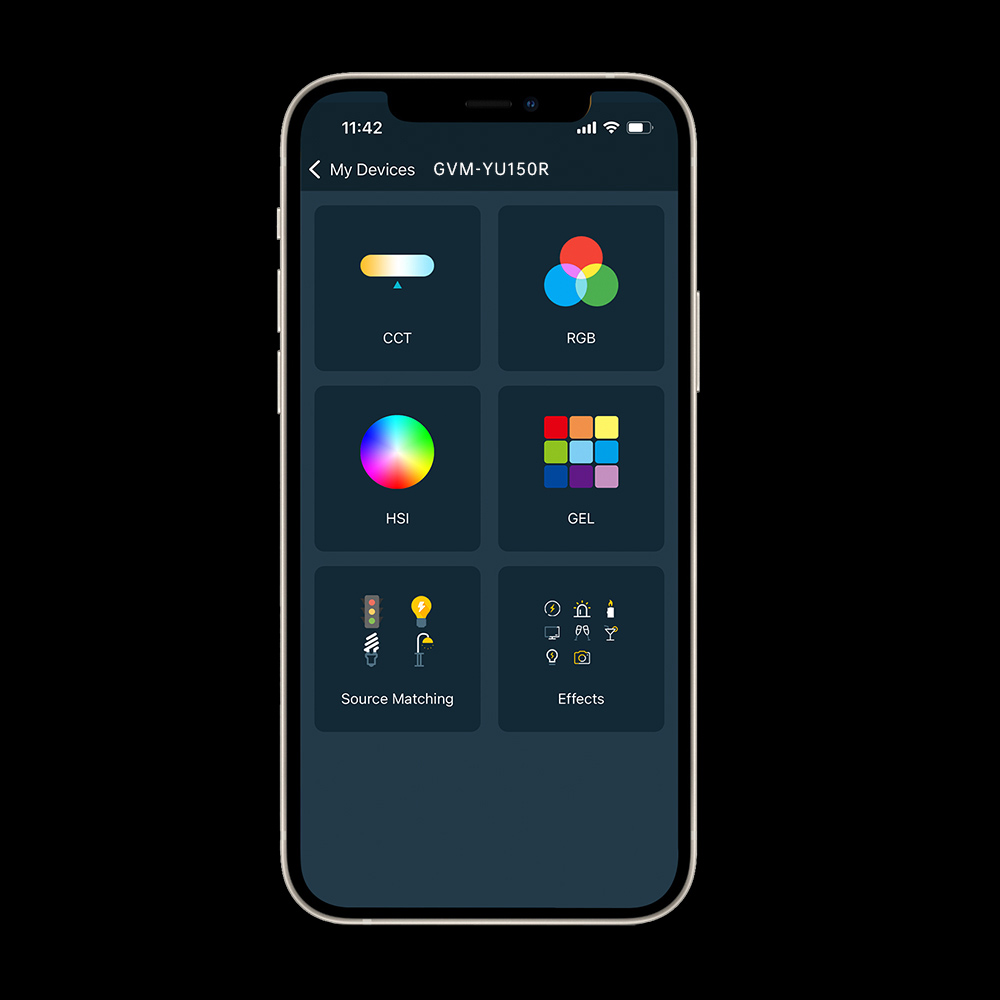 App Bluetooth remote control
Equipped with Bluetooth 5.0 mesh networking system, you can search "gvm_led" in the app store and download mobile app (IOS and Android) to remotely control the light;
Through the Bluetooth mesh networking system, users can control multiple yu300r devices at the same time. The intuitive control panel on the app makes the lighting scene layout simpler and faster, which can save a lot of time and energy;
Users can rename and group the connected lighting devices, so that the devices can better match different use scenarios.
Including four quick adjustment functions of color temperature, dimming curve, red and green light supplement and light intensity, the operation is intuitive and concise;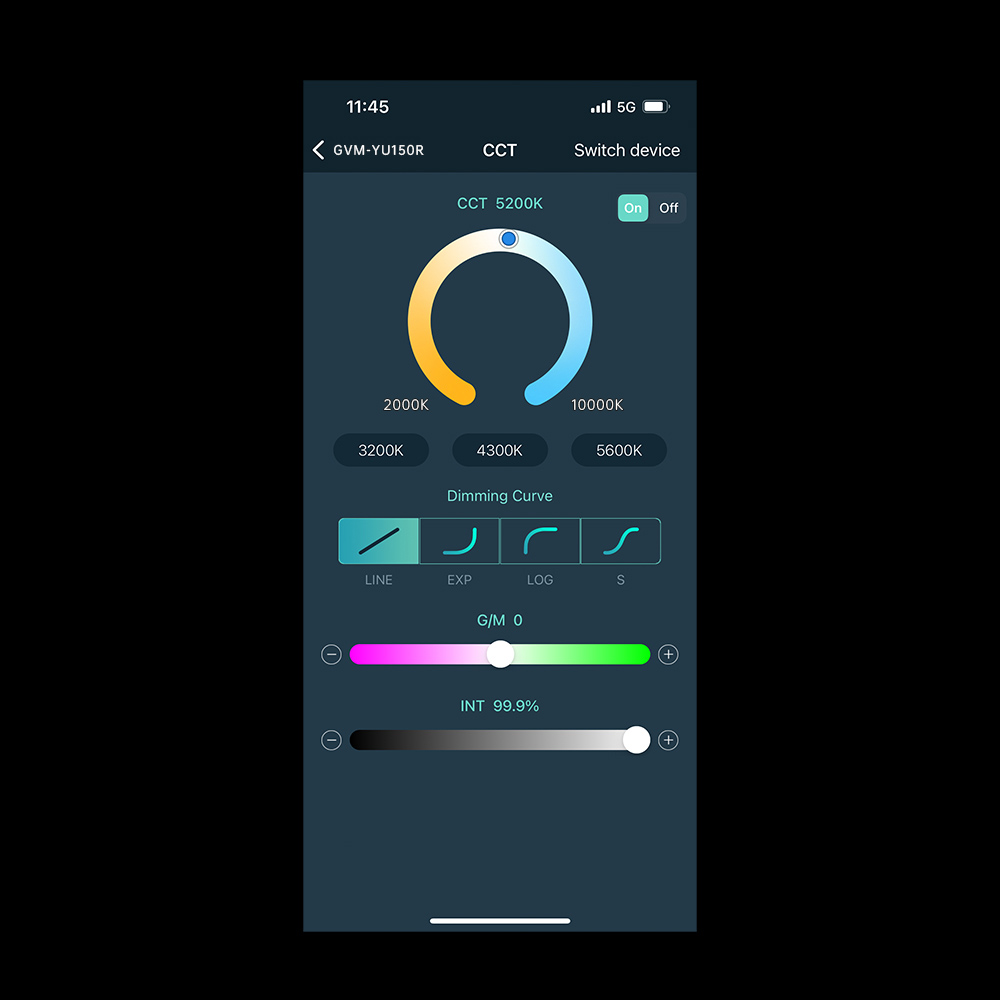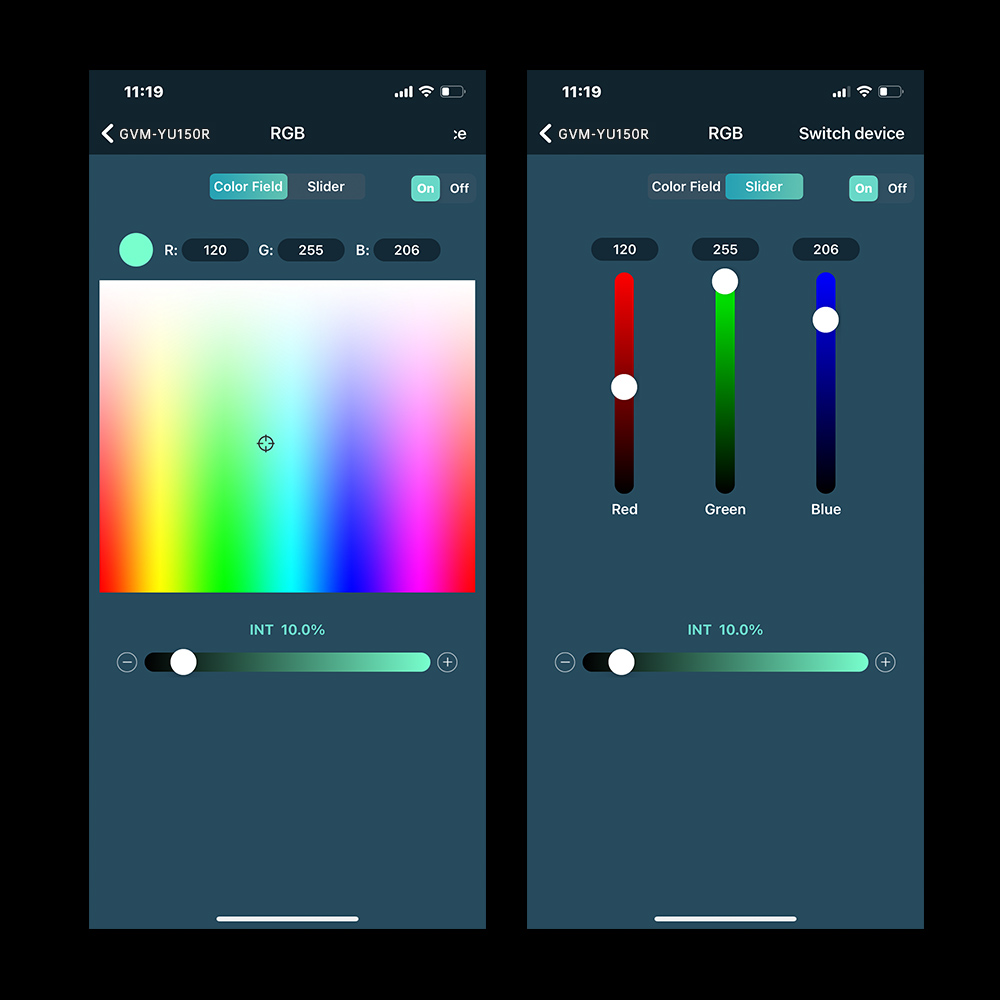 RGB mode includes color gamut and adjustment bar;
Color gamut selection: select RGB value by touching the color gamut with your fingers, so that the light color setting is faster and more intuitive;
Adjustment bar color selection: it can accurately adjust the changes of R, G and B in the range of 0-255 to make the light change more accurate;
HSI mode includes color pickup by color pickup disk and color pickup by camera;
Pick up the color from the color dial: touch the color dial with your fingers to quickly and smoothly adjust hue (0 ~ 360 °) and sat (0 ~ 100%), so that the light has more colors;
Camera color pickup: obtain the hue and sat values corresponding to the environment through the camera anchor, control the color change of the light, and make your scene light effect closer to the environment;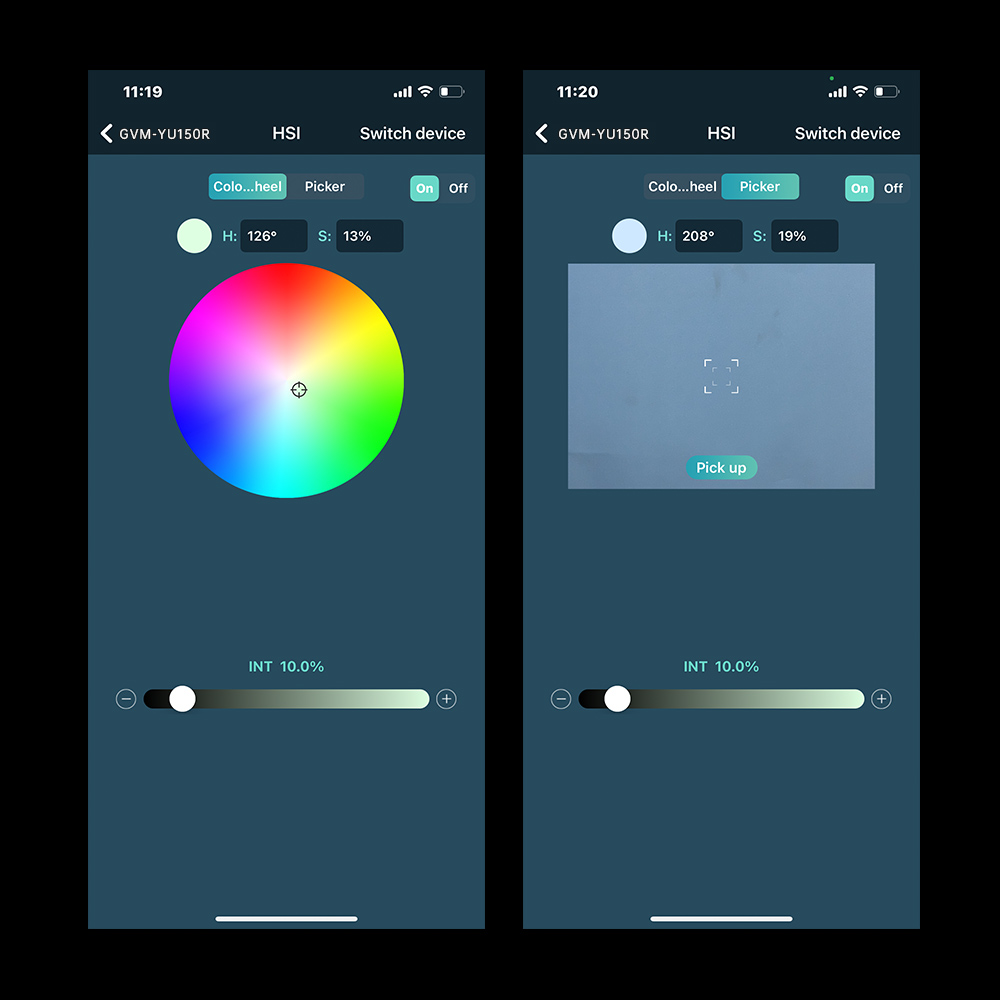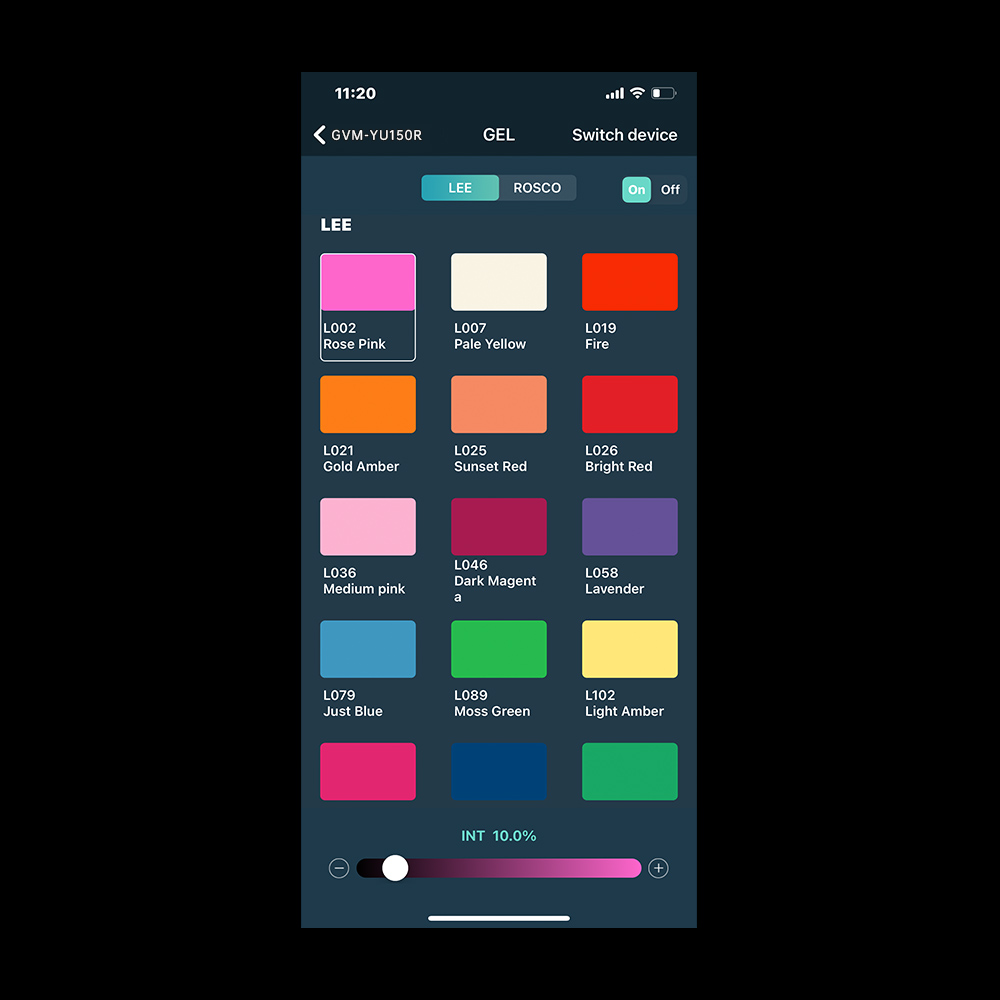 It includes 30 types of common color paper of Lee type and 30 types of common color paper of Rosco type, so as to quickly adapt to the light effect of different shooting environments;
Light source matching control mode
Provide 12 built-in common light source effects to make the light closer to life;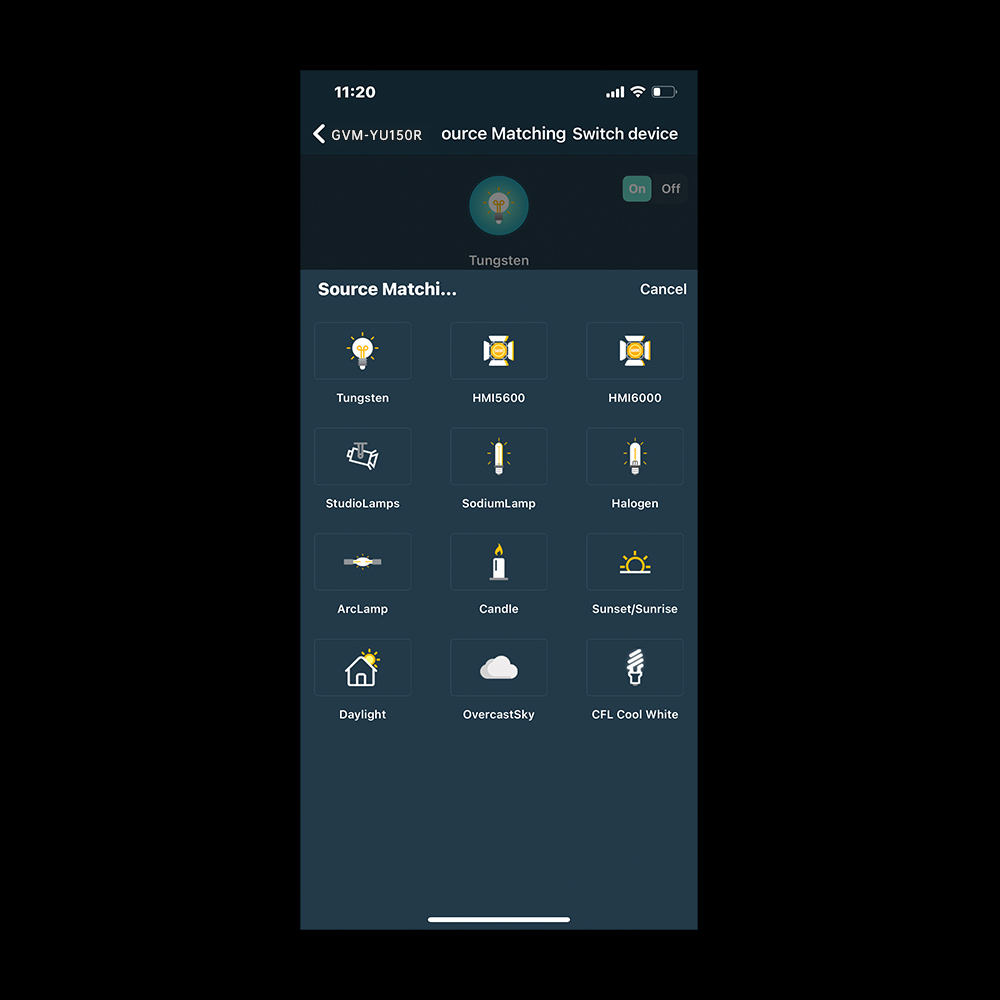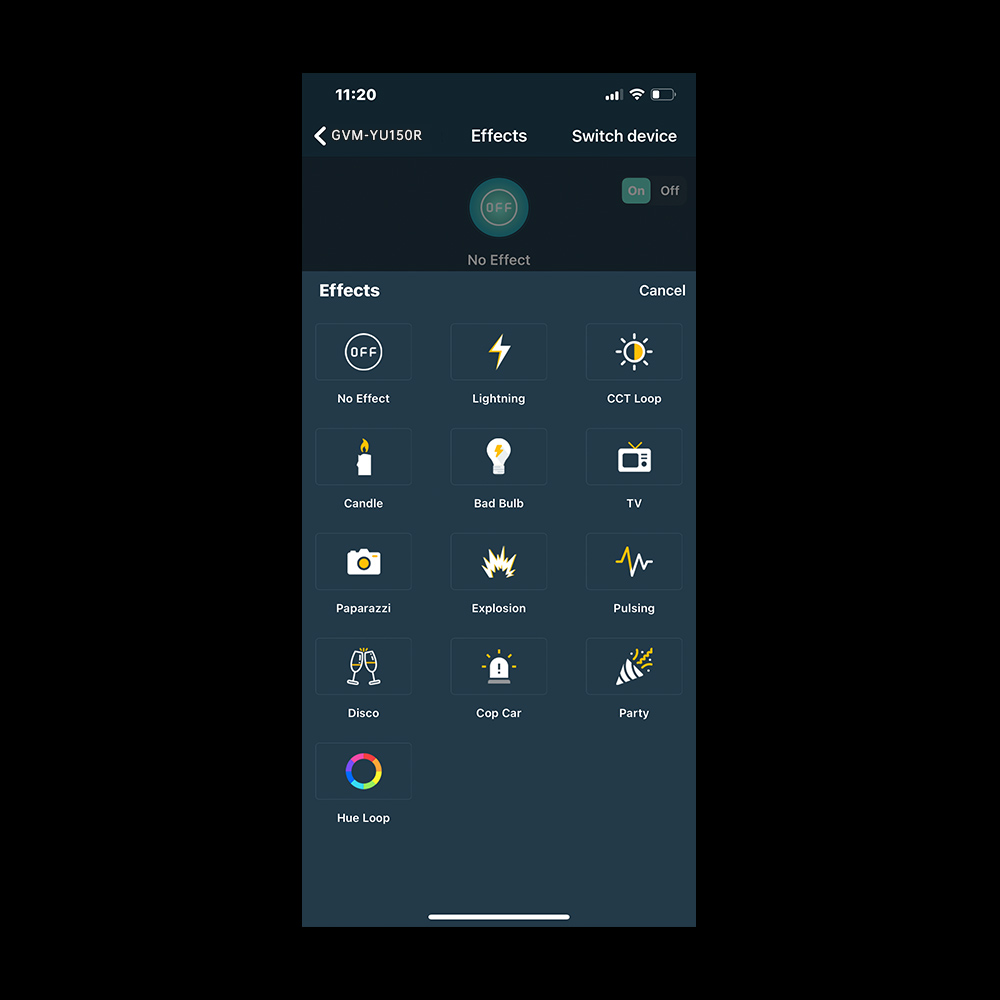 Light efficiency control mode
Provide 4 kinds of color light effects and 8 kinds of white light effects, which can switch more quickly in different shooting scenes;
Let the light move. The rhythm light effect is mainly to collect the rhythm of the rhythm and let the light change with the rhythm;
In live mode, you can turn on the microphone of your mobile phone to make the light follow the sound rhythm of your current environment;