Description
The RGB LED Video Light Bi-Color Soft Light Panel GVM-880RS is suitable for professionals to record videos in Demo Hall, studios, and other places. Our product can capture the most harmonious and natural smile of every family member by making home entertainment short videos and daily life recordings.
The main features of the product are Infinitely adjustable RGB color and dual color temperature characteristics, brightness/color temperature RGB hue/color purity can be controlled at will, color temperature range 3200K~5600K. The use of high CRI LED lamp beads helps restore and enrich the color of the object, providing you with natural and vivid shooting effects.;
App intelligent control system, which can be controlled by your intelligent mobile device;
Master-Slave Control System: Download the app "GVM" on your mobile phone, you can easily control any video lighting. It also has a wireless Master-Slave Control function. Each LED Panel could be set as the master video light to control the same series of LED video lights.
With an LCD screen and stable system, it supports 360° rotation and can effectively control the light. You can also install a folding and soft light board to avoid excess light, make the light softer, and customize the fill light, allowing you to easily and casually shoot the desired results.
The product can simulate 8 kinds of scene lights: Lightning, Police car, Candlelight, TV, Bad light bulb, Party, disco, Paparazzi.
Lighting
Police Car
Candelight
TV
Bad Light Bulb
Disco
Paparazzi
Party
Lighting
Police Car
Candelight
TV
Bad Light Bulb
Disco
Paparazzi
Party
Led Studio Light with excellent brightness
The video light is 60W high power, 11200lux/0.5m, 3600lux/1m, composed of 752 LED beads, ultra high color rendering index 97+ to restore and enrich the color of light objects, to provide you with a natural video shooting effect.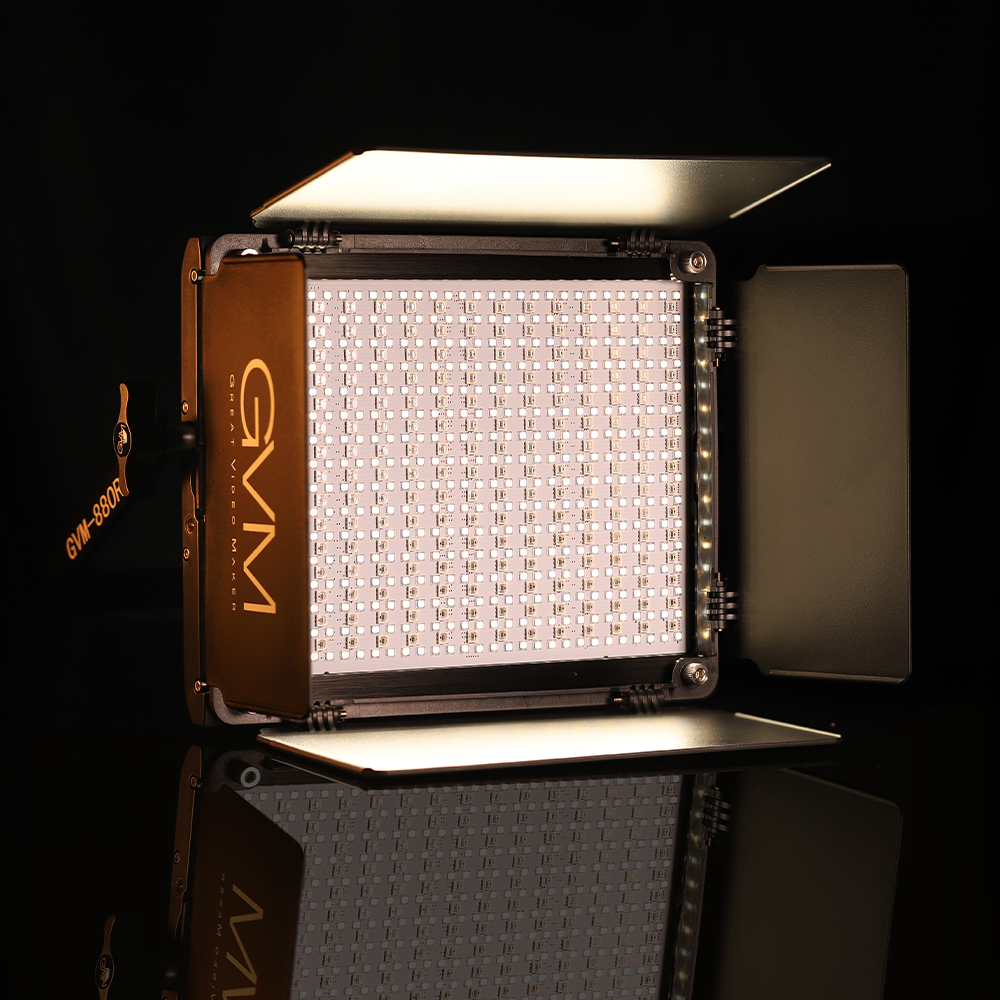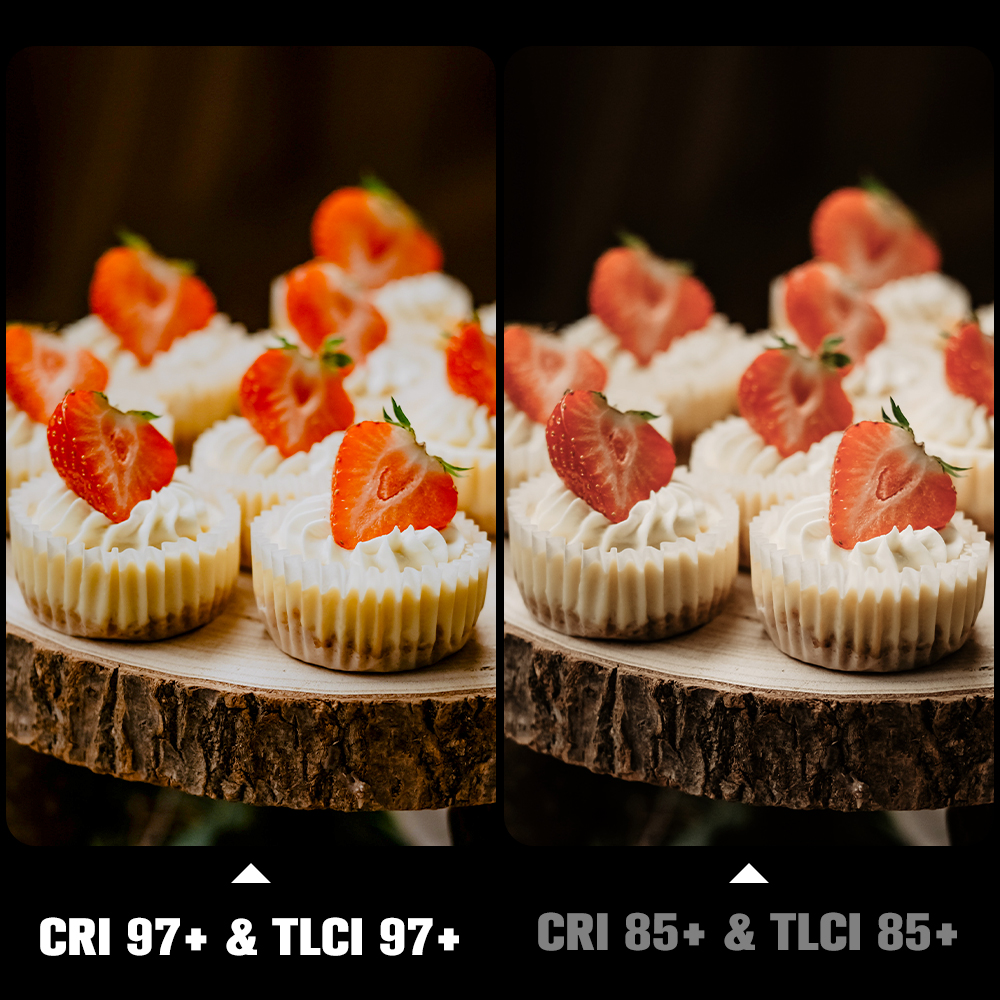 High quality carbon fiber
The new GVM-880RS is a powerful light source, using a full RGB+WY five-color light source, more colors can output a wider color gamut, thus providing tens of millions of rich and vivid colors.
High color rendering index CRI 97+ & TLCI 97+
This can achieve accurate color rendering on the camera, the most realistic restore object color.
To obtain professional results at the same time, but also to provide you with natural and vivid shooting effects.
This ensures that the color layout in the matrix system and the RGBWY within the beam area are evenly mixed, with no color separation
Multiple modes, full color adjustable
CCT mode: white light color temperature adjustment mode, which can adjust light intensity and color temperature. The CCT (Correlated Color temperature) mode allows accurate adjustment of the color temperature from a comfortable warm color of 3200K to a deep sky blue of 5600K to match any lighting conditions, such as the warm tones of a terrible sunset, the cool tones of bright sunlight in summer or the blue moonlight in a clear dark sky. The green/magenta correction feature in CCT mode allows fine tuning matching with other HMI, LED or fluorescent lamps, or precise color balance for different camera sensors.
HSI Mode: HSI Color mode allows collaboration by intuitively selecting specific colors and fine-tuning the brightness and light intensity of the colors. Adjustable hue, saturation, light intensity, (HSI= hue, saturation, light intensity), to achieve 36 million color adjustable.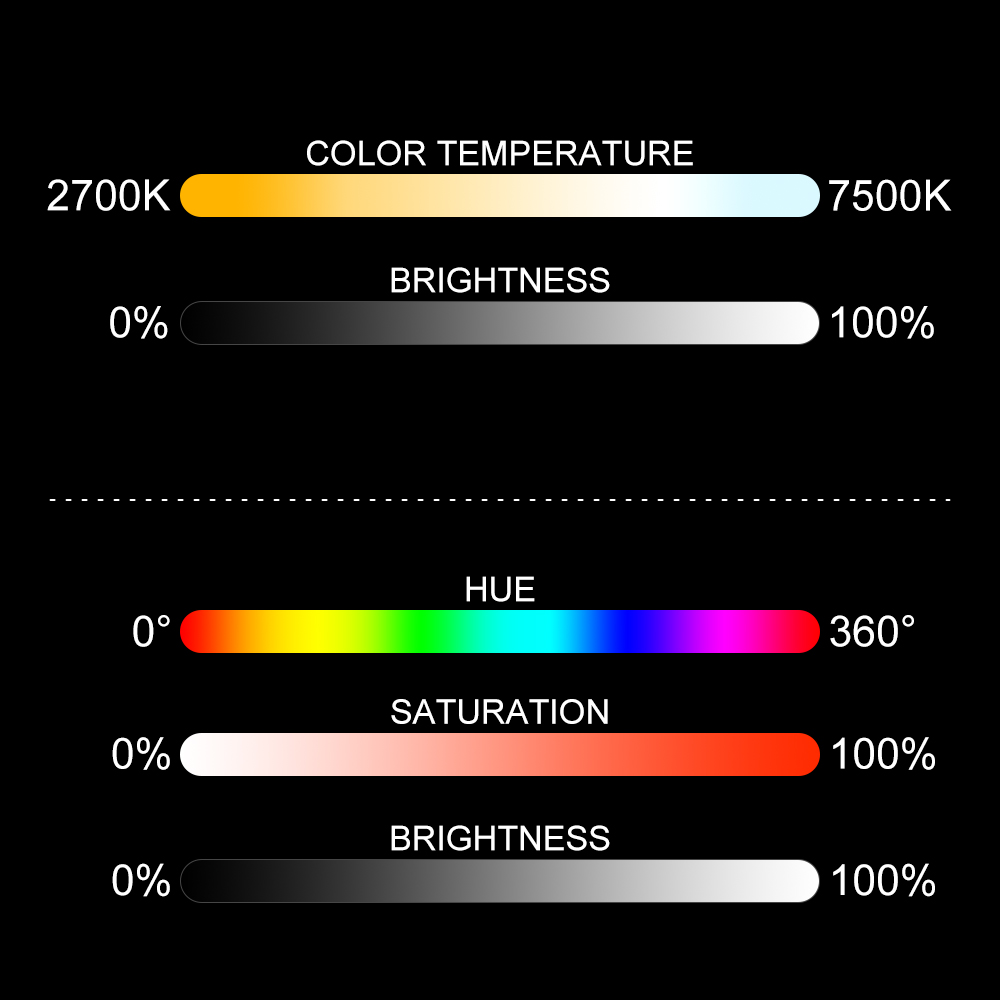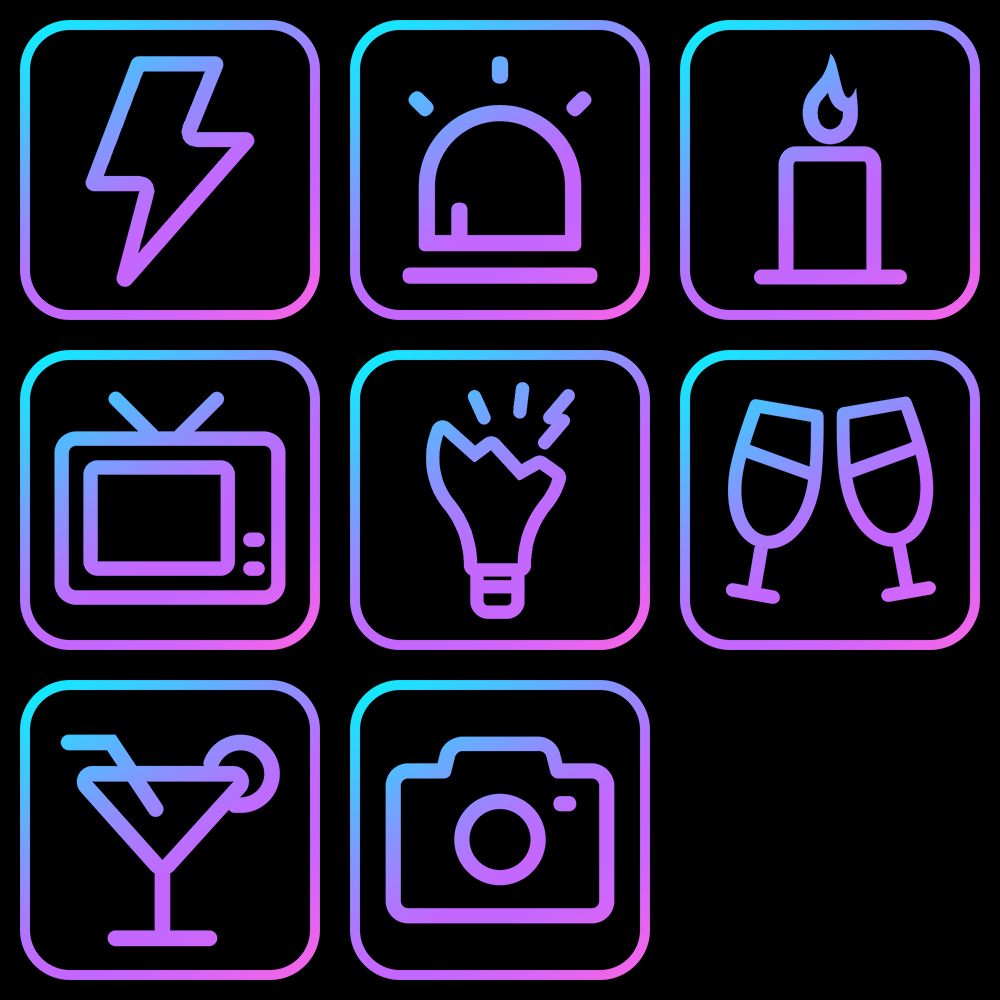 High quality carbon fiber
The 880RS can simulate 8 scene lights: lightning, police car, candlelight, TV, broken light bulb, party, disco, paparazzi. Aluminum alloy material, durable, but also has good heat dissipation performance
Solid construction and practical design
The GVM-880RS features a rugged all-aluminum construction that can withstand busy, everyday intensive use. The rugged housing features a functional design with built-in rear handles and underlegs for easy handling, mounting and storage of panels.
Perforated aluminum housing design and active cooling system ensure efficient heat dissipation to maintain LED panel stability and extended service life.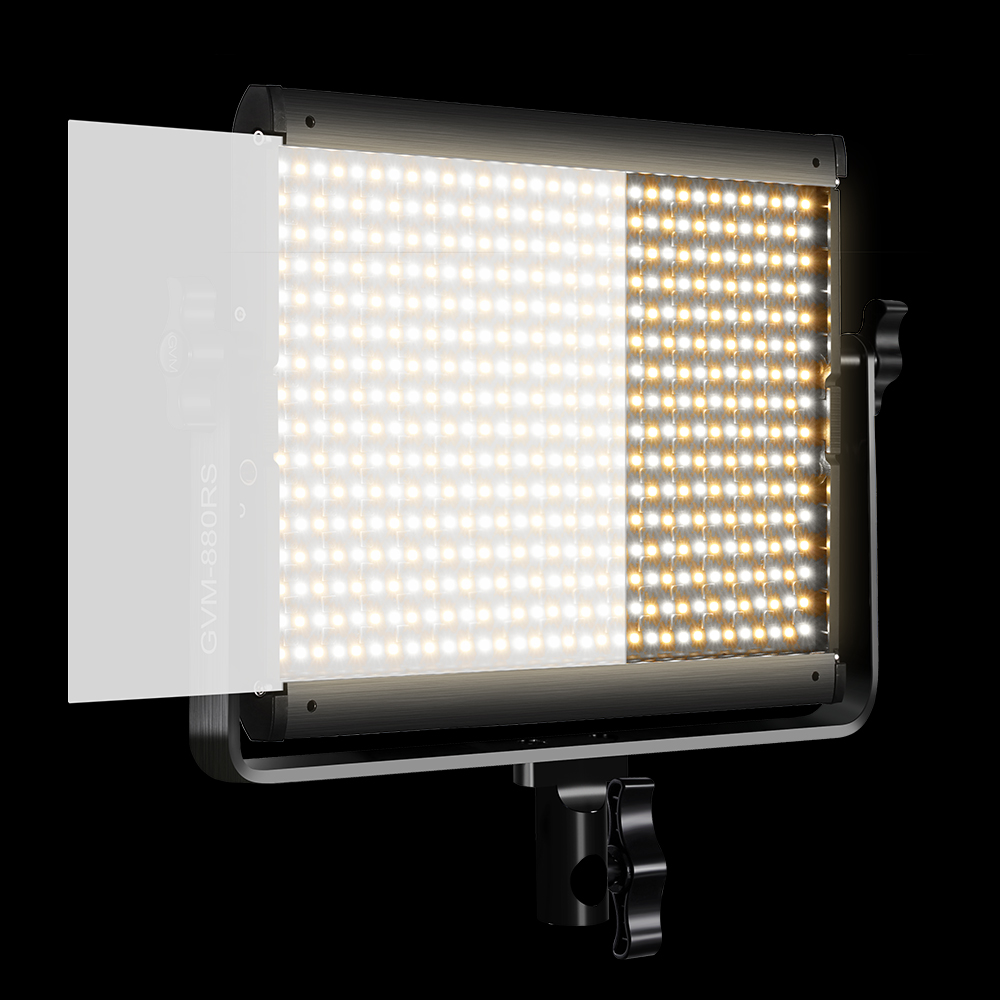 A truly soft light source
The GVM-880RS provides a smooth, even beam field by combining the latest wide beam, true-tone SMD LEDS and diffuser plates. The large surface area of the panel produces a bright, wraparound output with clean, soft shadows that act as meterlight on the subject.
The GVM-880RS uses an intuitive panel control interface to operate lamps easily and quickly. The digital display displays all useful information for users to adjust and customize the desired values.
The two large selection knobs can be easily handled (even with gloves on) to fine tune the desired parameters.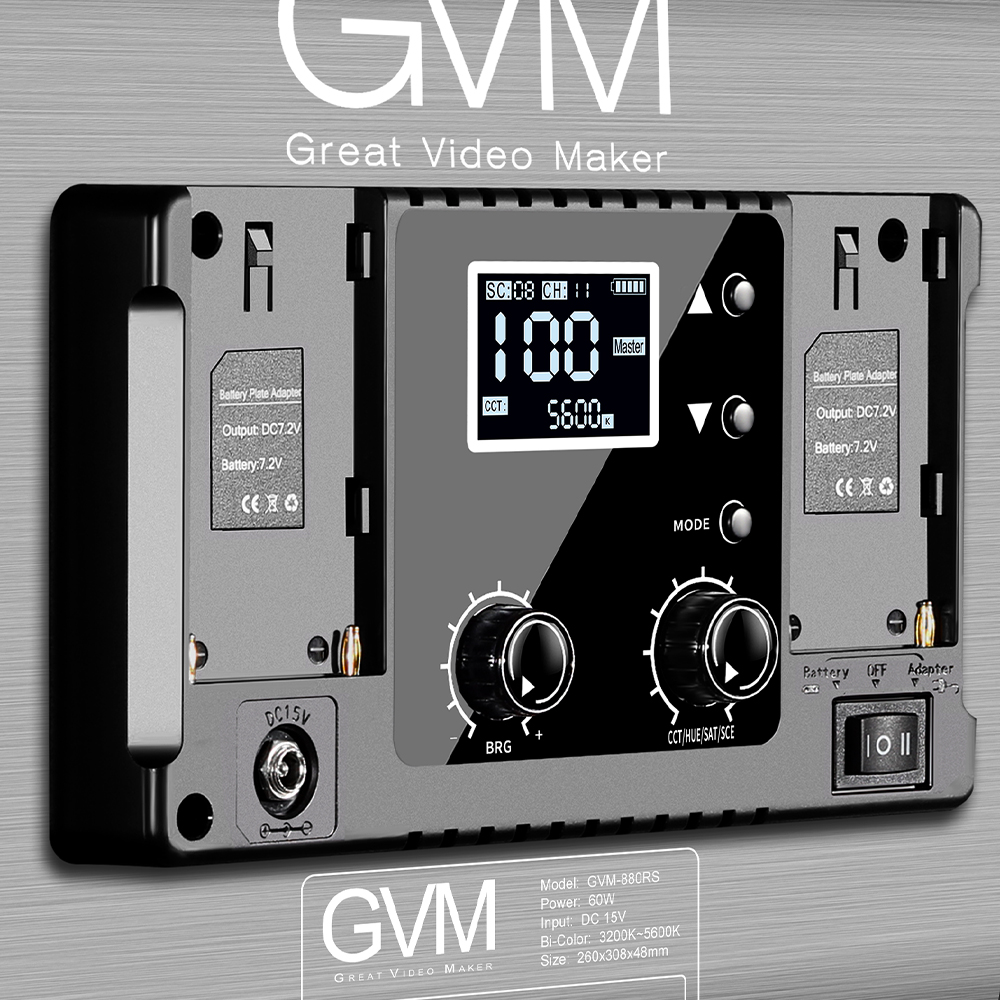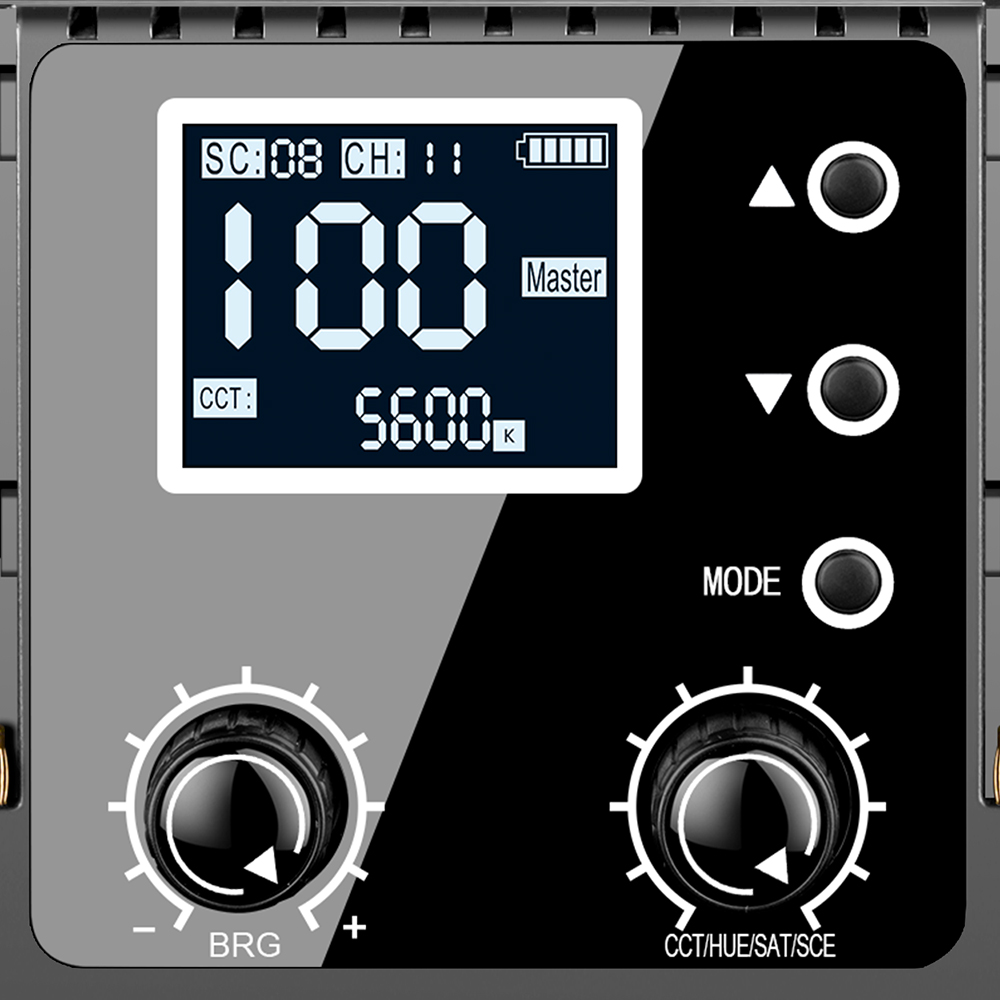 Hd LCD display in real time
Clear LCD screen can display lamp brightness, color temperature, power status, excellent heat dissipation design let you work continuously. There are 2 independent knobs on the back of the panel to adjust the color temperature and brightness; Clear LCD screen can display lamp brightness, color and power status.
Detachable thermoplastic diffusion filters soften the beam and smooth the shadows.
Optional 4 – piece folding can be used to control light propagation and reduce light overflow.
Optional inner tank soft light box can be used to enhance the panel output. By adding forward diffusion to the soft light box, the panel becomes a wider soft light source. The honeycomb front layer can be used to narrow the beam Angle and reduce spillage.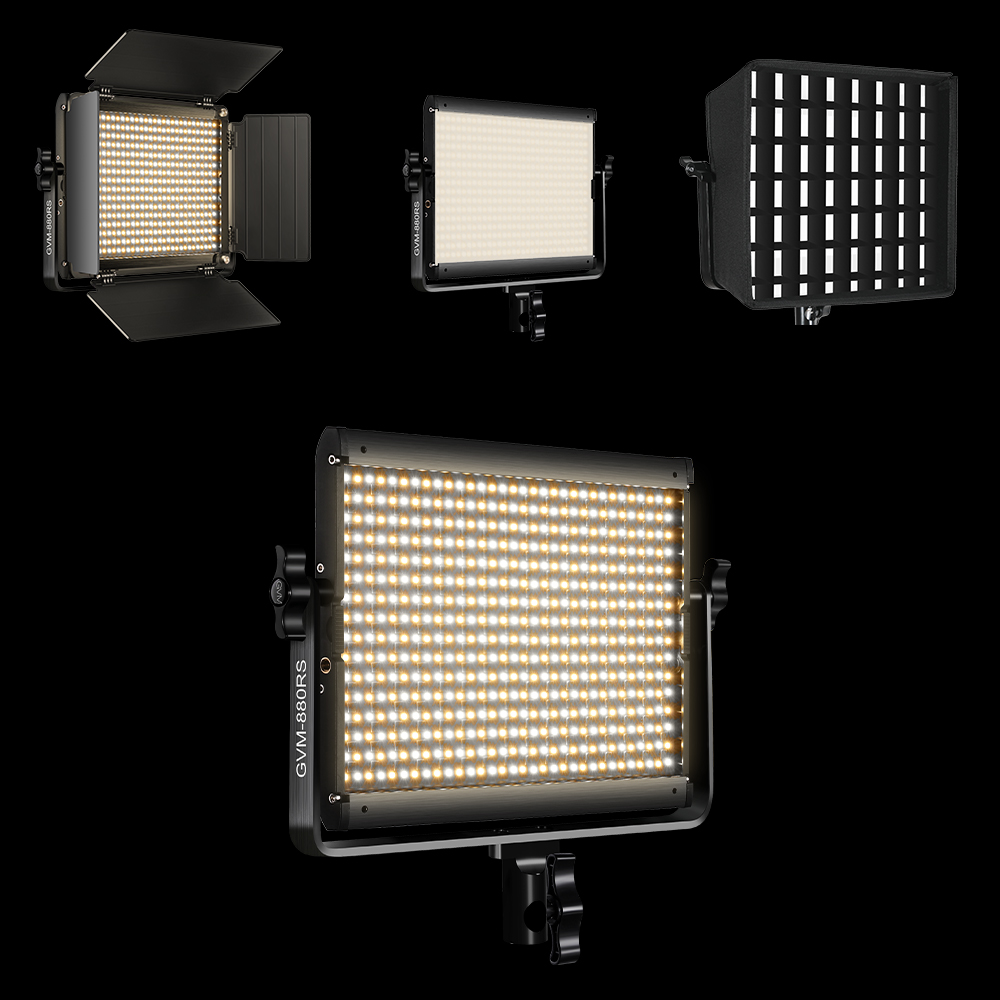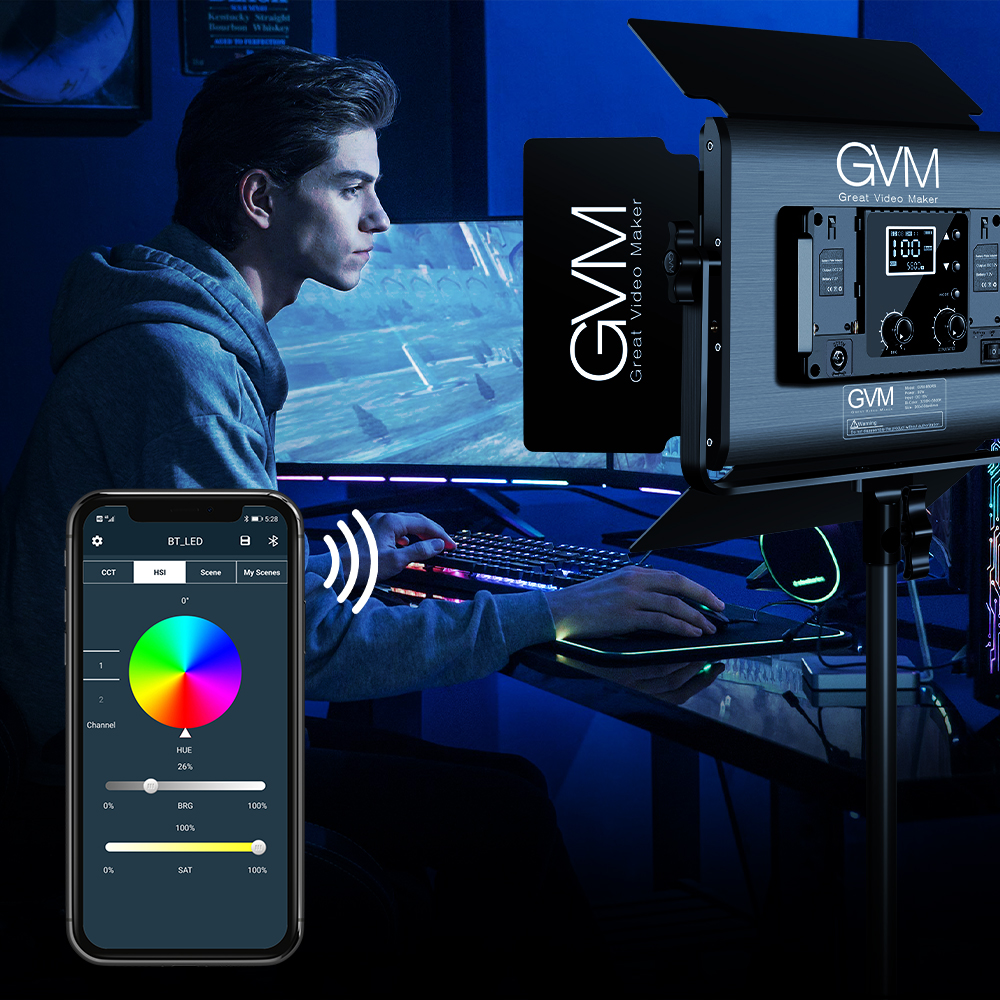 Gvm-880rs is equipped with Mobile App control function, download GVM App in major App stores (such as Apple Store/Google Play, etc.), which is convenient to control the accurate color temperature you need. Effective for your video shooting.
Multiple power supply options
LED panel lights can be powered in two modes, you can use ac adapters and
SONY F750/970 battery (not included) supply, power supply outdoor or indoor.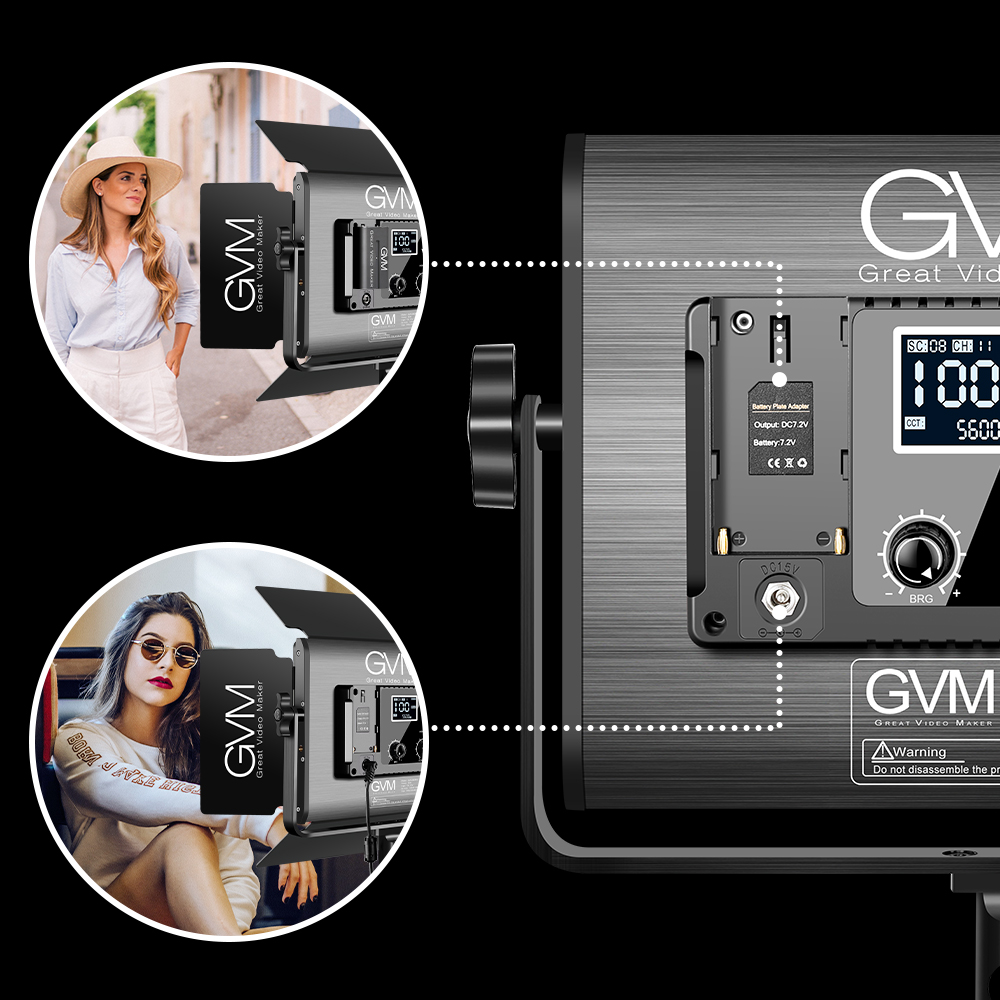 60W
Android or ios Cell Phone Smart CONTROL
8 kinds of SCENES MODES/Excellent material
High-definition LCD screen real-time display
GVM RGB LED Studio Video Light Bi-Color Soft 2-Light Panel Kit GVM-880RS-2L
2 x GVM 880RS RGB LED Video Panel Light
2 x Power Supply Adapter
2 x Power Cable
2 x Light Diffuser
2 x Light Barn Door
2 x Light Stand
1 x Carrying Case
1 x User Manual