Description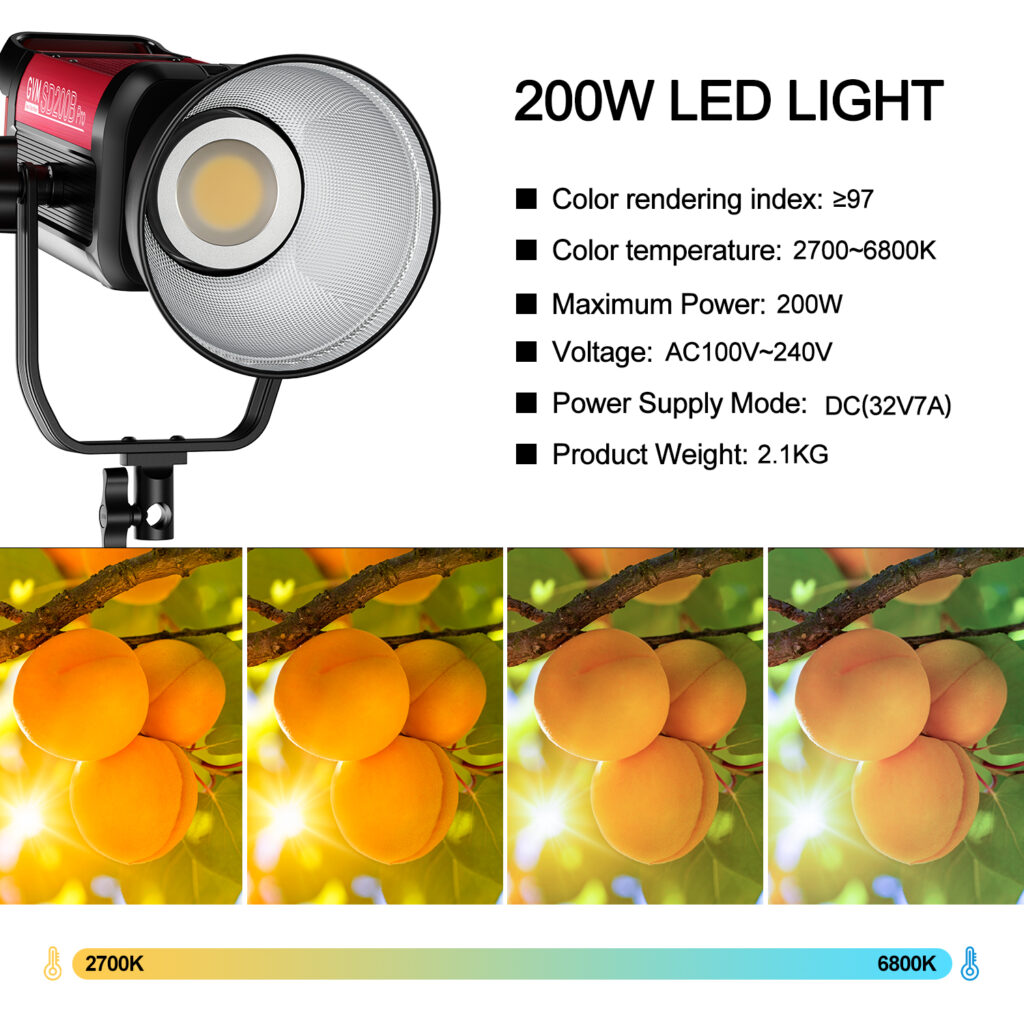 Industrial film and television grade full-color spotlight
The new GVM SD200B Bi-Color Spotlight is a powerful light source with high color rendering index CRI 97+ & TLCI 97+ which can achieve accurate color rendering on the camera and restore the most realistic object color.
It also provides you with natural and vivid shooting effects while obtaining professional results.
Can ensure color layout and beam area in matrix system without color separation
Lightweight and compact mobile cinema light
The net weight of GVM-SD200B bi color led lights is only 2.1 kg, which is convenient for photographers to use anytime and anywhere. Hand-held fill light makes outdoor shooting more convenient and efficient, providing the best and most convenient powerful assistance for your works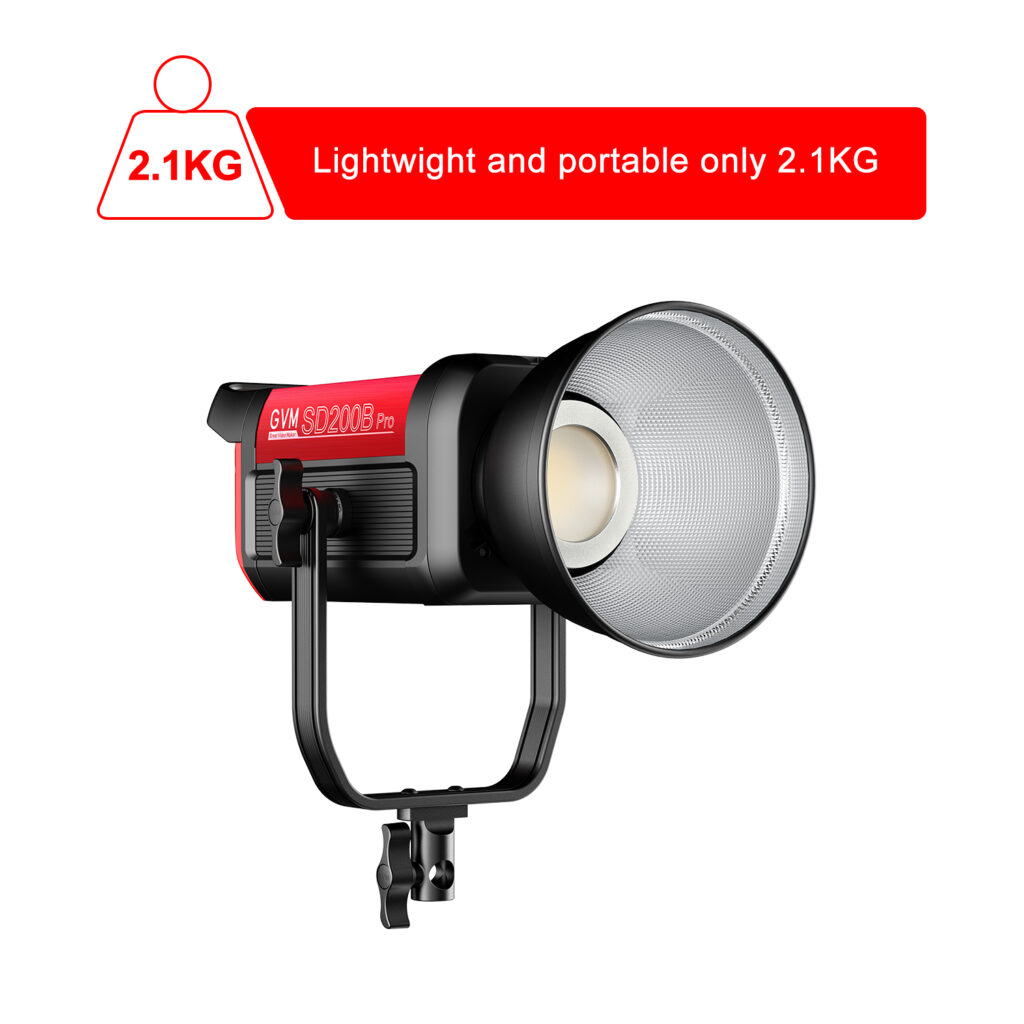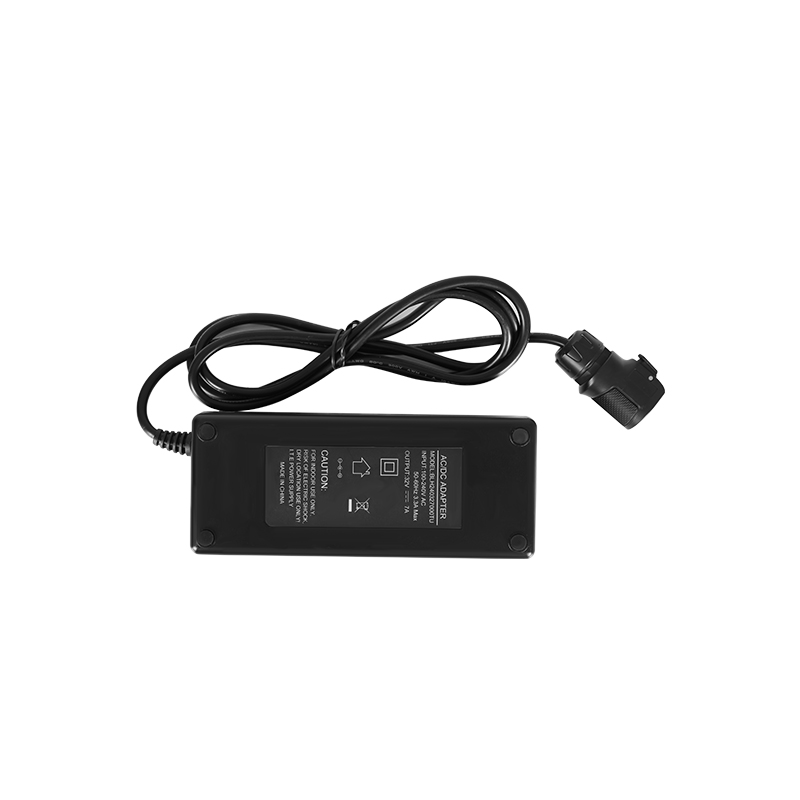 GVM-SD200B Bi-Color Spotlight can be powered by a 32V7A DC power supply, making the supplementary light more stable and efficient, and has better color rendering capabilities
The newly upgraded GVM-SD200B has upgraded the CCT adjustment accuracy from 100 to 50, and the adjustment is more precise, which can provide users with a smoother dimming process and more accurate colors; with the new algorithm model of GVM, it can instantly adjust the light intensity. Large step adjustments can also quickly and smoothly complete the dimming process. At the same time, the light effect rate increases to a random rate file, and the change frequency of the light effect is switched regularly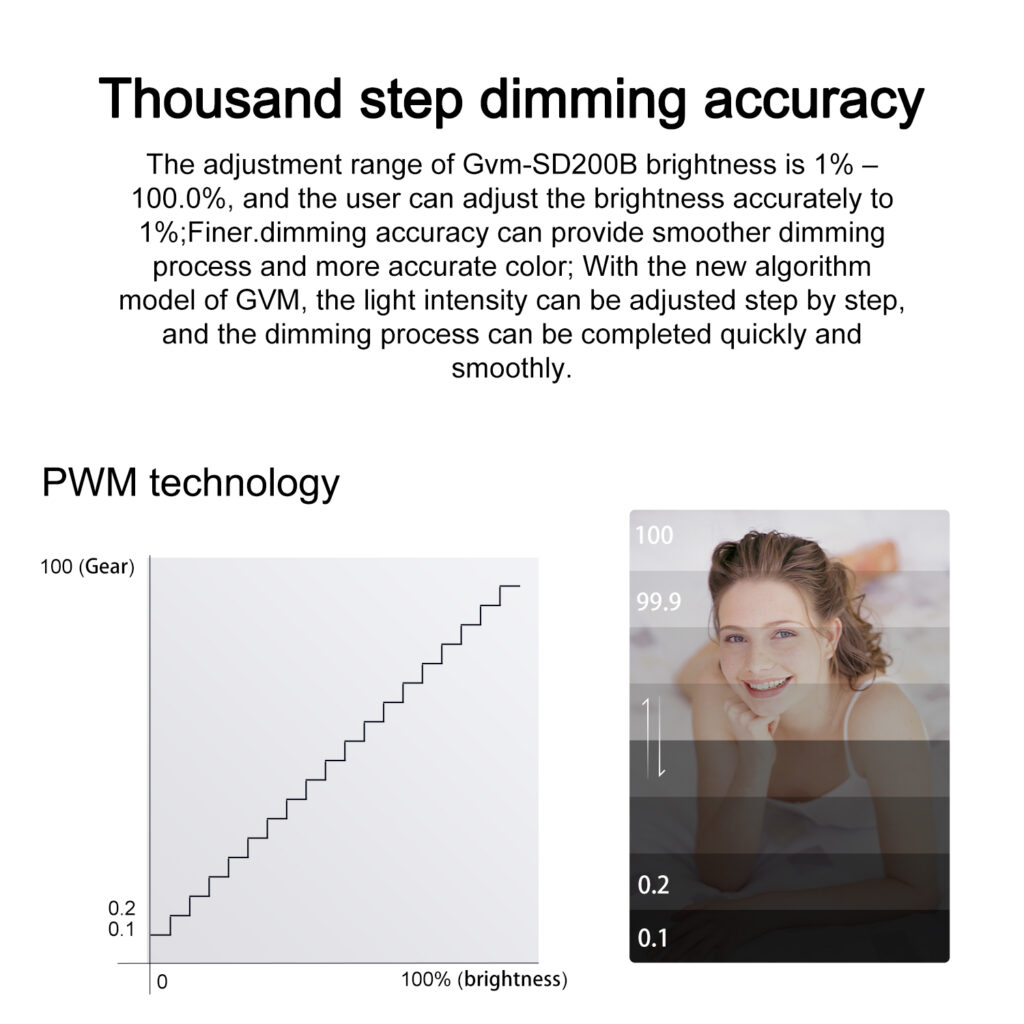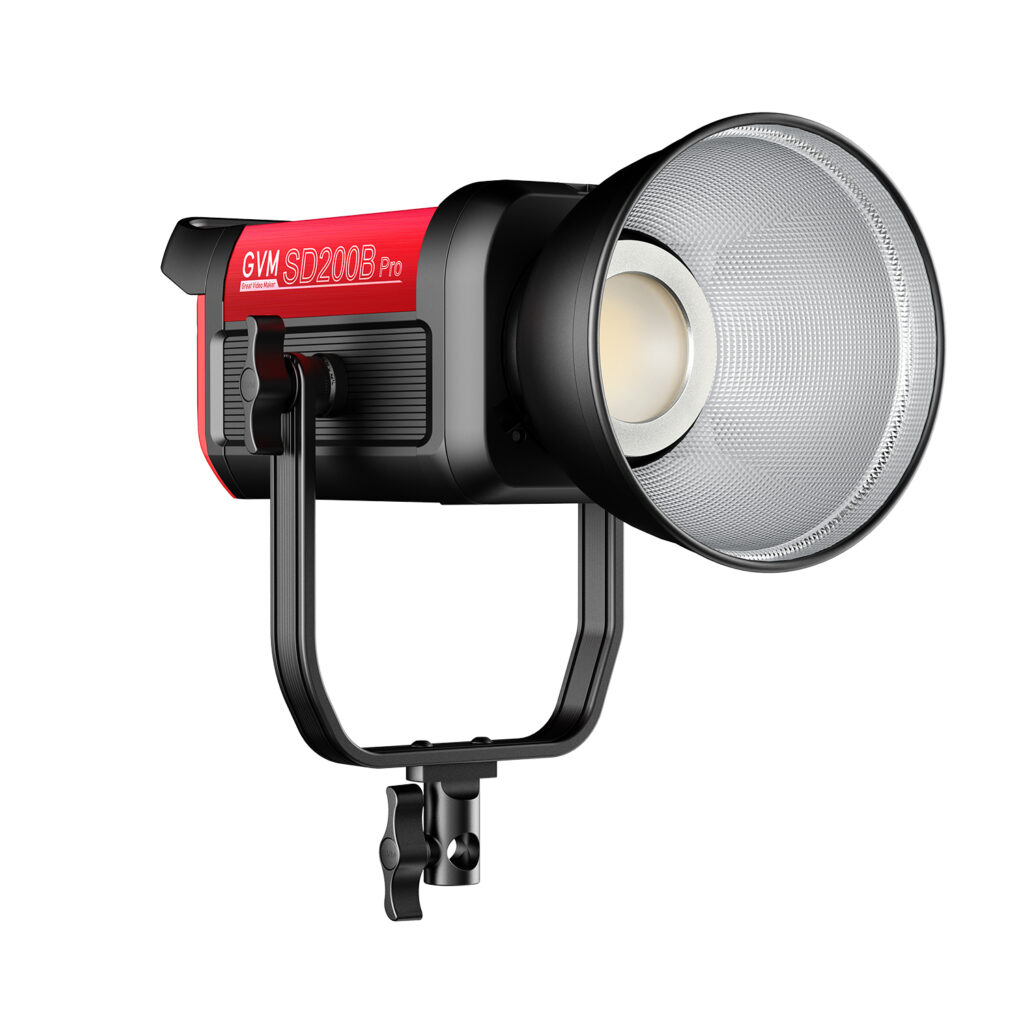 The brightness of SD200B is as high as 200W. Conventional two-color temperature spotlights adjust the color temperature through a variety of different lamp beads, which leads to different powers of different color temperatures and colors. Often the middle color temperature has high power, and low color temperature and high color temperature have low power. It makes the brightness of lights of different color temperatures and colors different. SD200B continuous lighting has a brand-new algorithm. While adjusting the color temperature and color of various lamp beads, it will also automatically calculate the appropriate power, so that the power of different color temperatures and colors is consistent. Keep brightness constant while adjusting color temperature
This mode provides 12 light effects: Lightning, CCT Cycle, Candle, Bad Bulb, TV, Paparazzi, Explosion, Breathing Light, Strobe, Flame, Fireworks, Welding.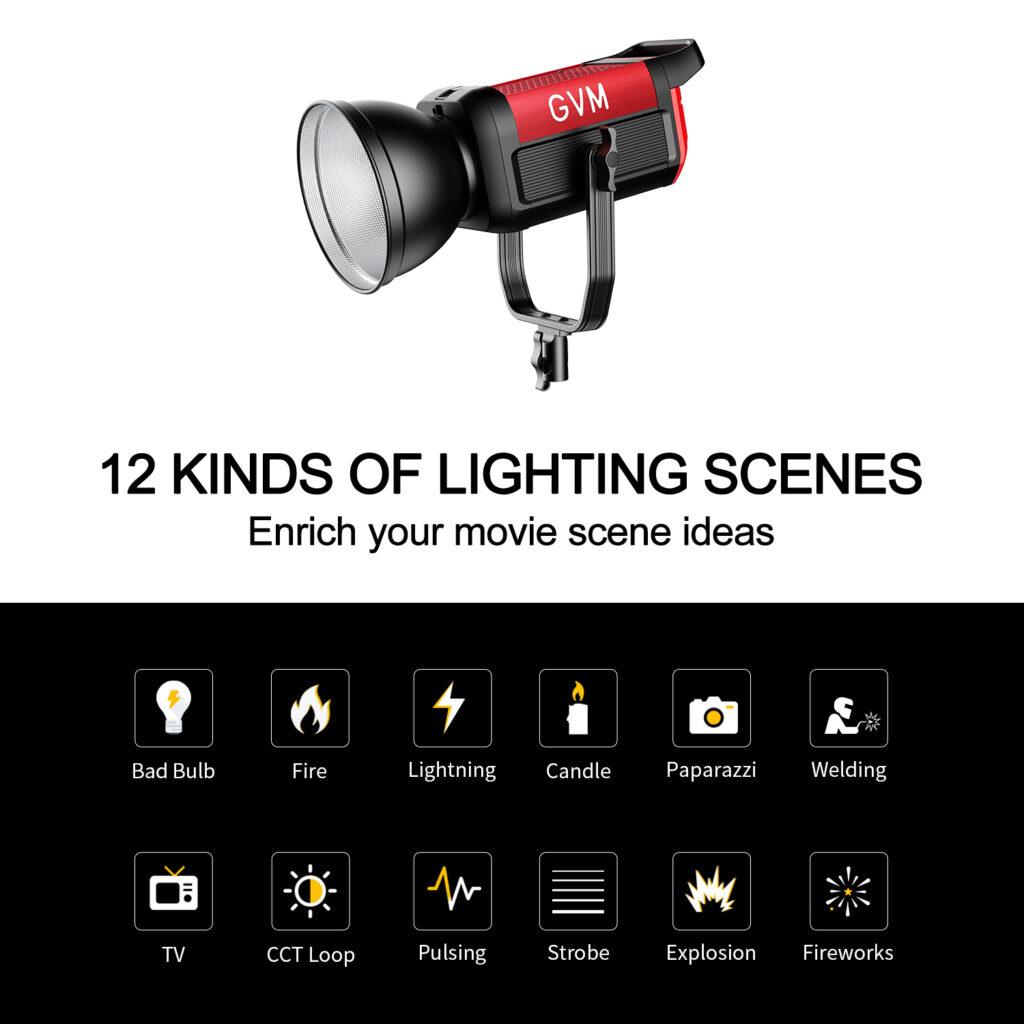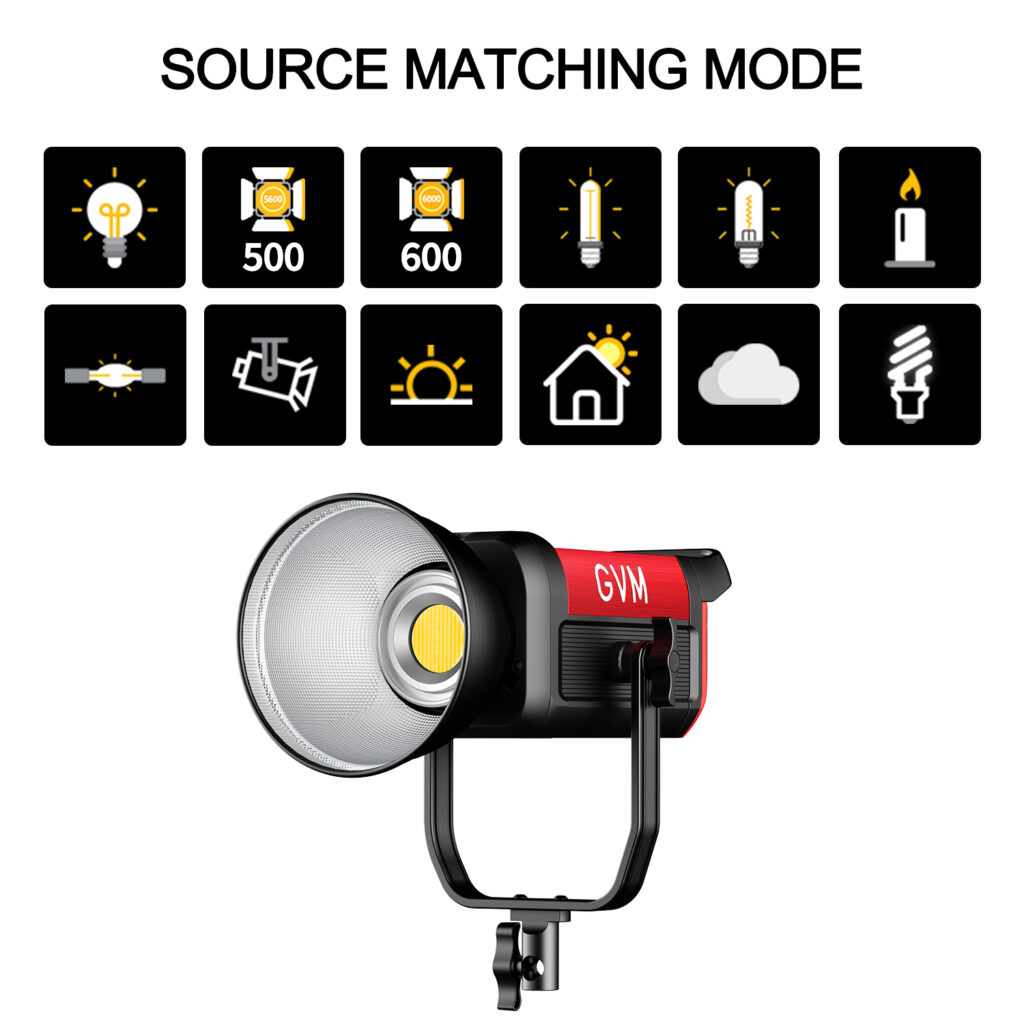 12 Light source matching modes
This mode provides 12 different styles of light source types to choose from, which can save a lot of adjustment time when you need a specific light source
With standard DMX interface, it can realize DMX control and mode of low precision 8bit and high precision 16bit.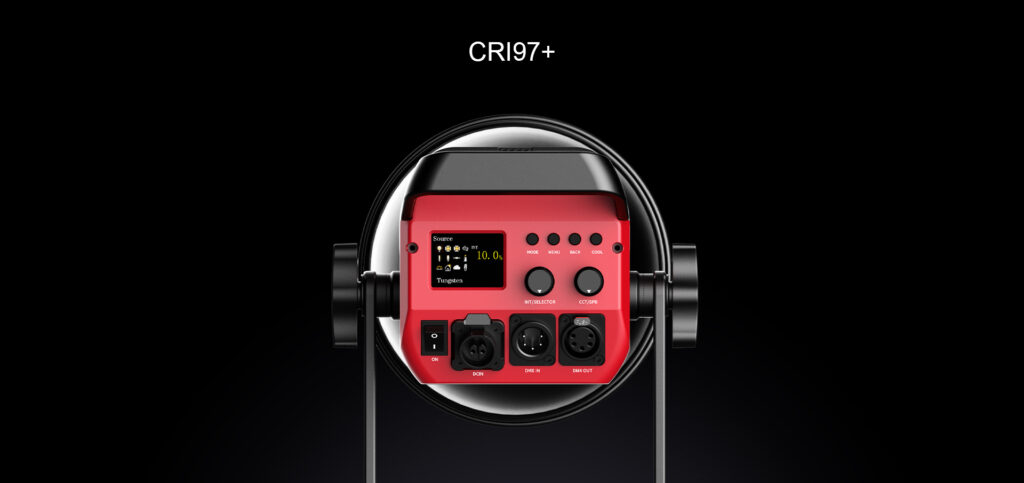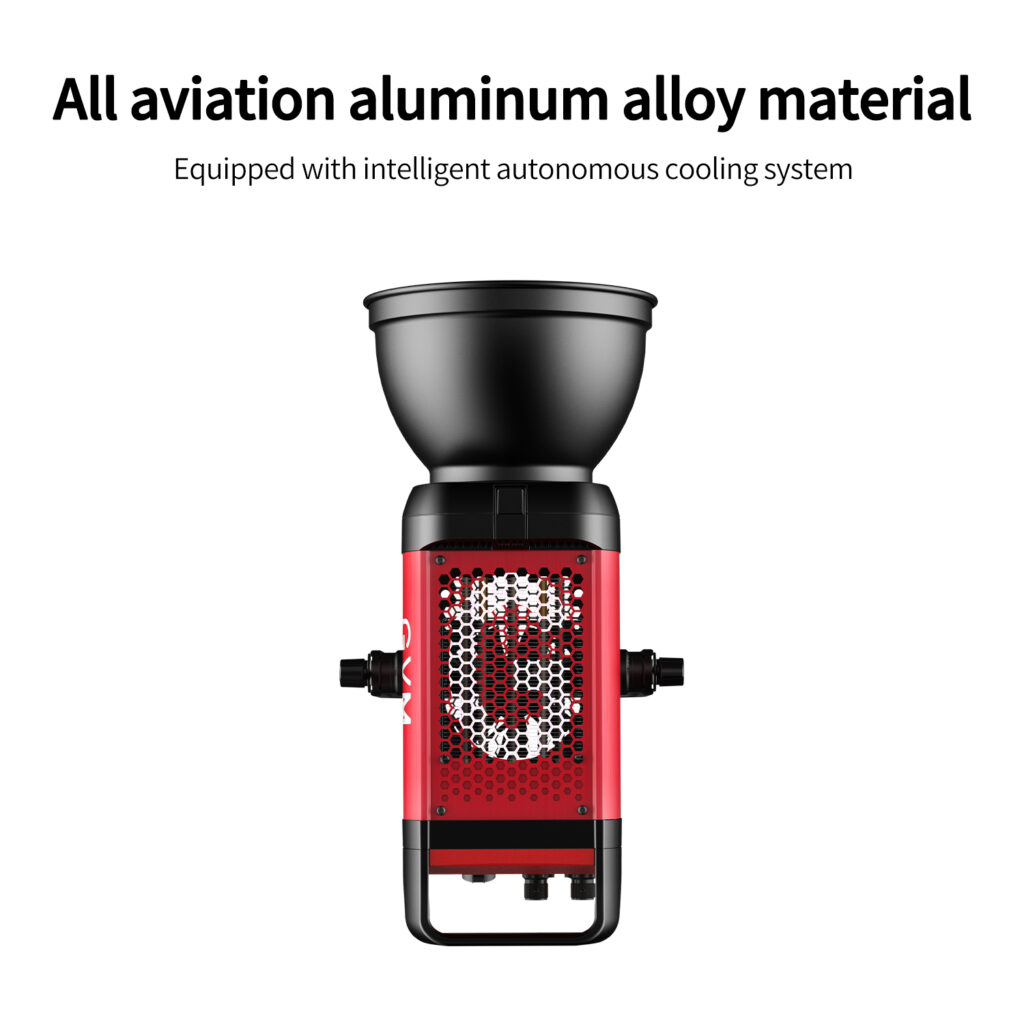 Rugged Construction and Practical Design
Manufactured from aluminum alloy, this video Spotlight has a solid all-aluminum construction that can withstand the hustle and bustle of daily intensive use. The sturdy enclosure is functionally designed with built-in rear handles and bottom legs for easy handling, installation and storage of the panel.
Built-in fans and an active cooling system ensure efficient heat dissipation to maintain stable performance and prolong the lifespan of Studio Light.
GVM-SD200B Studio Light can be controlled by your IOS and Android smart mobile devices. It also supports Bluetooth mesh networking and can be controlled in groups with GVM brand devices that support mesh networking.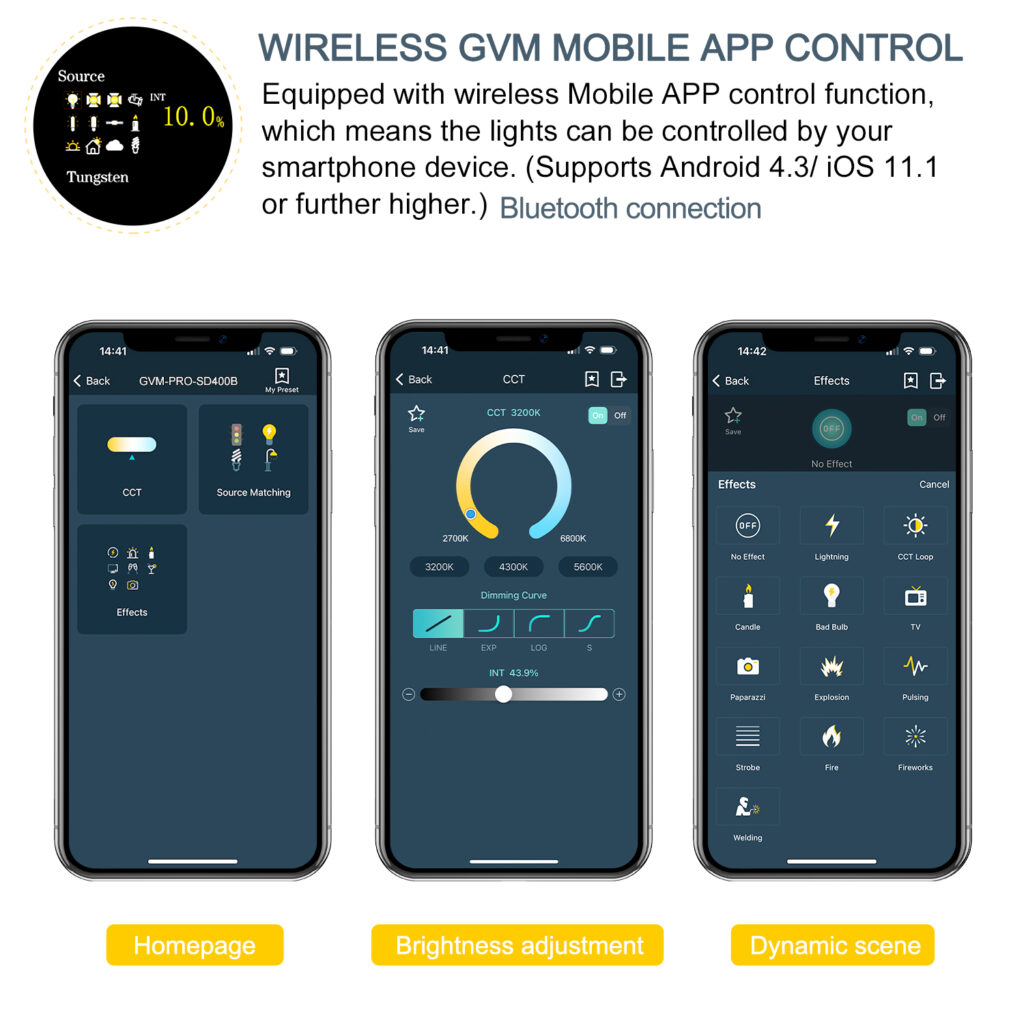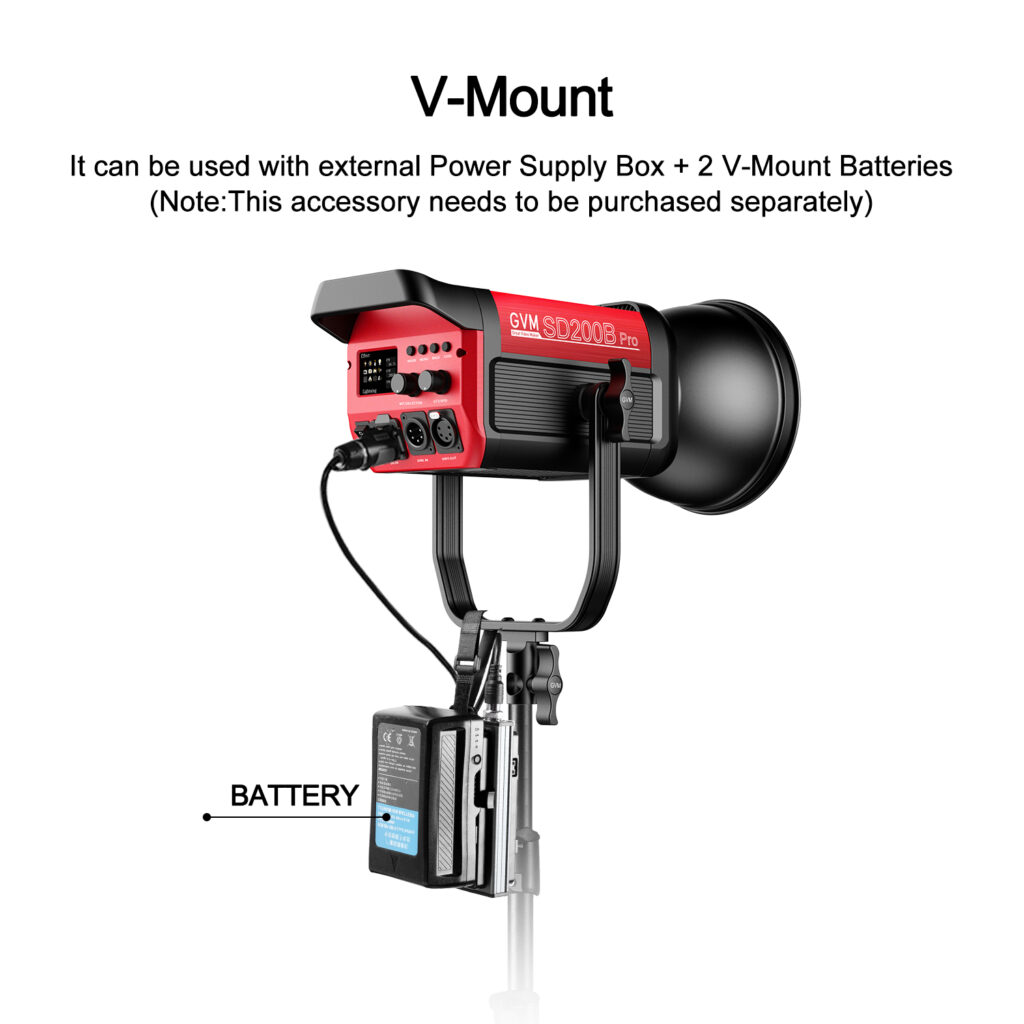 It can be used with external power supply box + v-port battery
The GVM-SD200B Studio Spotlight and all its major components can be stored in the optional shipping case. The included foam padding effectively protects the light body and accessories for easy transport and safe storage.