300W LED professional film grade double head spotlight
The new double headed movie is a professional upgrade of the str-300vm
It is a newly upgraded RGB movie video lamp in 2022
Update the LCD screen currently displaying light parameters
Update more comprehensive control mode, channel value, scene number and simulation scene mode
One end has a high-quality two-color temperature cob lamp bead with a color temperature of 2700-7500k
The other end is RGB light beads, with 0-36000 colors adjustable
Both ends have a power of 300W
Equivalent to the price of 1 lamp, I bought 2 lamps
It also has lighting scene special effects, which can meet various shooting needs
High display CRI 97+
It can effectively help restore and enrich the color of the subject
Provide you with natural and vivid shooting effects
It can also provide excellent lighting effect for films, film and television dramas, film and television advertisements, etc.
High power photographic lamp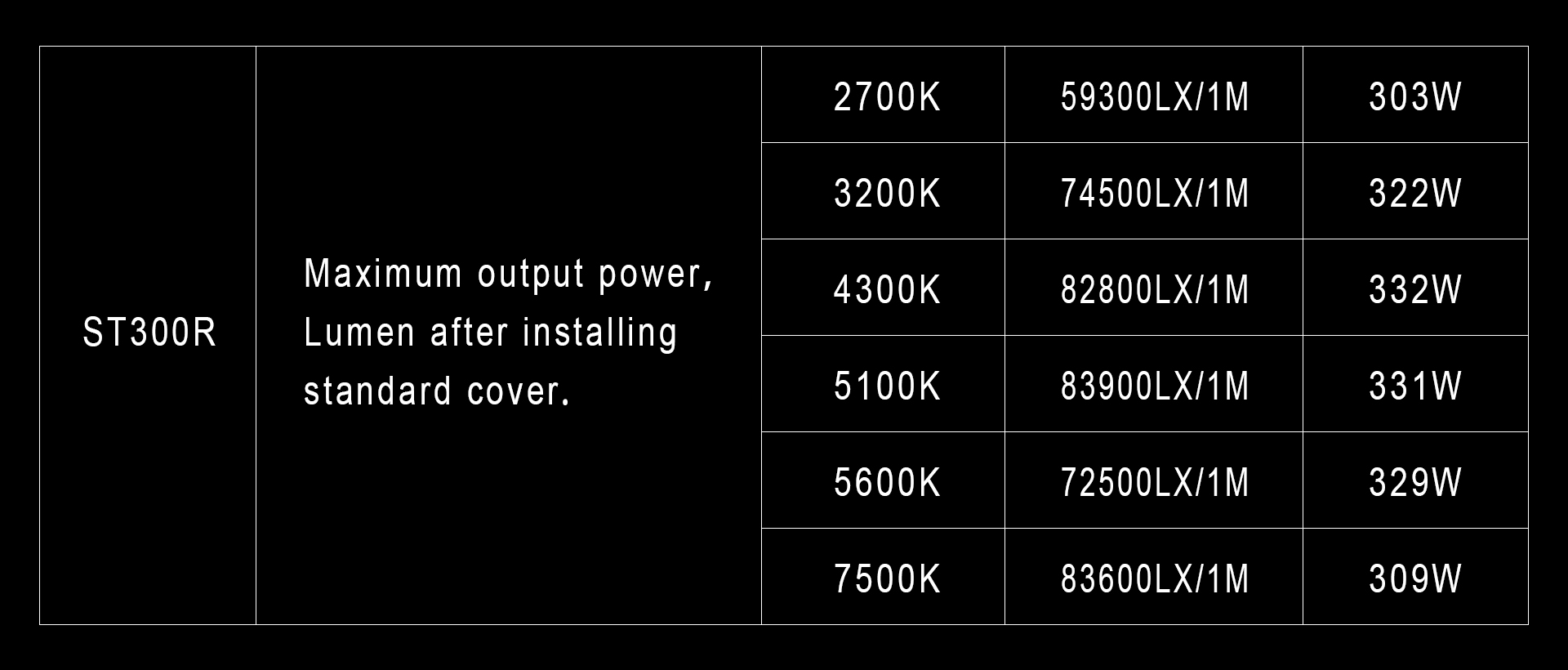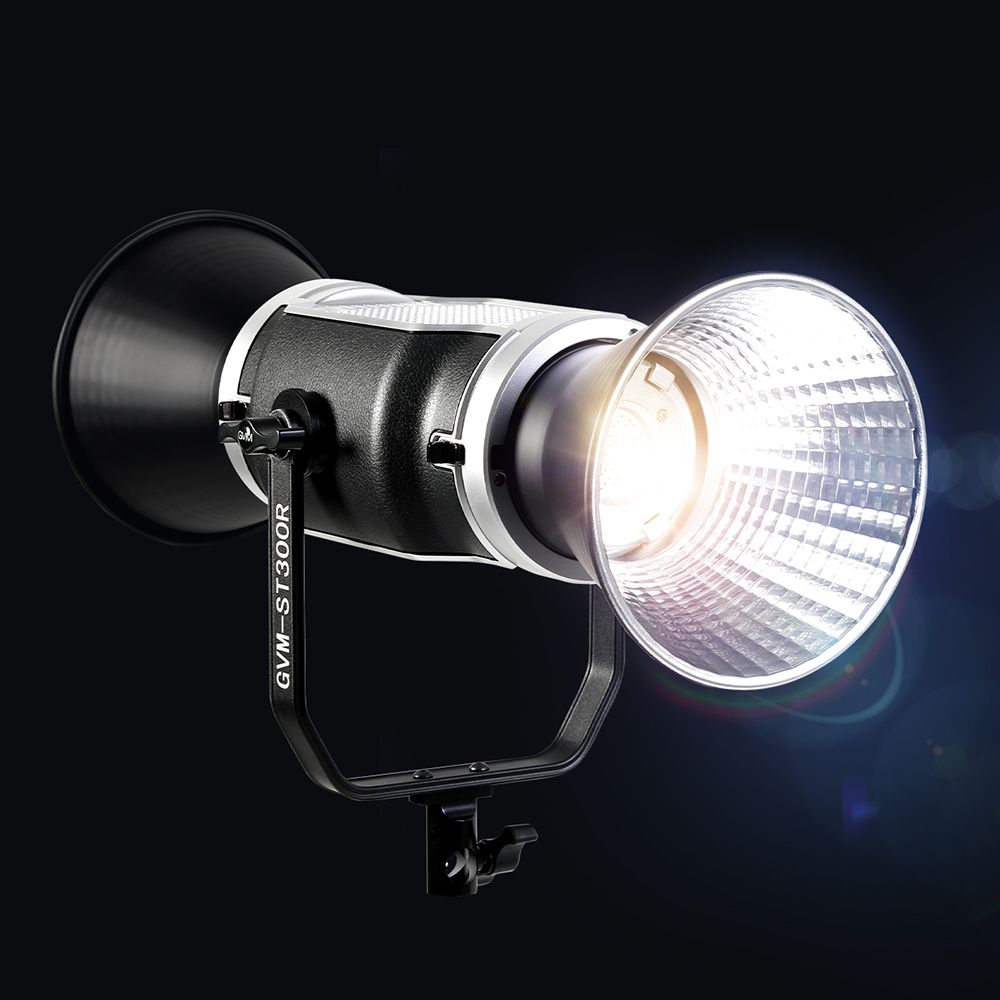 Industrial film and television full color panel lamp
The new GVM ST series LED panel is a powerful light source. It adopts full RGB + WY five-color light source. More colors can output a wider color gamut, so as to provide tens of millions of rich and bright colors.
High color rendering index CRI 97 + & TLCI 97+This can achieve accurate color rendering on the camera and restore the most realistic object color.In order to obtain professional effects, but also provide you with natural and vivid shooting effects.It can ensure that the color layout in the matrix system and rgbwy in the beam area are mixed evenly without color separation
Thousand step dimming accuracy
The adjustment range of gvm-st300r brightness is 0.1% – 100.0%, and the user can adjust the brightness accurately to 0.1%;Finer.dimming accuracy can provide smoother dimming process and more accurate color; With the new algorithm model of GVM, the light intensity can be adjusted step by step, and the dimming process can be completed quickly and smoothly.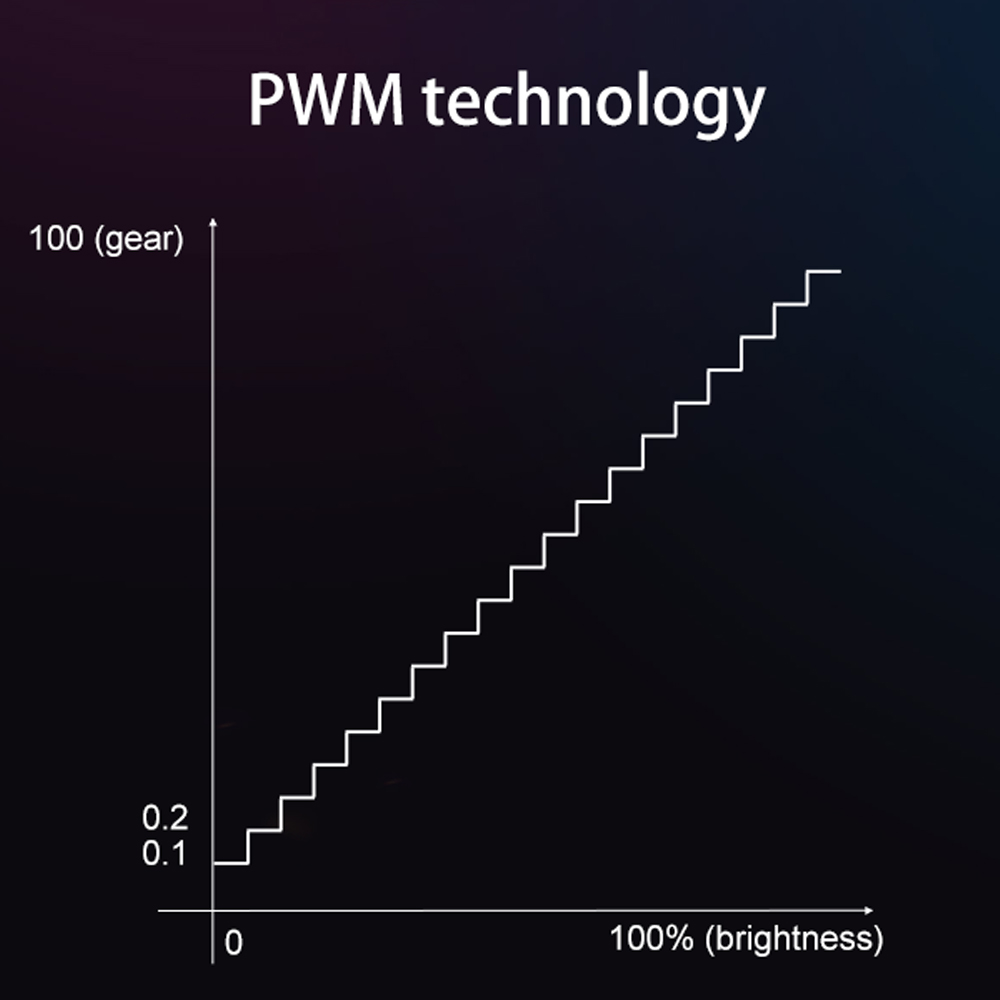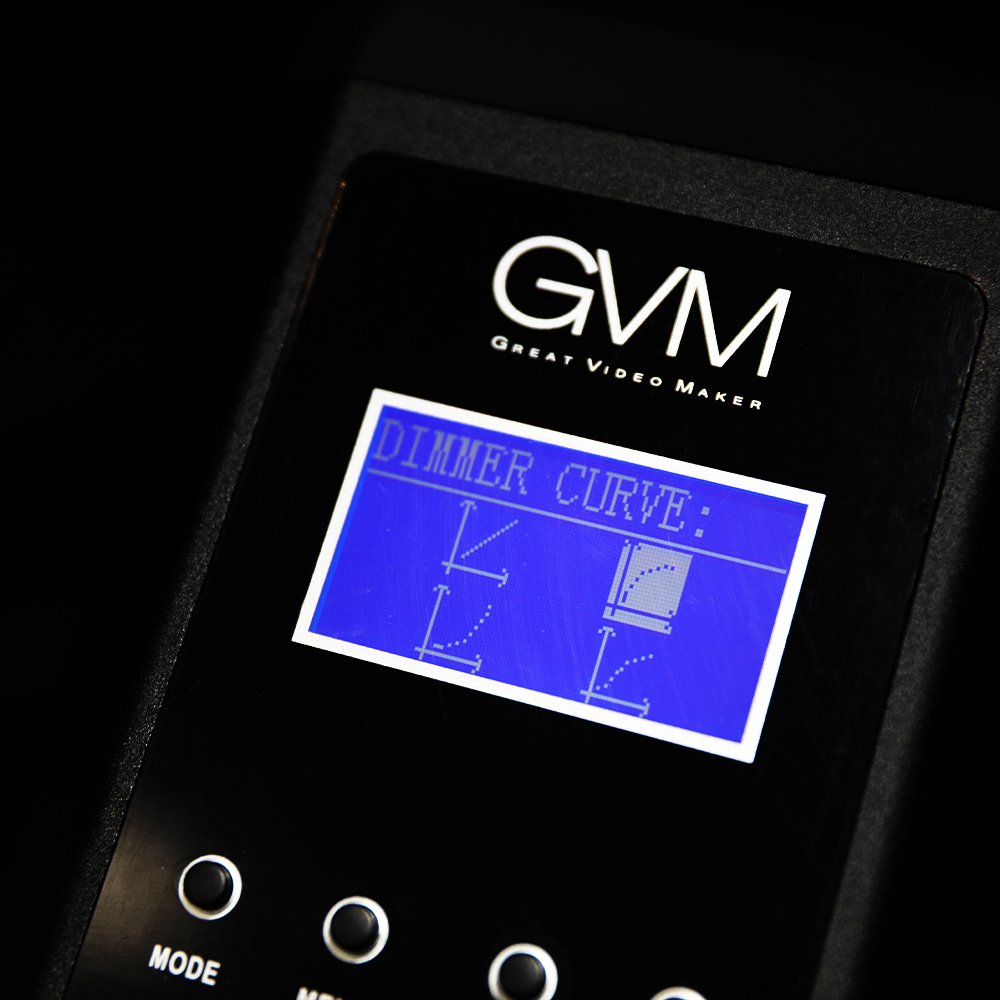 GVM-ST300R has four dimming curves (linear/logarithmic/exponential/S curves) to be selected to meet the technical requirements of studio devices, such as TV news and entertainment production sets. High standard and professional light control technology is also the best choice for variety shooting and movie making
The conventional two-color temperature RGB board lamp adjusts the color temperature and color light through a variety of different lamp beads, which leads to different power of different colors at different color temperatures. Often the middle color temperature power is high, and the power is low at low color temperature and high color temperature. The brightness of lights with different color temperatures and different colors is different.
St300r's new algorithm will automatically calculate the appropriate power while adjusting the color temperature and color of a variety of lamp beads, so that the power of different color temperatures and different colors are consistent. While adjusting the color temperature and RGB, the brightness remains unchanged. Under the condition of maximum brightness, the constant power of 300W can be kept unchanged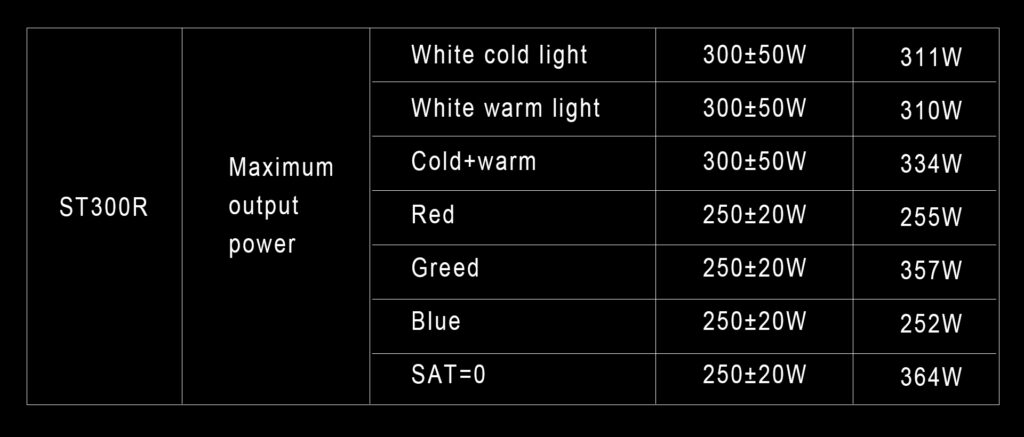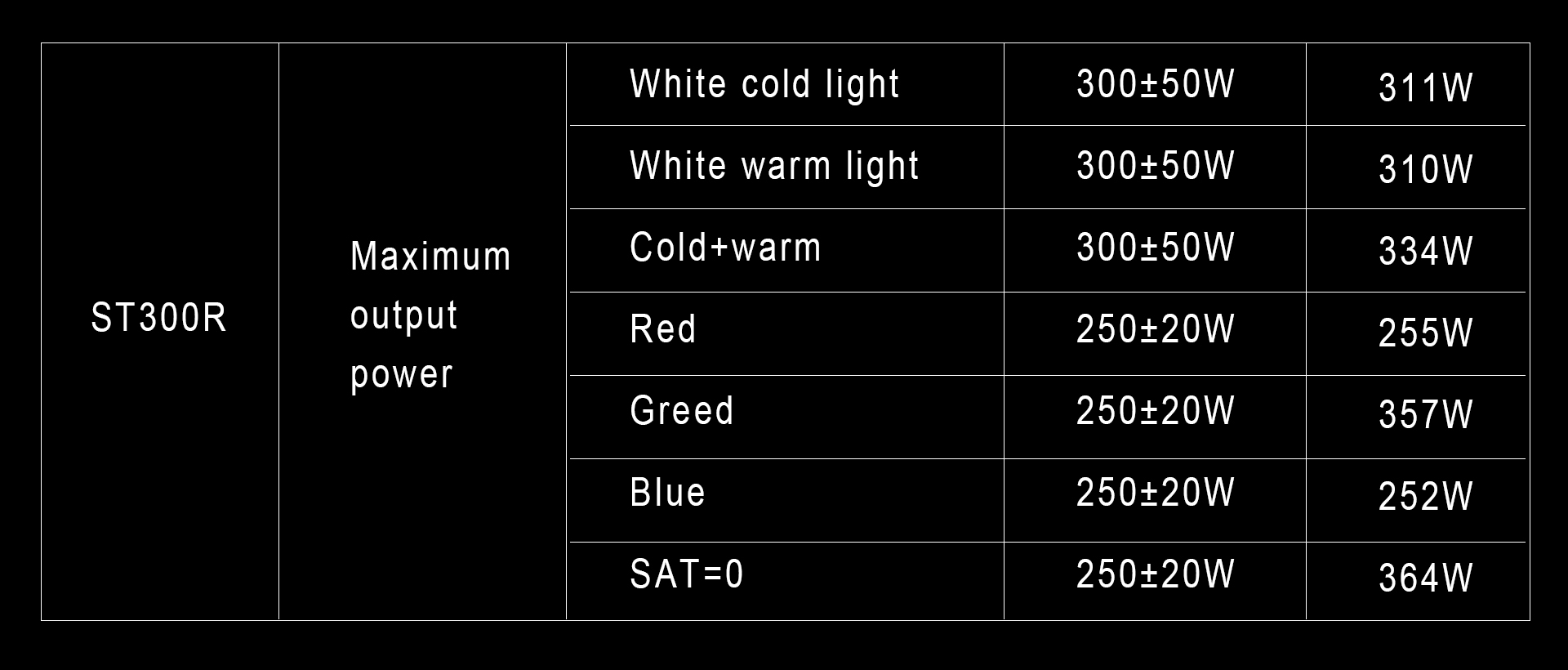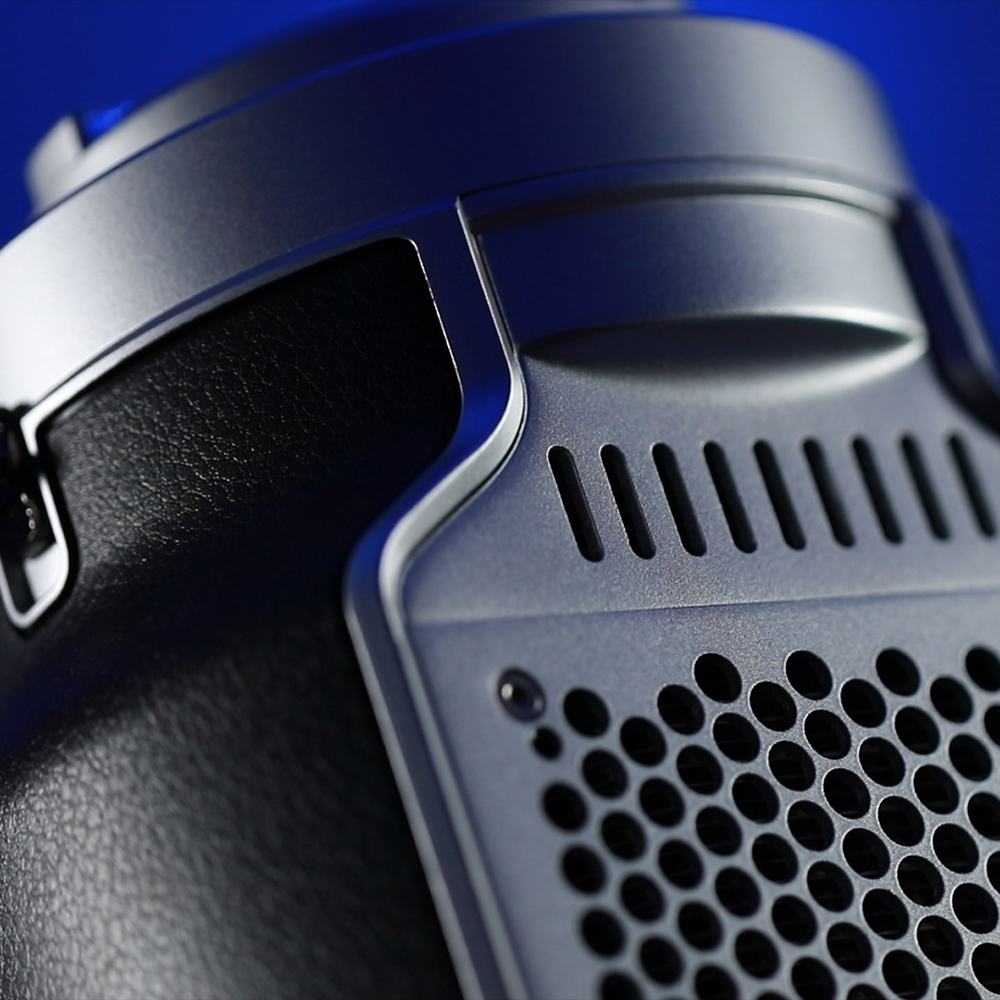 Strong structure and practical design
The panel has a solid, all-aluminum structure that can withstand heavy daily use. The sturdy housing is functionally designed with built-in rear handles and bottom legs for easy operation, installation and storage of the panel.
Strong structure and practical design
Perforated aluminium housing design and active cooling system ensure efficient heat dissipation to maintain the stability of the LED panel and extend its service life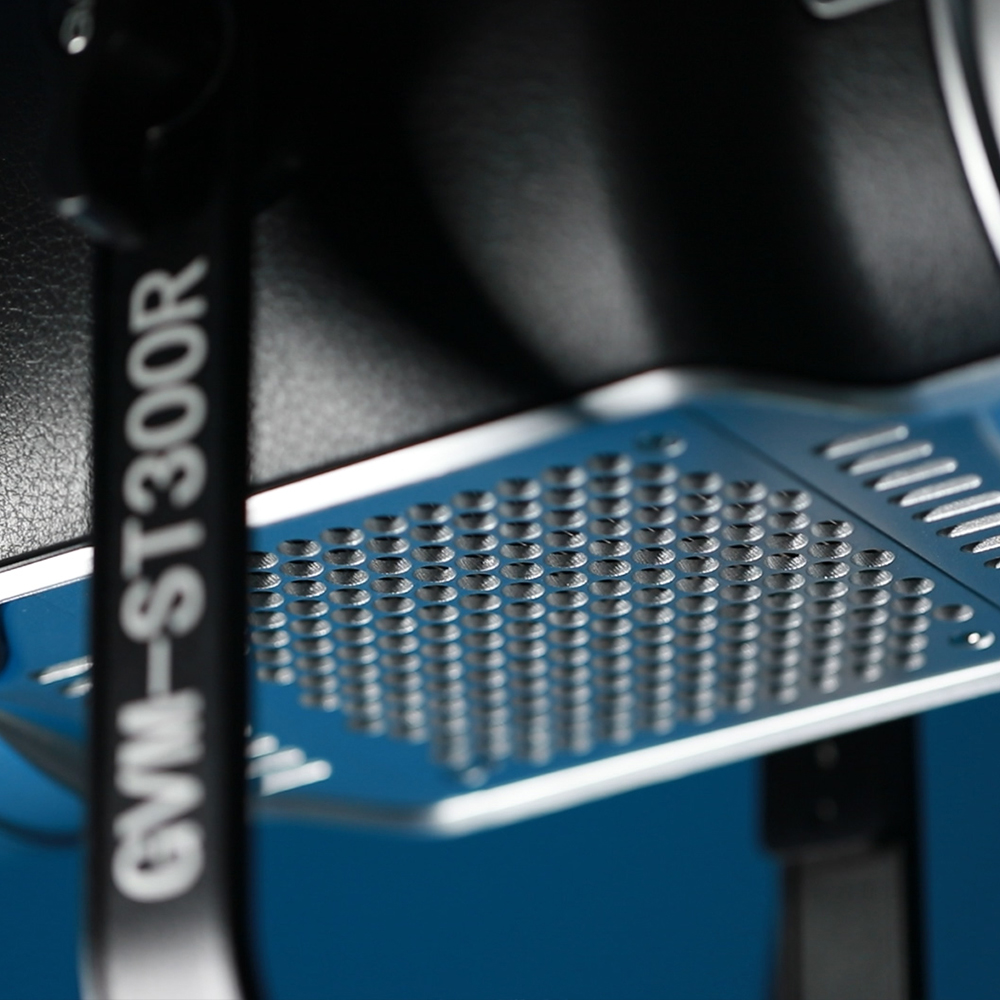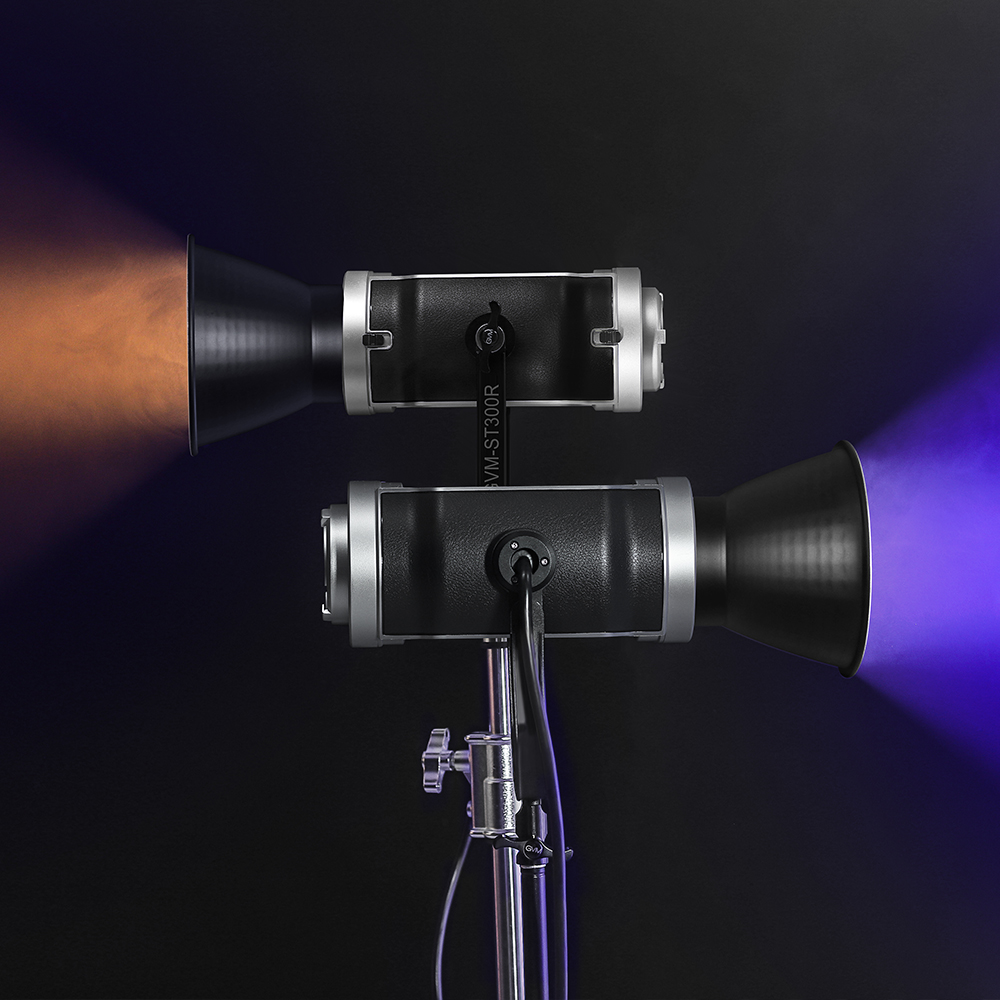 GVM ST300R provides a smooth and even beam field by combining the latest wide beam, true-tone SMD LED and diffuser plates. The large surface area of the panel produces a bright, surround output with clean, soft shadows and acts as a beautifying light on the body
Using the built-in industry standard DMX-512 interface, the gvm-st300r can be integrated into more complex studio installations that require standardized remote control methods, such as news sets, talk shows or entertainment production. The unit is equipped with two xlr-3p DMX ports (input / output loop) that allow the panel to be connected to the DMX lighting console.
Gvm-st300r provides DMX control mode with 8bit precision and 16bit precision.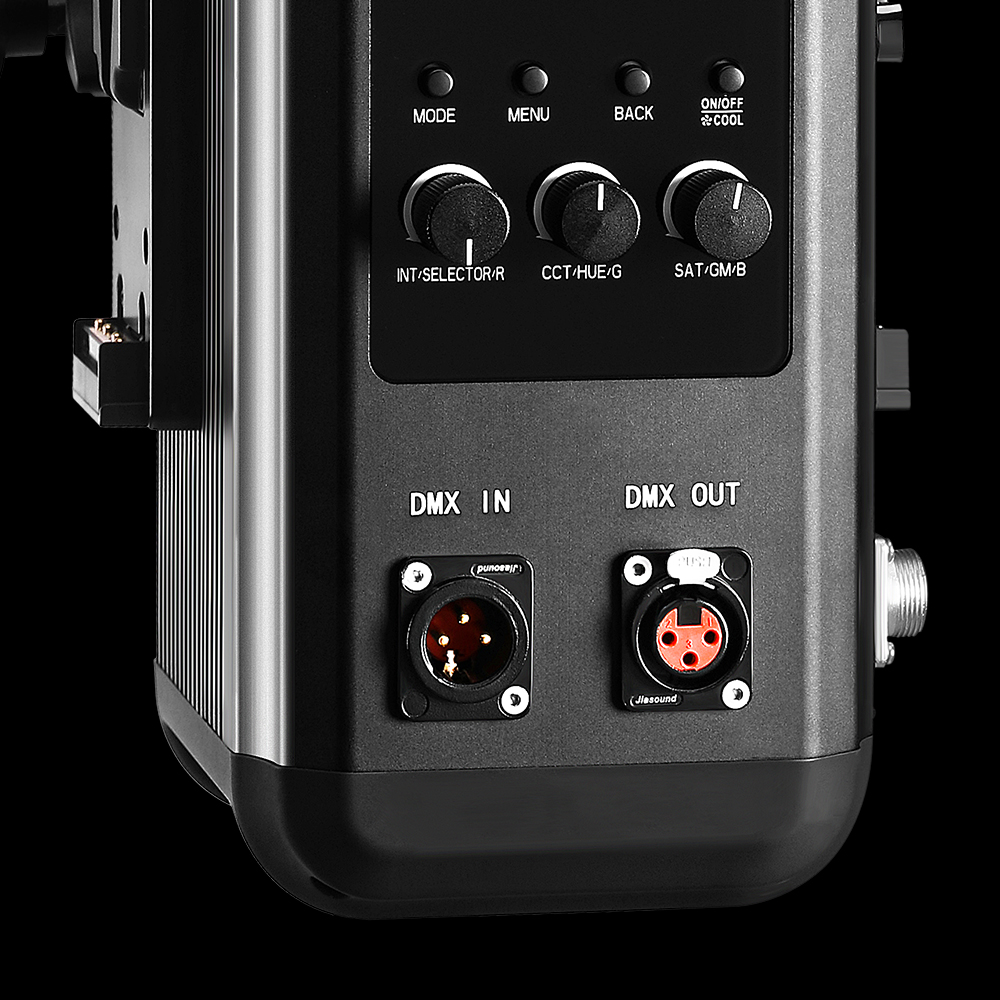 GVM-ST300R uses an intuitive panel control interface to operate the lights quickly and easily. The digital display displays all the useful information for the user to adjust and customize the desired values.

Three large selection knobs can be easily handled (even with gloves) to fine-tune required parameters.
LED lamps are more efficient than traditional light sources. However, LED light sources generate a lot of heat in some cases. Generally speaking, the colder the environment, the higher the light output of the LED. Higher temperatures usually reduce light output. In warmer environments and higher currents, the temperature of the semiconductor element increases. The light output of an LED varies with its temperature at a constant current. Good and efficient thermal management helps to reduce heat accumulation inside and around the LED, which significantly prolongs its lifetime, increases its light output and minimizes the temperature impact on the shooting site.
ST series uses multiple heat sink metal sheets plus heat conducting copper tube design, which can greatly increase the area of air contact, maximize heat conduction outward, and improve the efficiency of heat transfer.
In addition, when the ambient temperature or the total heat generated by the LED is very high, we can increase the total heat from the device by forcing air to flow through it. Dual fan system allows air convection to maximize air circulation. Adding a fan also has the added advantage of removing any concentration of still hot air (hot spots) so that the entire LED system can remain at a reasonable temperature for a long time.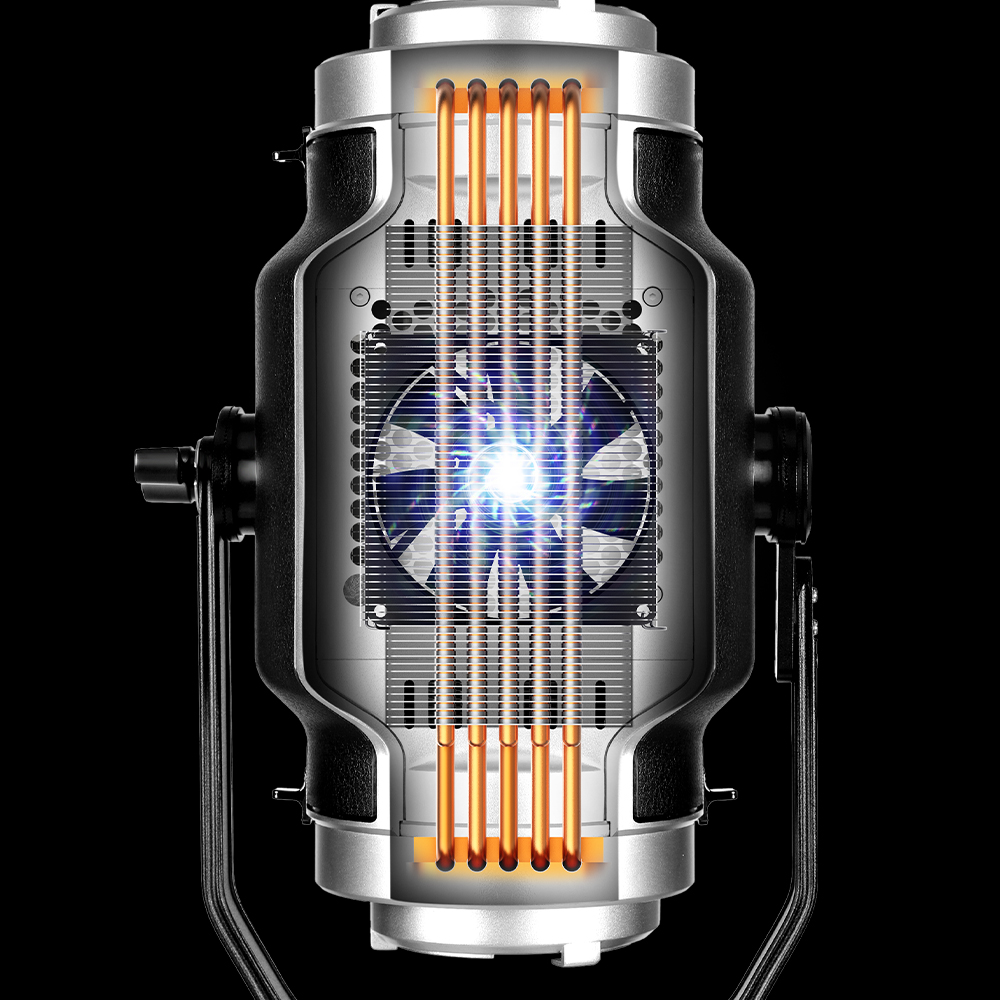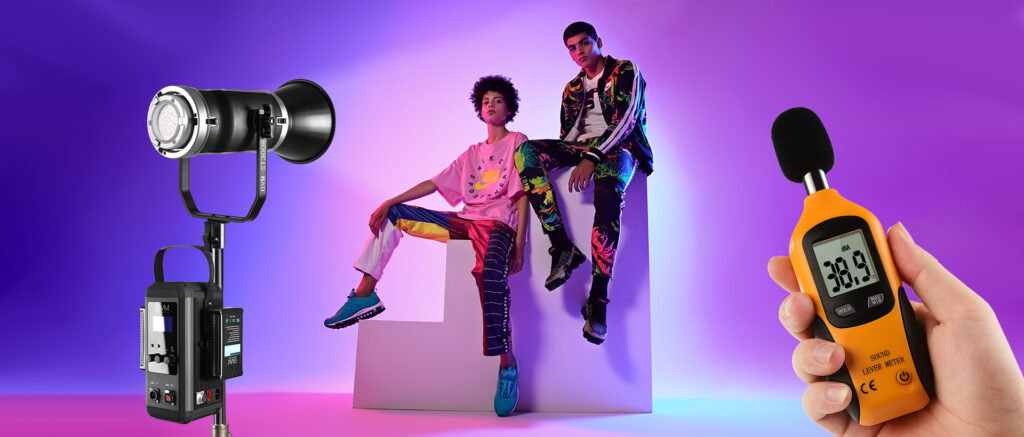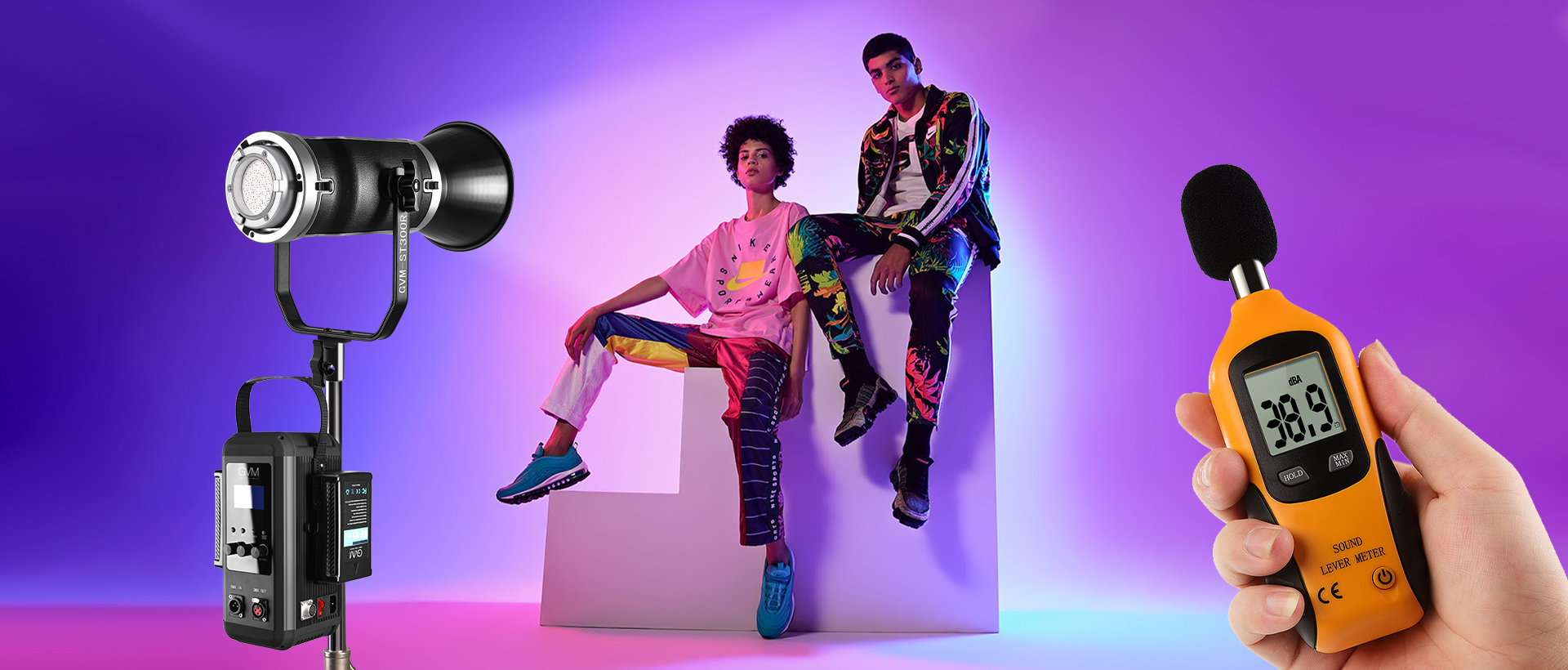 With the carefully designed mute system, the GVM-ST series boldly introduces a new design, with a built-in cooling super-mute fan. The advantage of the dual fan is that it can effectively cool down without requiring a high speed. With 100% light intensity, the noise will not exceed 40dB even if the two fans rotate at the same time (when the ambient noise is less than or equal to 22dB). Almost no sound can be heard, and there is no need to adjust the lighting position to accommodate the noise.
The ST300R uses a standard bowens mount. In addition to the standard cover that can be fitted with matching, all third-party standard bowens fittings are also available. Includes lantern shade and diffuser. By adding a front diffuser to the diffuser, the spotlight becomes a wider diffuse light source. A honeycomb front layer can be used to narrow the beam angle and reduce spillage.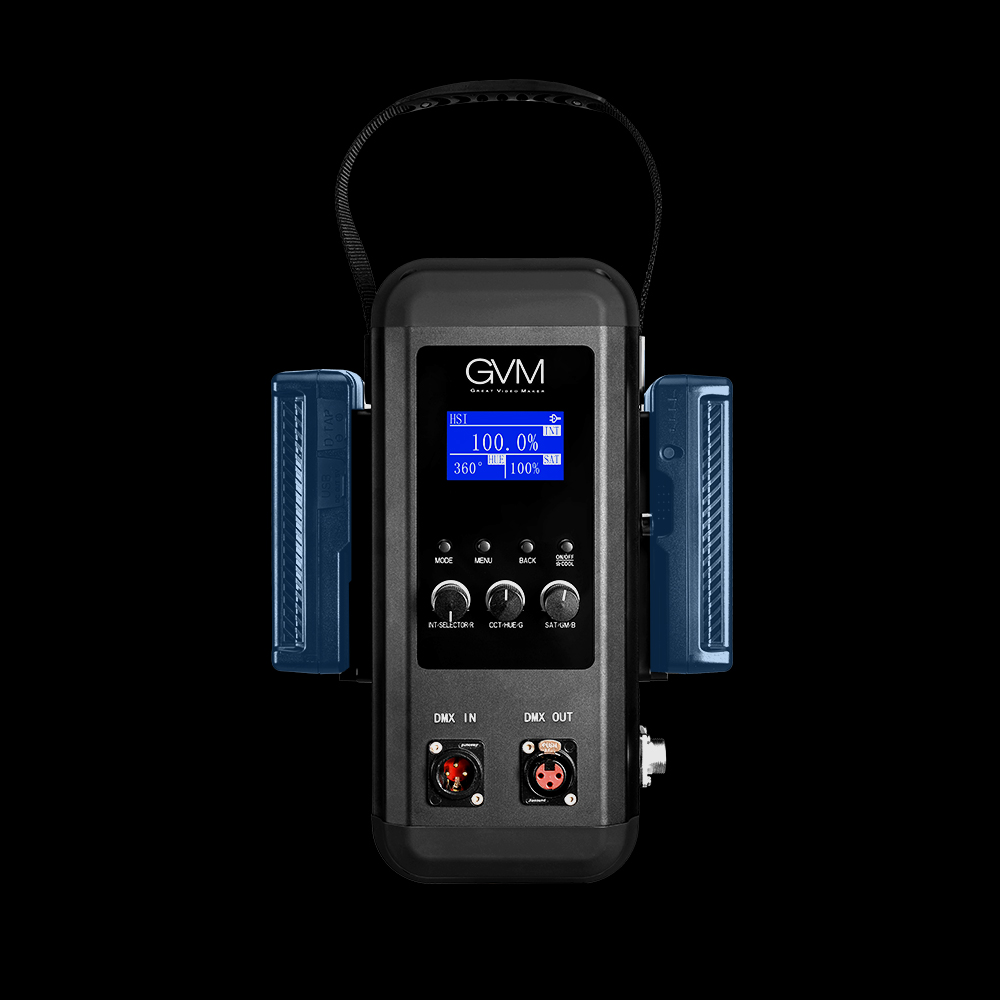 GVM-ST300R can be directly powered from AC 100-240V power outlet.

But it also has battery panels that allow you to use dual V-Mount batteries

Installation of V-port batteries makes it easy to take pictures outdoors, which makes them efficient and portable outdoors.
App Bluetooth remote control
With Bluetooth 5.0 Mesh networking system, you can search for "GVM_LED" in the App Store to download mobile App (iOS and Android) remote control lights;
Through Bluetooth Mesh networking system, users can control multiple ST300R devices at the same time. The intuitive control panel on App makes the lighting scene layout easier and faster, which saves a lot of time and effort.
Users can rename connected light devices, group control, and so on, to make the devices work better with different scenarios.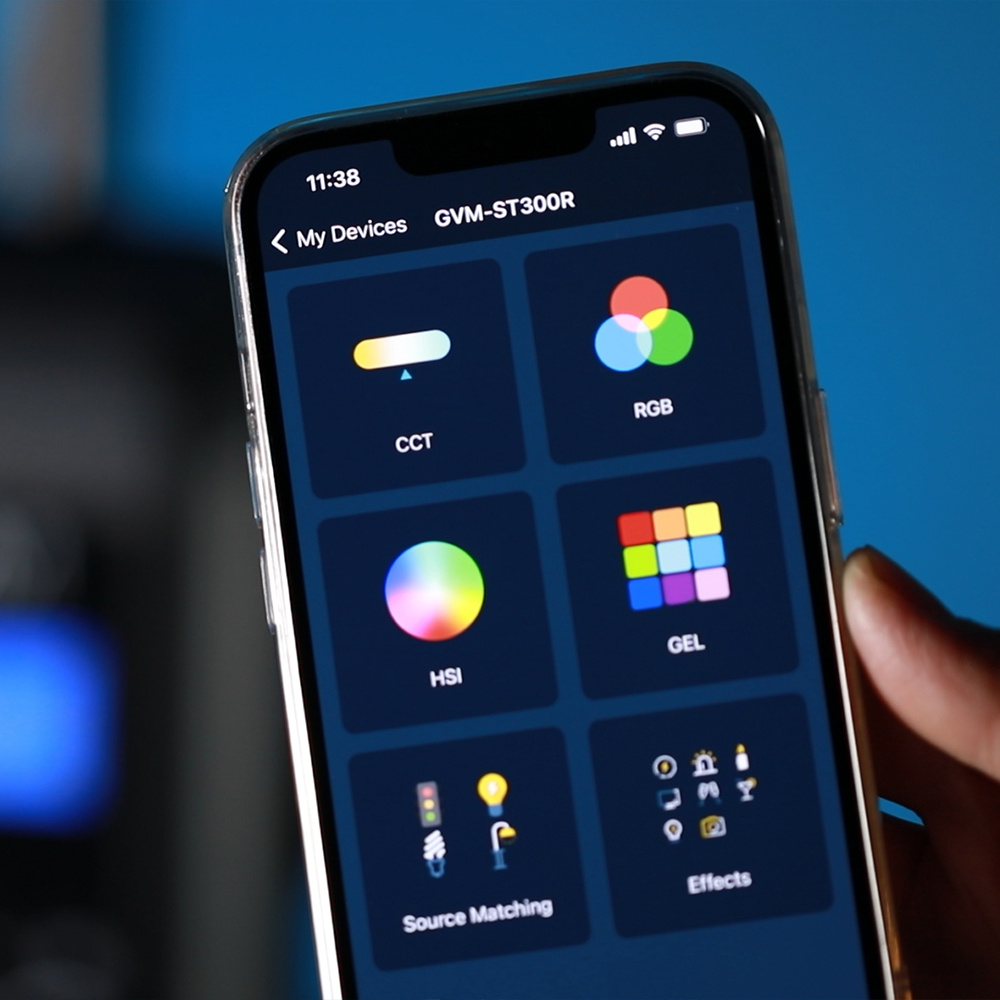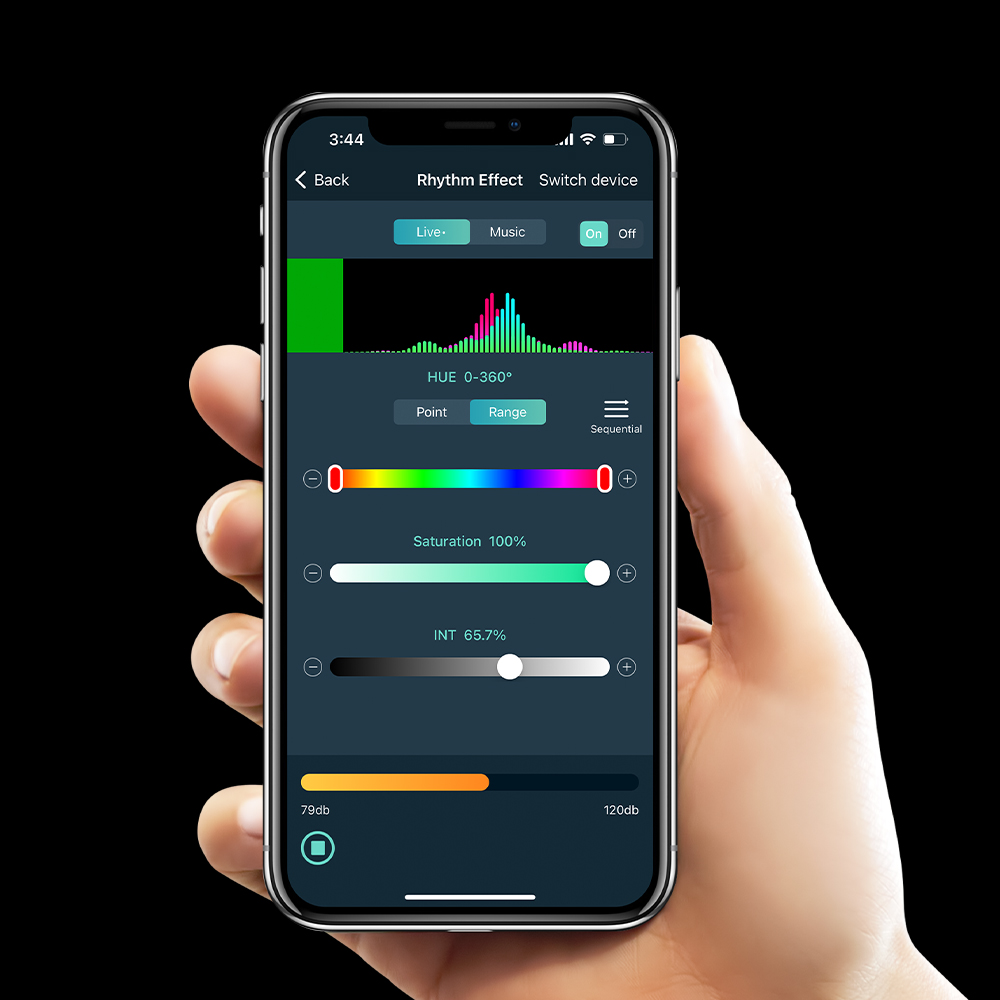 In music mode, you can play your favorite songs and make your own rhythmic recordings to change the lights to follow the melody.
Custom light effect mode:
The built-in light effect of the device sometimes cannot fully meet the needs of all users, so we have added a custom control mode of light effect. Users can add a sequence of steps to save the color change of the light, so as to make the light effect change more diversified to adapt to more scenarios;
Various modes, full color adjustable
CCT mode: White light color temperature adjustment mode, adjustable light intensity and color temperature. CCT (Related Color Temperature) mode allows accurate color temperature adjustment from a comfortable warm color of 2700K to a dark sky blue of 7500K to match any lighting conditions, such as warm shades of a terrible sunset, cool shades of bright sunlight in summer, or blue moonlight in a clear, dark sky. The green/magenta correction function in CCT mode allows fine-tuning matching with other HMI, LED orfluorescent lamps or accurate color balancing for different camera sensors.
HSI mode: HSI color mode allows collaboration by intuitively selecting a specific color and fine-tuning the brightness and intensity of the color. Adjustable hue, saturation, light intensity, (HSI = hue, saturation, light intensity), to achieve 36 million color adjustable.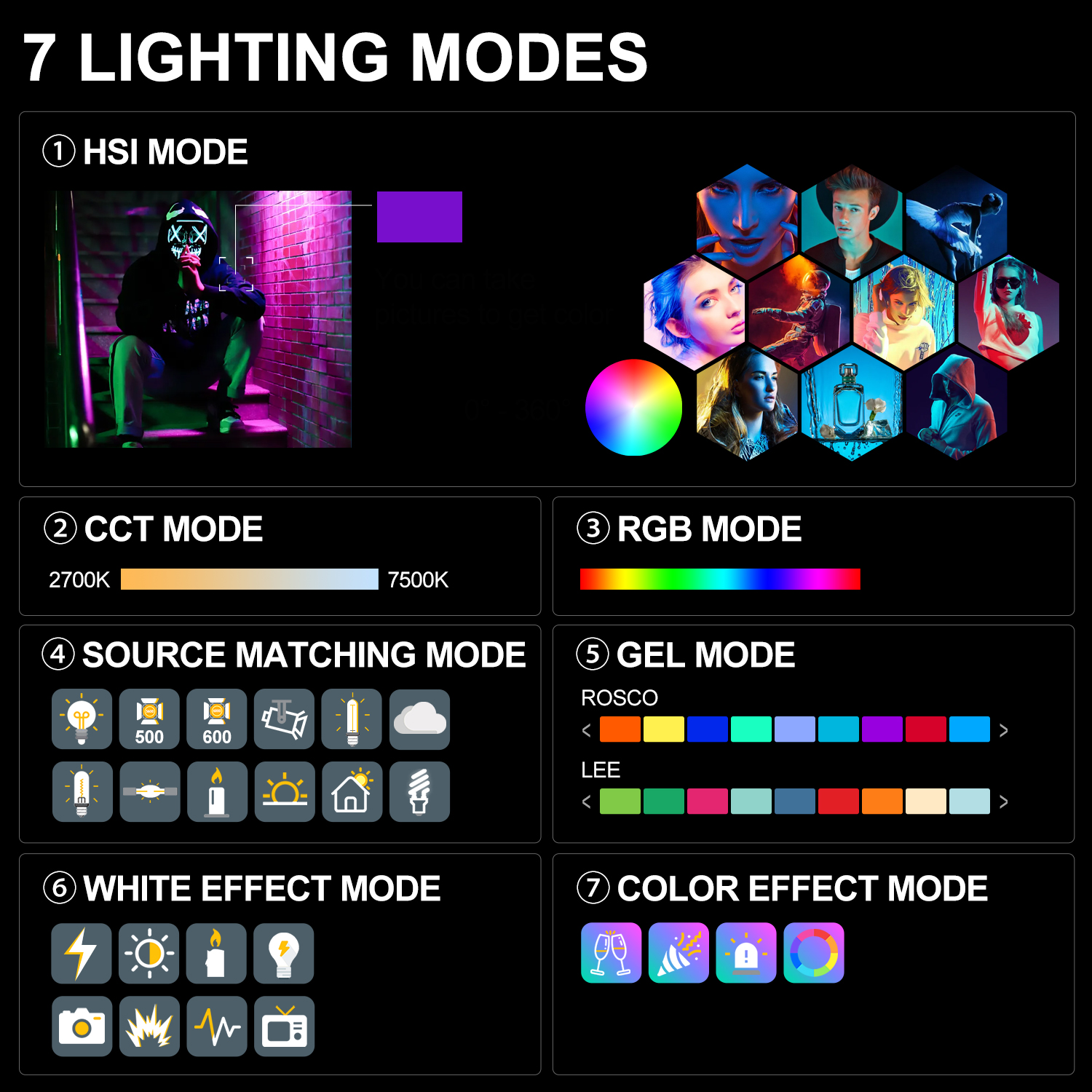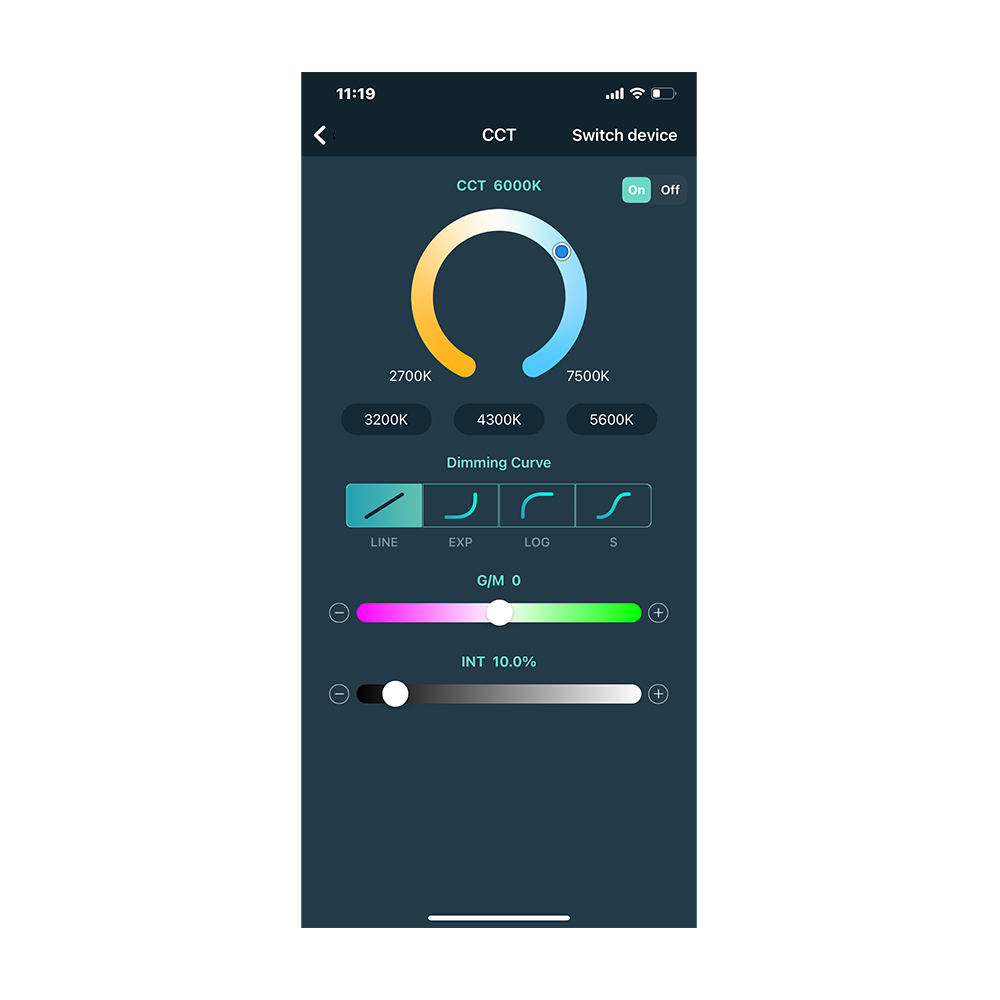 Includes four quick adjusting functions: color temperature, dimming curve, red and green supplementary light, and light intensity, which are intuitive and simple to operate.
RGB mode includes color gamut pickup and adjusting bar pickup.
Color gamut selection: Select RGB value by touching the color gamut with your finger to make the light color setting faster and more intuitive;
Adjustment bar color selection: can accurately adjust the changes of R, G, B in the range of 0-255, so that the change of light is more accurate;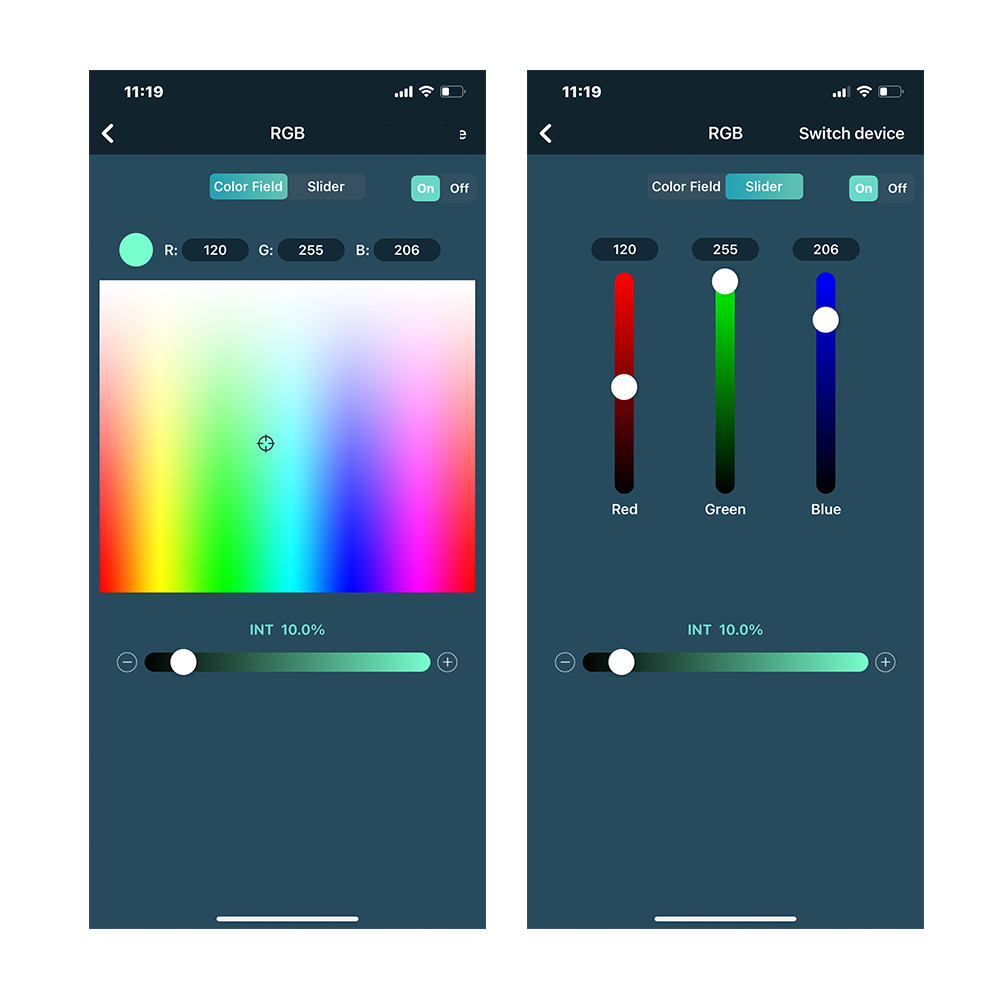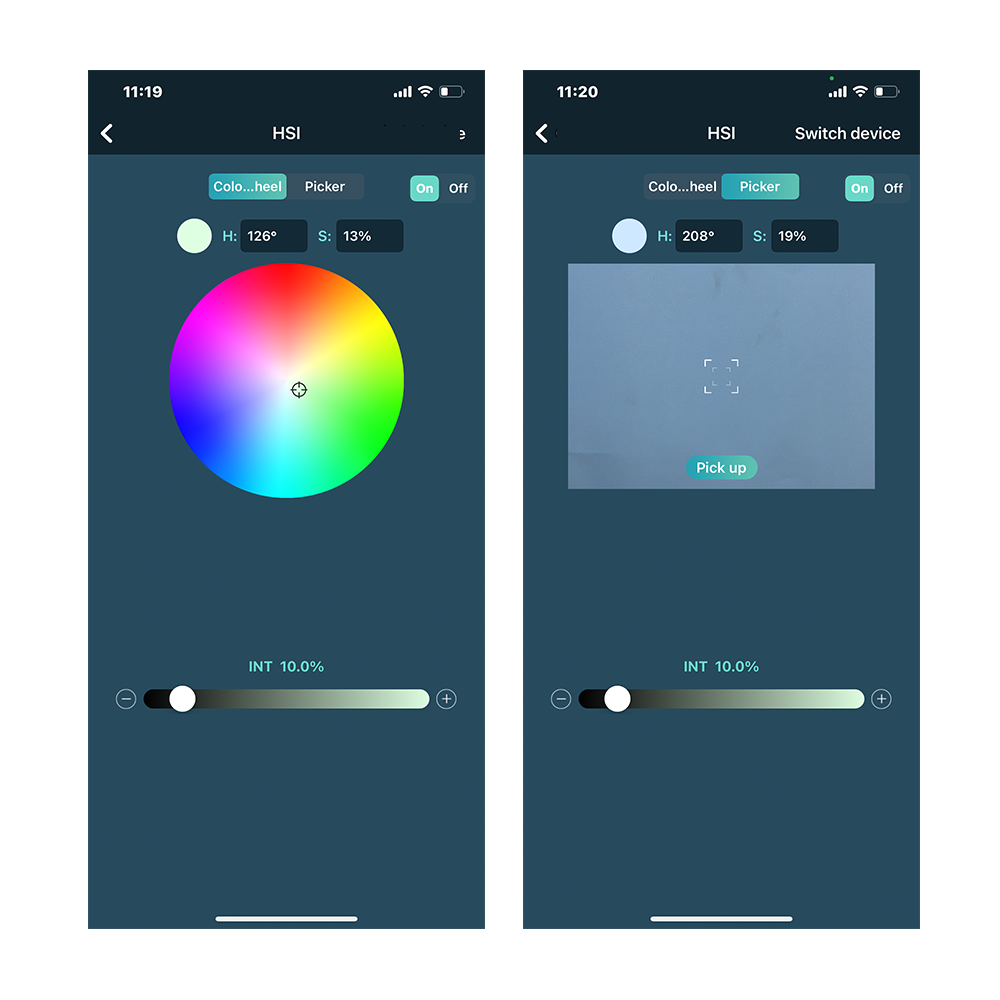 HSI mode includes color pick-up by color palette and color pick-up by camera;
Colour pick-up: Fast and smooth adjustment of HUE (0-360 degrees) and SAT (0-100%) by finger touch to make the light have more colour;
Camera pick-up: Get HUE and SAT values corresponding to the environment through the camera anchor point to control the color change of the light, so that your scene light effect is closer to the environment;
Contains 30 LEE and 30 ROSCO types of commonly used color paper to quickly adapt to different shooting environments.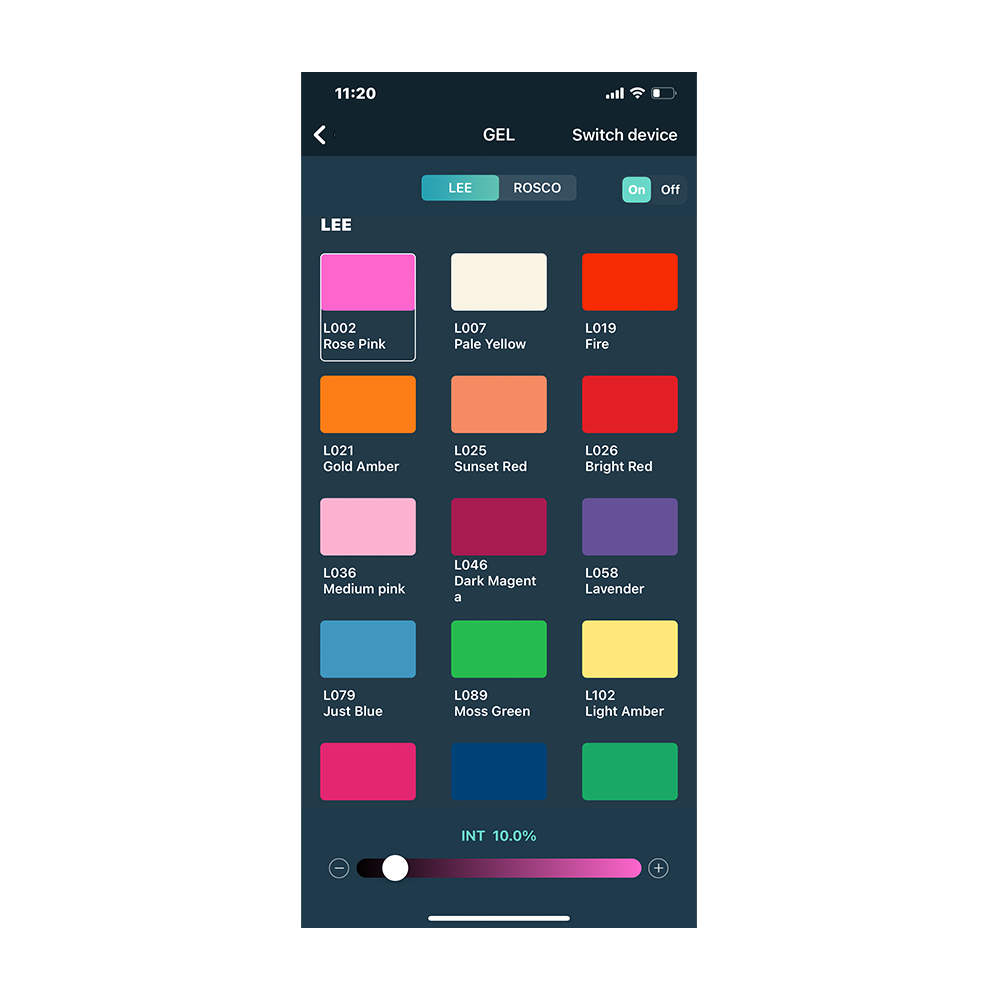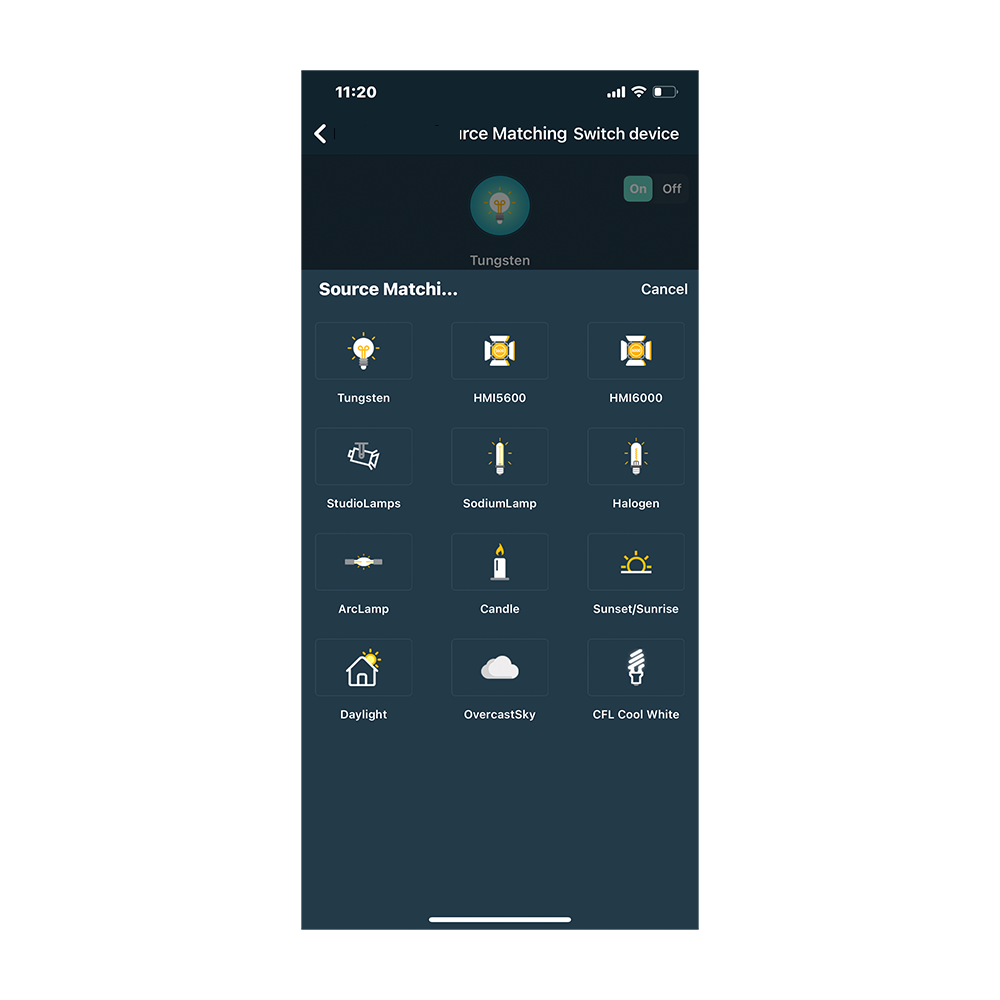 Light source matching control mode
Provides 12 built-in common light source effects to bring light closer to life;
Light effect control mode
Provides four colour and eight white effects for switching faster in different shooting scenes.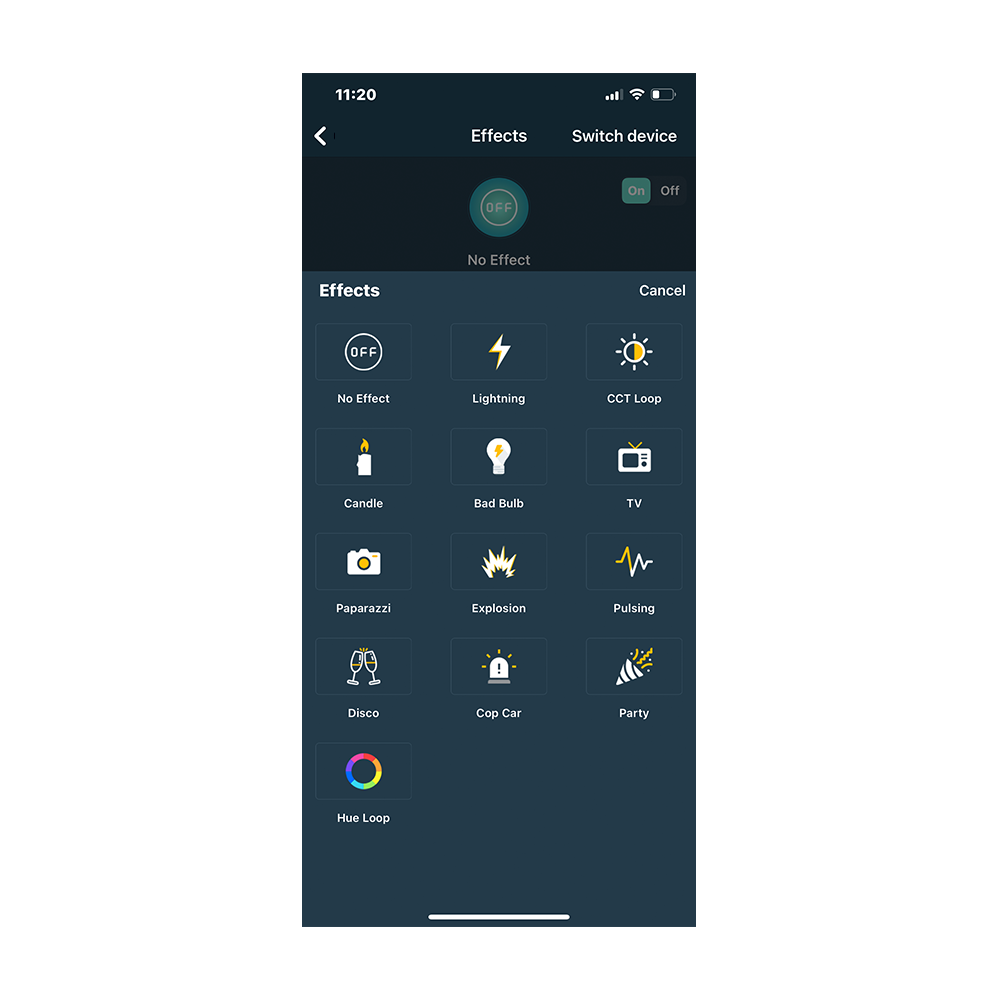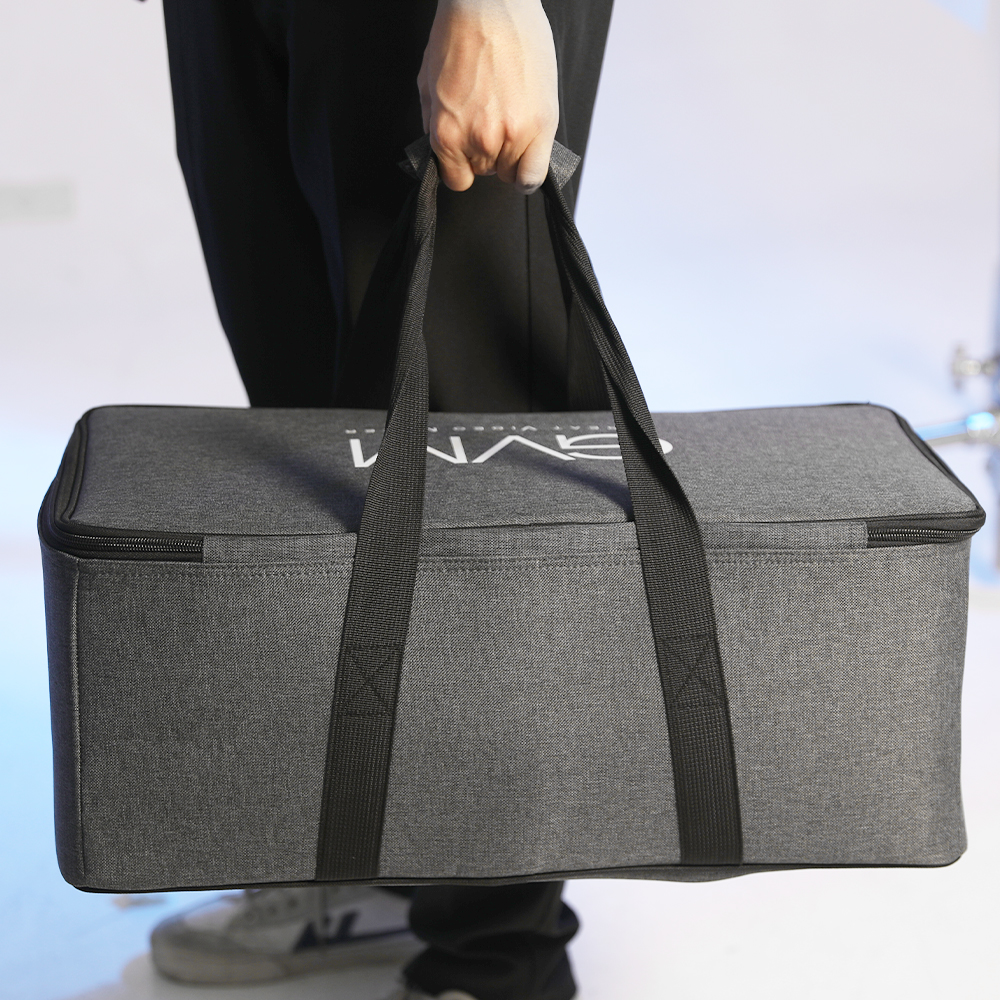 The GVM-ST300R comes standard with a durable carrying case. And all its major components can be stored in the case . The thick case effectively protects the lamp body and accessories for easy transportation and safe storage.
2022 Upgraded RGB Video Light,
Upgrade LCD screen,which display current light parameters,
control mode,channel value,scene number,etc.
and Simulate Scene Modes.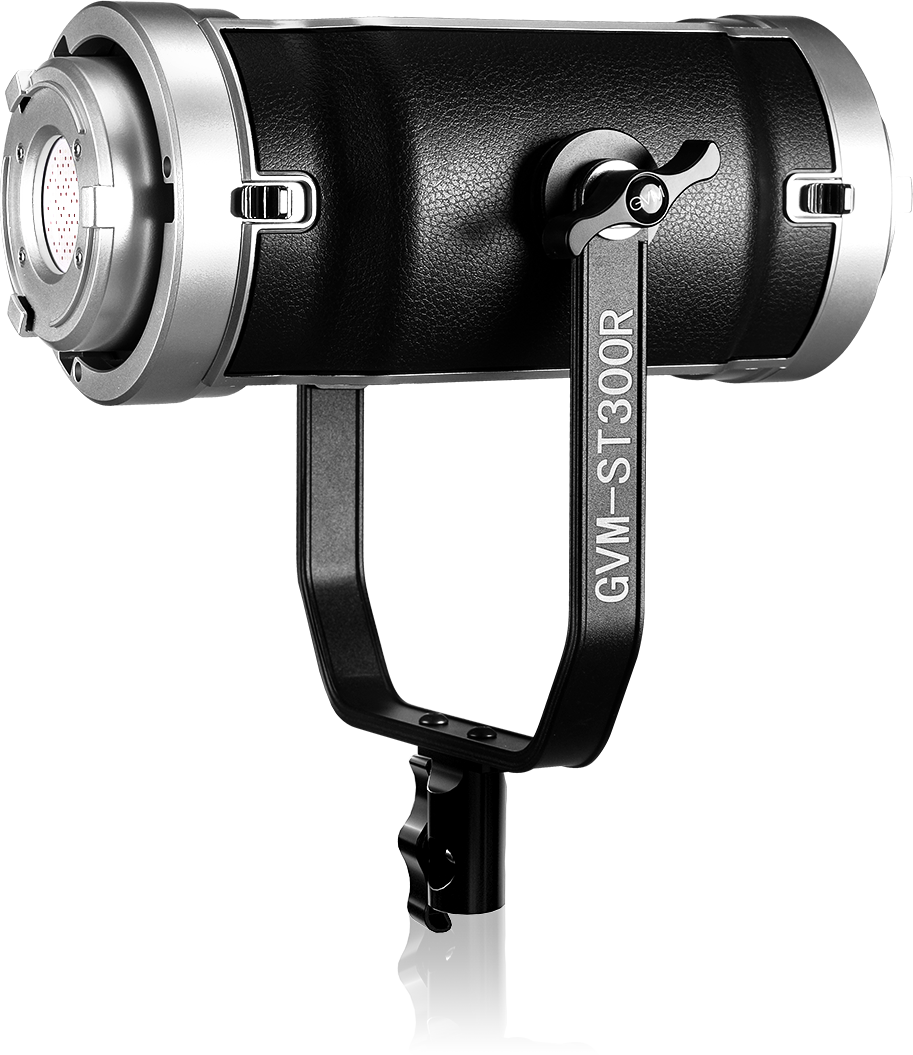 Stepless adjustment of light,
one color temperature lamp bead and one RGB lamp bead, CRI 97+.
Help restore and enrich the color of objects,
providing you with natural and vivid shooting effects.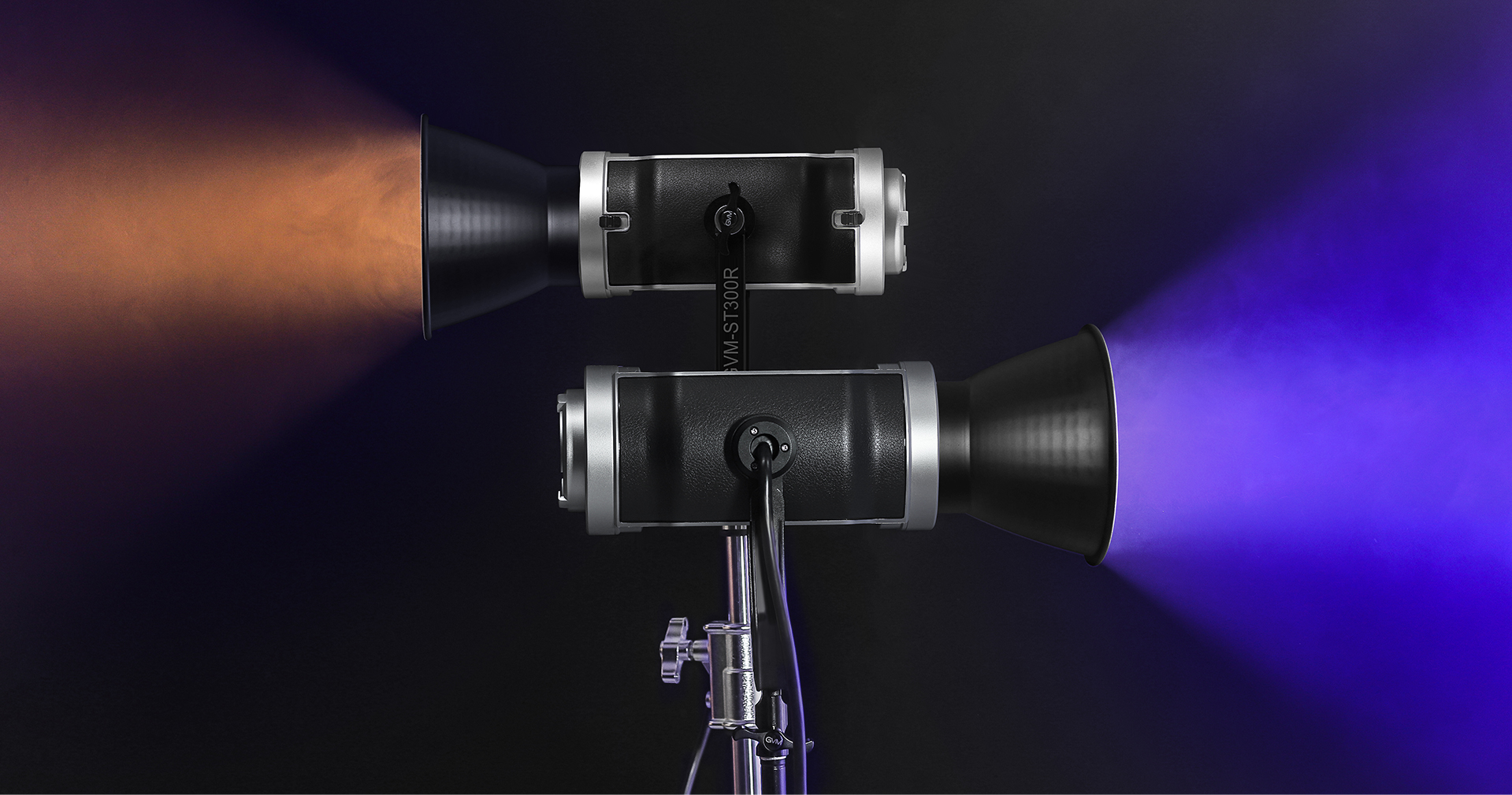 Light source matching mode;This model has 12 different styles of light
Source types to choose from.Can provide you with a specifific light source,
saving a lot of time to adjust the light.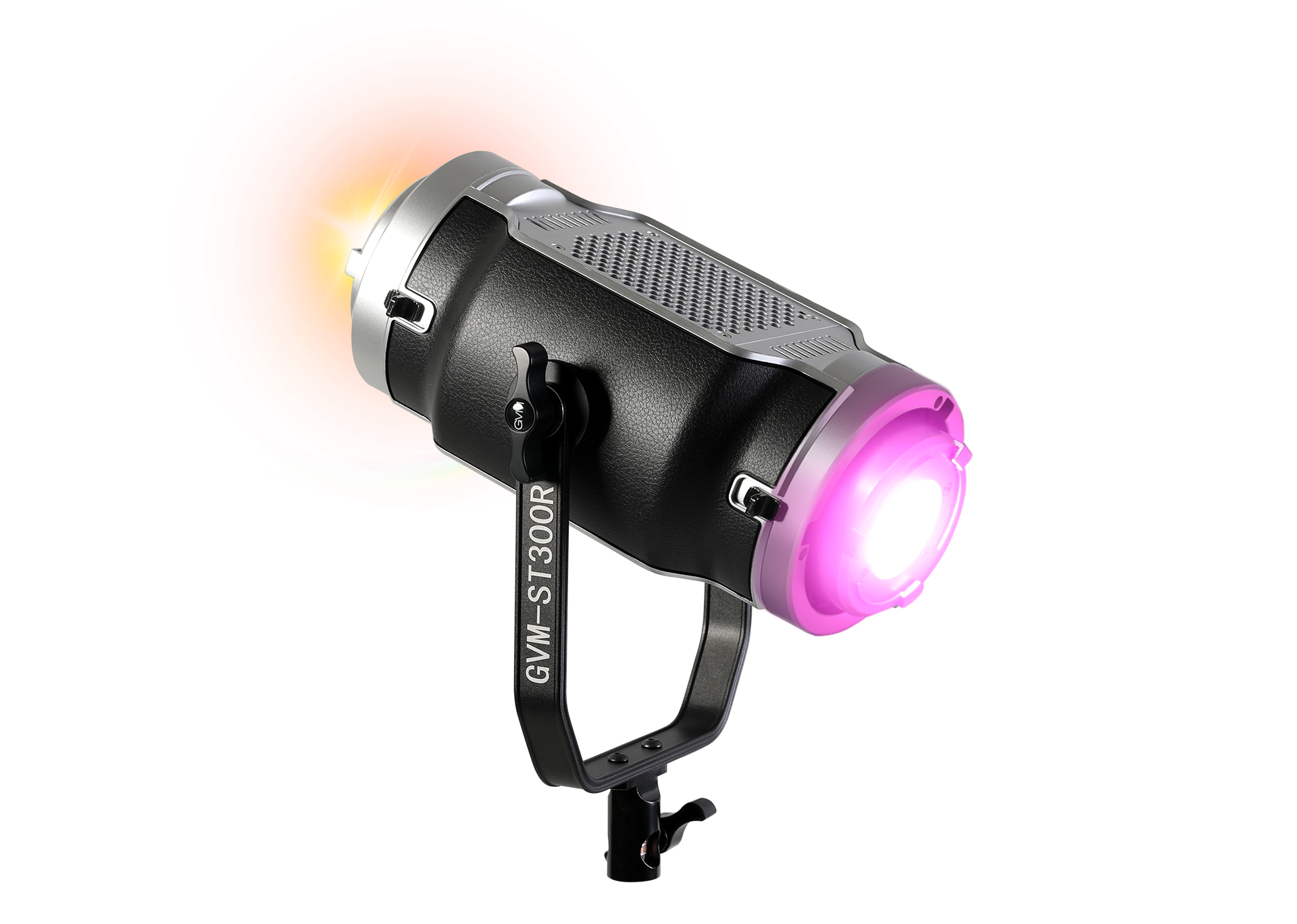 12 kings of lighting scenes
This mode provides 8 white light modes:Lighting,
Cct cycle,candle,broken bulb,TV,paparazzi,explosion,breating light

DURABLE STRUCTURE & ACCESSORIES
Quick Release Plate allowing it to securely attach to any stand, truss, or speed rail.
The ST-300R optimizes the internal structure to improve the heat dissipation space,
Silent Design, also improves the intelligent temperature control mechanism to ensure
continuous and stable light source brightness output.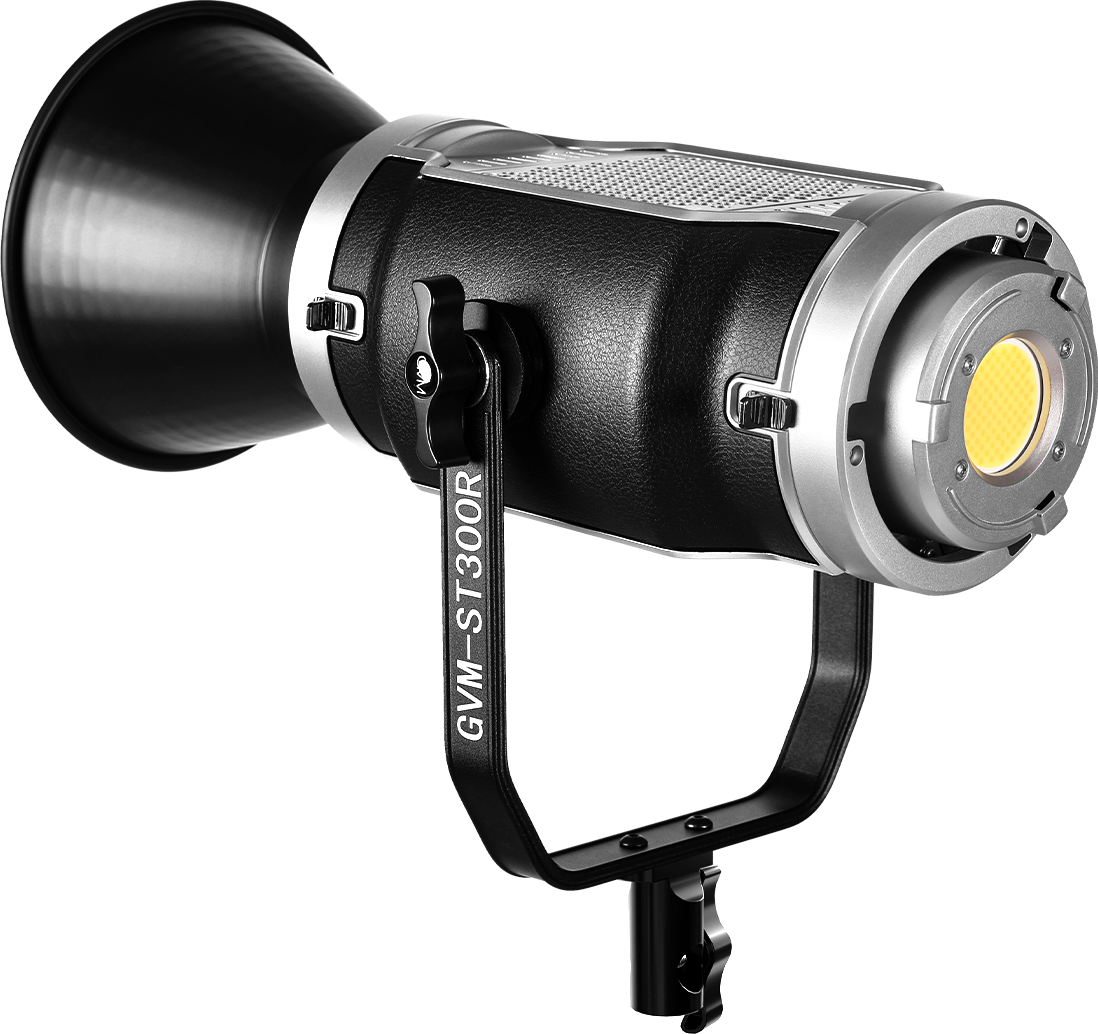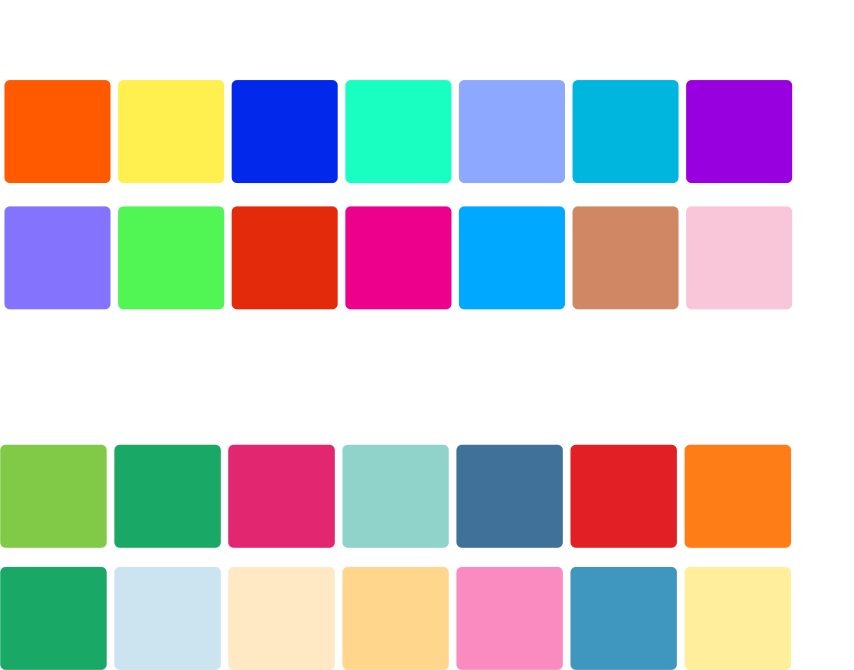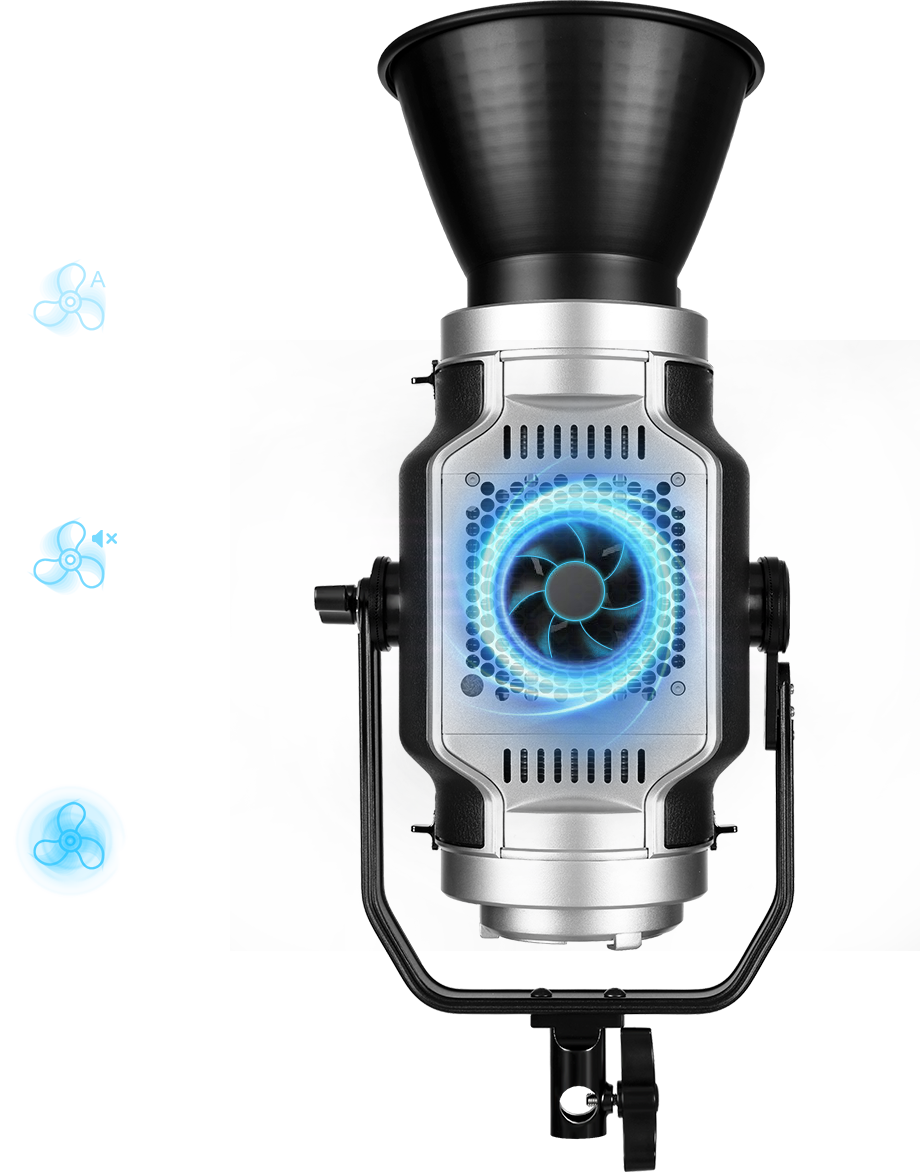 which can be controlled by your intelligent mobile device.
At the same time, it supports Bluetooth mesh networking,
which can be group controlled with GVM brand devices
that support mesh networking.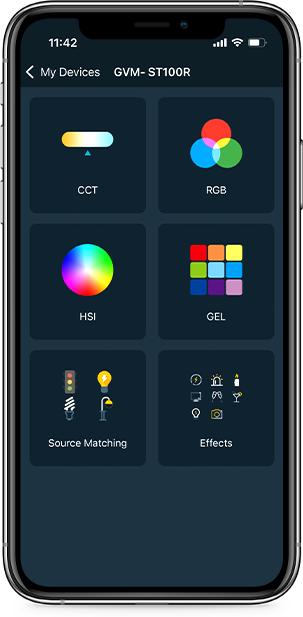 Color temperature curve adjustment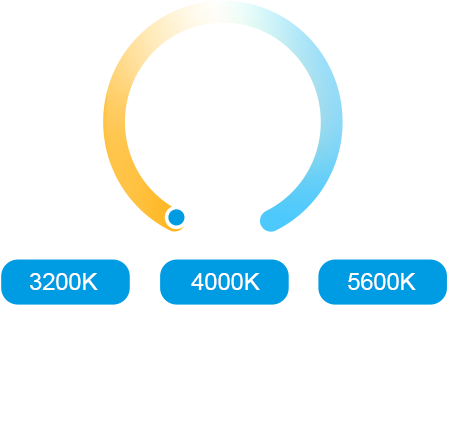 Intuitive local controls and bright LCD display on
the Controller Box allow precise and repeatable setups locally,
the LCD display can be turned off to ensure precise lighting.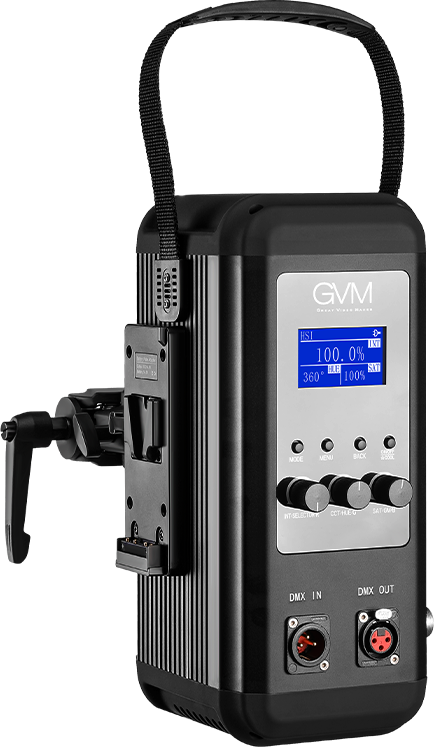 POWER WITH AC ADAPTER (included)
The ST-200R is ready for worldwide use thanks to its
100-240 VAC power supply but it also has battery plates,
allowing you to use double V-Mount battery for
external power when mains current is unavailable.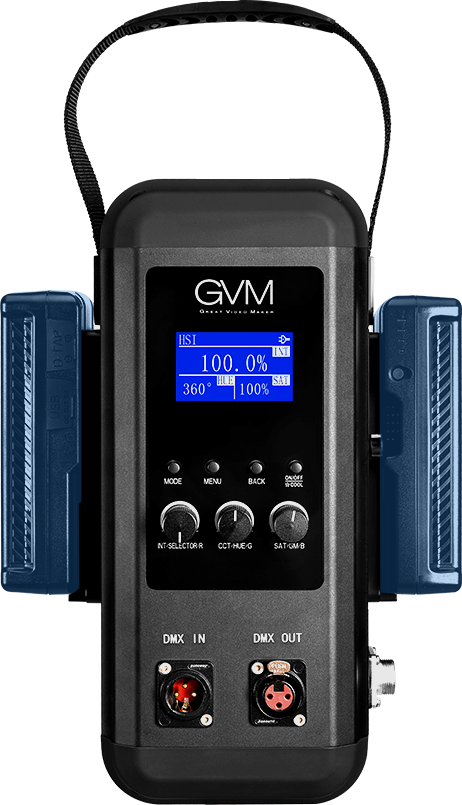 The LED Studio Lighting launches with 12 built-in lighting effects
Lightning, CCT cycle, wax candle, broken light bulb, TV, paparazzi, explosion,
breathing light,disco, party, police car, hue cycle. And Light source matching model
has 12 different styles of light source types to choose from. Can provide you with
a specific light source, saving a lot of time to adjust the light.